How to Achieve Your Writing Goals with 1% a Day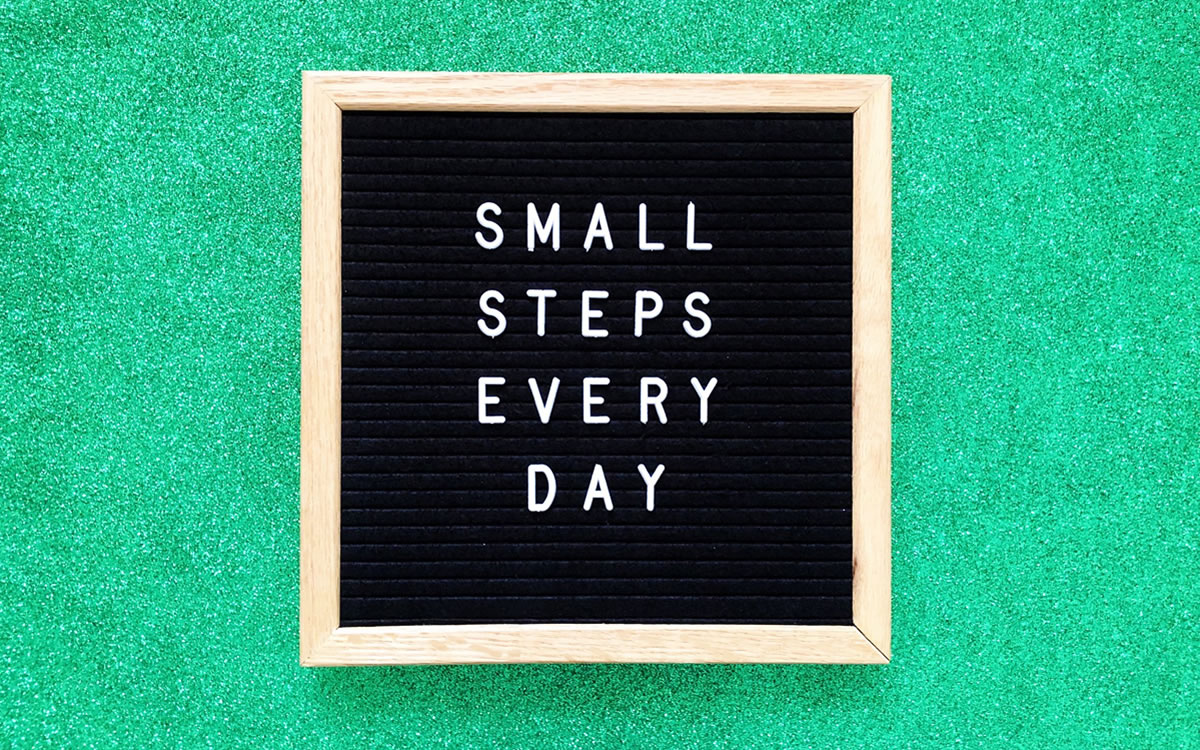 "Habits don't change in a day. But 1% a day makes every habit work." — James Clear, best-selling author of Atomic Habits
Do you brush your teeth when you get up in the morning? Do you walk the dog at a certain time each day? Do you check your email around the same time every day?
Chances are you have dozens of habits as you go about your daily life.
Everything from how (or if/when) you drink coffee to exercising is a habit.
And changing them is hard.
It's hard because most of us take an all-or-nothing approach to creating a new habit.
Stop eating too much sugar.
Exercise every day.
Write daily.
However, that approach doesn't usually stick because it's too radical. It's like those nutrition coaches who tell you to clean all the junk food out of your pantry so you're not tempted.
It sounds good, but how long is it before those foods find their way back into your house?
Enter the concept of continuous self-improvement over radical change.
According to author and productivity expert James Clear, an improvement of 1% a day leads to 37% over a year.
I don't know about you but improving 1% a day on my running performance sounds a whole lot more doable than "I'm going run a marathon next month." And improving 37% over 12 months sounds excellent. It gives me direction.
1% a Day Improvement
Imagine what 37% improvement could look like for you. Maybe it's finally getting your freelance writing business off the ground and consistently bringing in income every month. It could be anything.
So, what IS 1% a day? Well, James gives examples in his book and speeches online of how to make incremental changes, so each small change adds up to create a much larger overall improvement.
Another way to tackle this is to think about what 1% of your day dedicated to improvement could look like. For the sake of easy math, let's make 1% of your day equate to 15 minutes.
That means to experience incremental change, you'll find 15 minutes a day to learn something new or work on your business.
And you can accomplish more than you think in 15-minute chunks. Next time you find yourself mindlessly scrolling Facebook, put that time into your 1% improvement project instead.
If you're not sure what to do during your 15 minutes? Watch this AWAI webinar on creating your own personal roadmap.
Once you have your direction, you can start chipping away at tasks that help you reach your goals.
For example, here are eight things every freelancer has on their to-do list at some point. The first two items in the list are goals and constraints. Once you define those, you have the structure you need to progress.
Define Your Goals — There are many ways to have a freelance writing career. I know successful writers who write mostly case studies for large B2B companies, and I know successful writers who focus on e-commerce start-ups.

The best way to become a freelance writer is to choose something to start. Preferably something you have some interest or experience in. Want to make your first $1,000 as a writer?

Define Your Constraints — Once you know your goal, certain constraints can fall into place. Having boundaries helps you narrow your focus and make choices that move you closer to your goals. For example, suppose you've decided to focus on email writing for e-commerce companies. In that case, you won't get distracted by studying the case study market.

Create Those First Samples — If you already have writing samples, excellent. Take 15 minutes to pull them together into a Google folder if you haven't already and clearly label them.

If you don't have samples, then think about the type of writing you want to do and create a couple of written samples to show. Spend 15 minutes a day until you've got a few solid examples for prospective clients. (Need more ideas? Watch How to Create a Winning Portfolio of Samples If You're Just Starting a Freelance Writing Career (Even If You've Never Had Any Clients!)

Develop a Website — Every professional writer needs a website eventually. You don't have to complete it before you get writing work, but you do want to get it done. AWAI has a website building program to help to build yours quickly. (You can also check out this free Inside AWAI webinar: How to Attract Freelance Writing Clients via a Magnetic Website.)
Update your LinkedIn Profile — LinkedIn is an excellent source for networking and finding clients. But first, you want your profile to look its best. If you haven't filled out your profile completely, this is an important thing to do. Add skills, request testimonials from co-workers and clients, upload your samples, and fill out the work history. I update mine with new samples every couple of months. (If you need some help, here's an Inside AWAI webinar: How to Write a Professional LinkedIn Profile.)
Invest in Learning Applicable Skills — There's always something new to learn. But active learning always beats passive learning. I mean that everyone learns by doing. For example, if you've studied The AWAI MethodTM you want to put it into practice right away before moving on to the next thing. That way, you'll feel how the technique works instead of simply reading about it. Better yet, if you try it and realize you have no idea what you're doing, then you can study a little more and ask yourself what's confusing. That's real learning.
Check-in With Yourself — Take time for reflection every week or every month to assess your learning and progress. Not only does this serve as an accountability tool, but it's also a way to notice areas for improvement. I have a Google doc where I write down five things every week that went well, five that didn't, and areas for improvement. It's astonishing how much more I learn when I take the time for reflection.
Market Yourself — Most beginning freelancers don't market enough. By that, I mean they make one or two efforts and get discouraged. But that's not enough data. It takes consistent outreach to bring in business — daily or weekly outreach. (Check out this Inside AWAI webinar, 26 Ways to Find Freelance Writing Clients, if you need ideas!)
It's easy to get overwhelmed when you're learning something new. But when you break it down and think continuous improvement via just 1% a day, that puts it within reach.
Can you imagine yourself 37% better this time next year? You can get there if you improve just 1% a day!
If you're looking for ongoing help — such as personal mentoring, customized career planning, writing feedback, and instructor-led learning, you should check out AWAI's Circle of Success program. You get the highest level of personal support to reach your writing career goals, plus access to AWAI's complete library of home study training programs. I joined COS more than a decade ago, and the commitment to my career made a world of difference.
Do you have any questions about how to move forward as a copywriter? Please share in the comments so we can point you in the right direction.

The AWAI Method™ for Becoming a Skilled, In-Demand Copywriter
The AWAI Method™ combines the most up-to-date strategies, insights, and teaching methods with the tried-and-true copywriting fundamentals so you can take on ANY project — not just sales letters. Learn More »

Published: March 23, 2021