Living the Writer's Life: Tim Matassa


Tim and his mom enjoying breakfast at Animal Kingdom last summer
on a family trip to Walt Disney World in Florida
You've made huge leaps in the last four years since we last interviewed you, including landing a super-coveted in-house copywriting position with AWAI. What are some of your career highlights since then?
Honestly, getting the AWAI job was the ultimate highlight. I had it in my mind that I wanted to get this job even before it existed. So, that was the biggest thing.
Since I've been working here, I've gotten seven or eight controls [sales letters that out-perform existing winners]. I beat a long-running control that Richard Armstrong had. That was really thrilling.
Getting to be on the Bootcamp stage last year was another highlight. Getting to be up there and look out from that stage that I've been looking up at for so long was just really amazing.
Why is Bootcamp so special to you?
AWAI has so many great resources, events, and webinars. I've benefited from a lot of them, but nothing has been as important to me as Bootcamp.
At the time of my first one, I had been a member for about a year. Still, I don't think I fully understood the opportunity or understood the industry. I went to that Bootcamp, kind of trying to figure out if this whole thing was for real.
Having gone to the last four now as a part of the staff has been such a different vantage point. I had a guy come up to me during Job Fair last year and say, "Tim, I just want to tell you, you're the reason that I'm here." I was so taken aback.
It's funny: I've lately been doing some of the Facebook Live events for AWAI. People ask me all the time, "Do you miss teaching?" And my answer is usually a pretty quick "No." But when I get to be on those webinars and actually talk about writing, it is pretty cool. I guess I do miss that aspect of it.
I'm curious: What's been the hardest or most important lesson you've learned so far?
I think there are a couple. One of them is that it is so important to be prepared and be on top of things. If you don't do something you were supposed to do, it can come back to bite you three or four weeks down the road.
Then, hand in hand with that is also being kind to yourself. We've been dealing with the COVID quarantine. It's been hard for a lot of people. I know I've had a lot of ups and downs. If you need something, you need to be humble enough to ask for it, and you need to be self-aware enough to actually know you need it in the first place.
Do you have any hopes for the future that you'd be willing to share with us?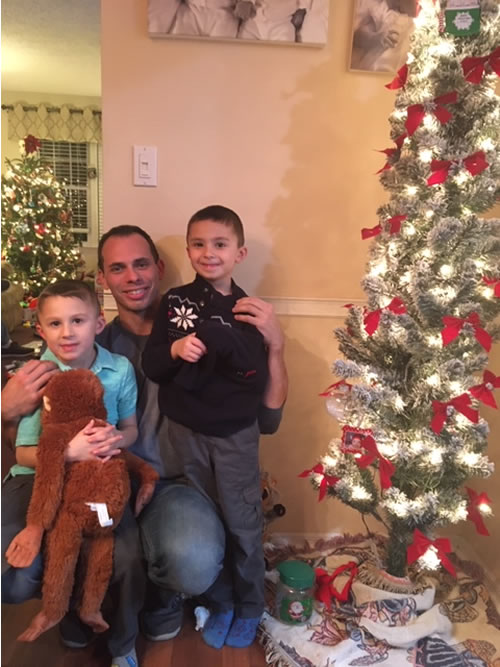 Tim enjoys spending the
holidays back home in
New Jersey with his family,
including his crazy
twin nephews.
I have other aspirations that I think copywriting could open doors for me. But who knows what'll happen. I've always dreamed of writing books and writing screenplays.
I definitely would love to do more at Bootcamp … doing anything that would get me on stage more. I'd love to do more of the stuff on camera, too, like the Writers Coffee Breaks and the other Facebook Lives. I've really enjoyed doing those.
Who is one person you've worked with whom you really admire?
There are a lot of people I could answer this question with. But I would have to say Mark Ford. Getting to work with Mark has been so amazing. He's a legendary copywriter, and it's so cool that we get to actually bring copy to him and have him review it for us.
And he has the coolest office too. It's like in his art studio. It's hard to describe, but it's a one-of-a-kind office, I'll say that!
Tim's Living The Writer's Life story was originally published in Barefoot Writer. To learn more about how you can start living your dream writer's life too, click here.
What help do you need to move forward with your version of the writer's life? Let us know in the comments below so we can help guide you in the right direction.

The Barefoot Writer
Discover a lucrative style of writing that will give you as much freedom as you can have while earning a great income at the same time. Learn More »

Published: January 2, 2021