Living the Writer's Life: Allison Comotto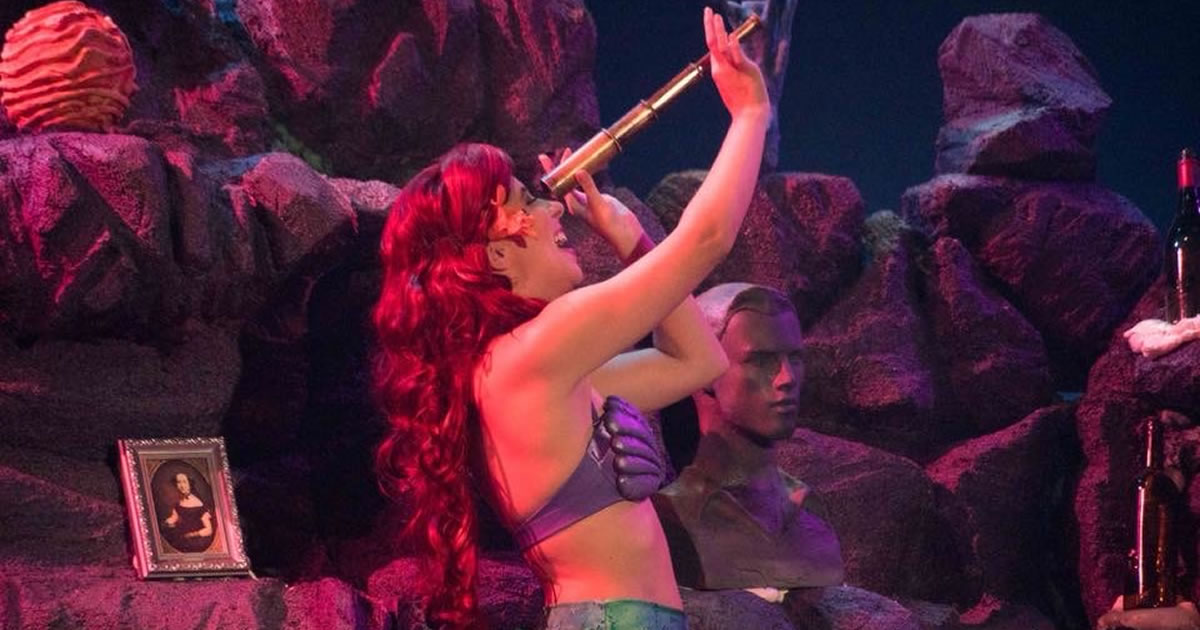 Allison as Ariel in a local production of The Little Mermaid
You started your career really early on … How did you get into copywriting?
By accident! I was in my senior year of college and just starting the job hunt. I knew that I wanted to do something that involved more storytelling.
I saw a job post that Mike Palmer wrote about creative writers who wanted to make six figures. I started the week after I graduated college, and the rest is history!
Were you into finances before you started in this niche?
Not even a little bit. I actually finagled my college requirements so that I never had to take a math class across all four years. When I dug into Stansberry Research and realized that I'd be writing financial copy, I had serious doubts … but I trusted that they wouldn't pick me if I couldn't handle it. Now I love it!
So prior financial knowledge isn't necessary. Our analysts and editors produce so much content that it's easy to get a crash course in whatever thorny topic I need to write about. So if you're interested in financial copy, just know that it's not your job to have a financial education. That's what the gurus are for. You're there to tell stories that sell.
What types of projects keep you busy and what do you enjoy working on most?
We do a lot of different styles of promotions, but I enjoy writing webinars the most. Writing scripts comes much more naturally to me than writing copy in a single voice. Over the past year and a half, I've worked on at least seven webinars, and I think that's where I do my best work (and have the most fun).
I heard that you did a financial promo that hit $4 million in revenue and earned you a six-figure royalty. Can you share more?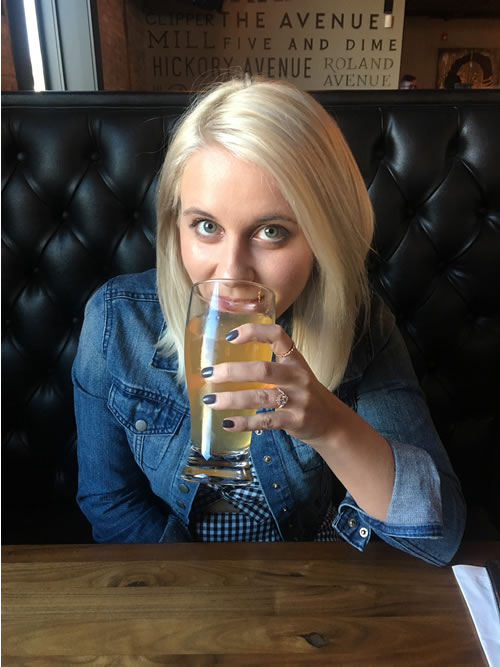 Allison drinking her favorite beer
at her favorite Happy Hour spot
It was a fantastic experience. Even though being a "six-figure copywriter" is the go-to selling point you hear about this industry … you don't believe it can happen to you until it does.
But most importantly, it gave me the boost of confidence that I needed. I didn't feel like a "real" copywriter until I got a few big wins under my belt. I trust my ideas and instincts so much more than I did before.
What are some of the perks of working as an in-house copywriter?
I like working with and around other people. I think I'd lose my mind if I had to write all of these packages in a vacuum. It's very flexible. We have three or four writers who live out of state and work from home. I can do the same whenever I want or need to. I just prefer being in the office.
Collaboration is the biggest [advantage] for me. I'm surrounded by writers who are happy to talk through ideas or review my copy. I can also just walk upstairs and ask our analysts questions or pitch them an idea. It makes the whole process so much smoother.
I also love working with our in-house marketing and design teams. It pays to have a group of professionals who are dedicated to optimizing copy.
Lastly, there's no such thing as a dry spell! We have more publications and promo ideas than we have writers.
Any advice for new writers trying to find their niche?
Nothing beats working in-house.
I know this isn't the most popular option, but it's the best way to fast-track your skills … You get paid to train, work with a mentor, and get copy out the door as fast as possible. You work with people who make your copy a priority and want it to succeed. The resources and opportunities are endless.
But I know that there are a ton of talented freelancers out there making serious money. This is just my experience. You have to find what's right for you!
What about when you're not working … What do you love most?
My main passion outside of copy is musical theater! When there isn't a global pandemic, I try to do at least one or two shows a year.
Allison's Living The Writer's Life story was originally published in Barefoot Writer. To learn more about how you can start living your dream writer's life too, click here.
What help do you need to move forward with your version of the writer's life? Let us know in the comments below so we can help guide you in the right direction.

The Barefoot Writer
Discover a lucrative style of writing that will give you as much freedom as you can have while earning a great income at the same time. Learn More »

Published: December 19, 2020