The Secret Psychology of Becoming a Great Copywriter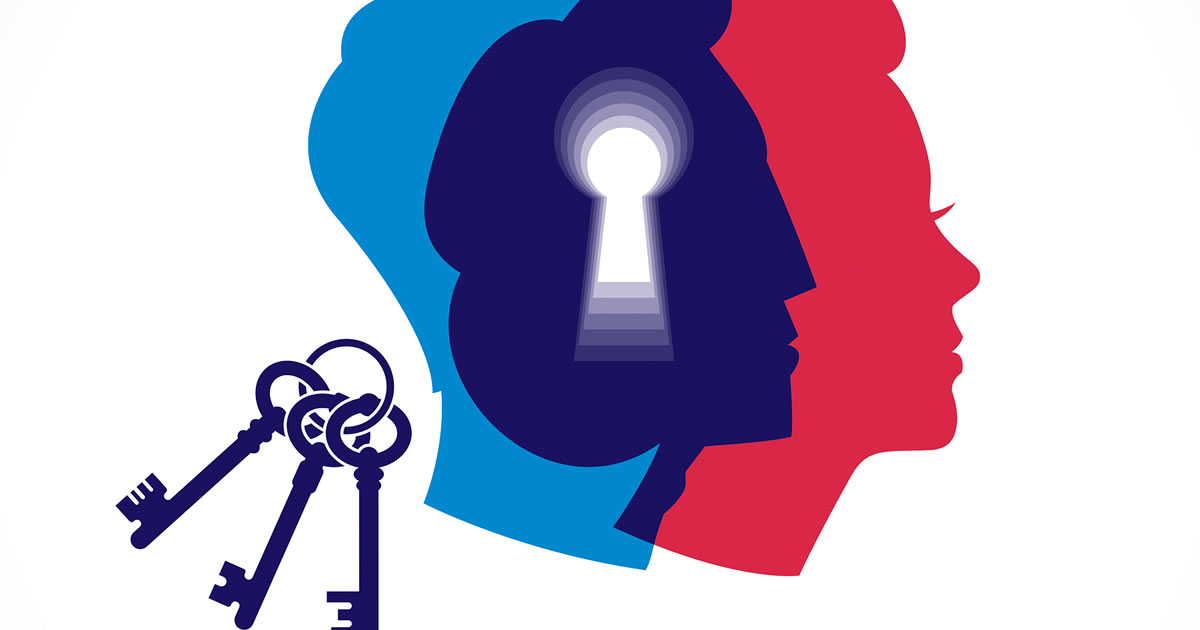 Even after 11 Bootcamps, I always come away with tons of great information, ideas, and new copywriting strategies.
But one session by Master Copywriter Mike Palmer stands out. It's so relevant to your career — and to mine — I have to share it with you.
Mike helped Stansberry Research grow into the largest financial newsletter publisher in the world. So far, his promotions have brought on more than one million paid subscribers.
But Mike also trains all their writers. He used his Bootcamp session to share a lesson he gives those writers at the beginning of their training. He called his presentation …
The Secret Psychology of Becoming a Great Copywriter: Understanding this all-important cycle will give you an enormous edge over 99% of the copywriters out there.
Mike said all copywriters go through a predictable cycle of emotions, knowledge, and self-belief, including him … and me.
Let's see how the four stages of this cycle fit your own experiences.
Stage 1: Uninformed Optimism
When I started, I was excited, enthusiastic, raring to go and make my mark in copywriting. Of course I was nervous.
Emotionally, I knew I could do this. I immersed myself in what few materials were available back then.
But I had no real sense of what lay ahead. I was uninformed in my optimism. Mike showed this stage graphically.

All beginning copywriters start here. They don't know much … but enthusiasm pushes them forward.
I rode that swell of optimism for a while. Then I hit the top of the peak. Things weren't going as quickly as I'd hoped. I'd hit …
Stage 2: Informed Pessimism
By the time I hit the peak of the curve, I'd had a couple of assignments but nothing big. I'd entered Mike's second stage: Informed Pessimism.
I had a clearer view of my career at that moment, one that didn't thrill me. I fit on the downside of Mike's diagram.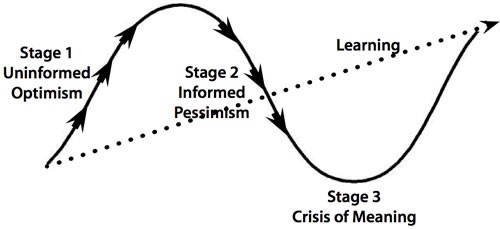 I wasn't ready to give up … yet. I had a somewhat schizophrenic view of copywriting and me. Half the time I'd be optimistic that things would pick up. Half the time, I was sure they wouldn't.
But as you see in Mike's diagram, something was going on during this stage. Thanks to residual but fading optimism, I kept studying. And luckily, The Accelerated Program came on the scene at this time. That kept me going until reality and bills pushed me to my …
Stage 3: Crisis of Meaning
Becoming the Executive Director of my town's Chamber of Commerce marked my "Crisis of Meaning" stage. I hit the low point in enthusiasm and commitment.
I was willing to give up my dream of becoming a full-time copywriter. After all, although the Executive Director position didn't pay well, it paid as much as copywriting was paying me at that point.
Well, I was almost willing to give up the dream. The Accelerated Program and my wife saved my career. I kept studying. True to her loving nature, Linda kept encouraging me.
I stuck with The Accelerated Program and continued writing. The dotted learning line kept climbing. My skills improved. My copywriting improved. My assignments increased. I'd reached …
Stage 4: Informed Optimism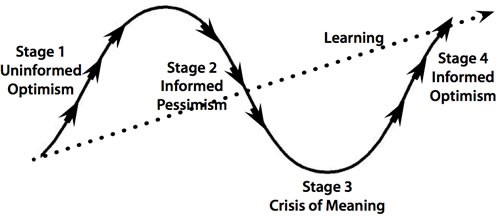 The crucial point of Mike's presentation: Every copywriter goes through this cycle. I did. And there's a good chance you have or will.
The cycle reaches its lowest point at Stage 3. But all during this process, you're learning and gaining skills. Persistence at this stage moves you into the upward swing of Stage 4, Informed Optimism.
At this stage, you know what you're doing. You're back to feeling confident and good about what you're doing. Your increased copywriting and self-marketing skills feed your success, pushing you higher.
Mike said — and I totally agree with him — that the strategy for moving through Stage 3 and into Stage 4 is to find support. Find a group that will encourage you through this bottom point and into the upward swing.
If you're in Circle of Success, that support can be your "Circle." If you're not in COS, go to the AWAI forum or Facebook group and reach out. Tell your fellow copywriters you need a boost. And in payment, you'll give one back.
Where are you on Mike Palmer's cycle of copywriting success? Are you at the very beginning like I was 20 years ago? Or have you made it through to Stage 4?
Regardless of where you are, never stop at the low point. And never try to push through alone. You can become a great copywriter. You have friends where you never knew they existed. And you have support you may not have even completely tapped yet.
One final important note: Mike's presentation is so essential to your career that I have to share it with you. It's entitled "The Secret Psychology of Becoming a Great Copywriter." The video shows Mike's full walk-through of the four stages and much more … It's well worth your time. Watch it today.
Where are you in the four stages? Share with us in the comments below so we can help.

The AWAI Method™ for Becoming a Skilled, In-Demand Copywriter
The AWAI Method™ combines the most up-to-date strategies, insights, and teaching methods with the tried-and-true copywriting fundamentals so you can take on ANY project — not just sales letters. Learn More »

Published: March 19, 2018