Video:


The Elements of Style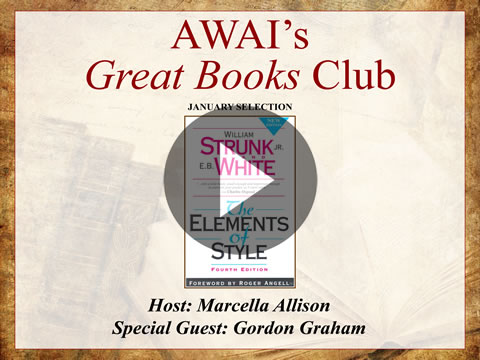 Audio Only (right-click to save) Slides Only
AWAI's Great Books Club kicks off 2015 with a certified classic … a book that has guided writers in every genre, type of writing and niche for nearly a century with its "rules" for clear and effective writing in the English language.
Club Host Marcella Allison and Gordon Graham, a top-level copywriter well-known to AWAI members, will discuss The Elements of Style by William Strunk Jr. and E.B. White.
Gordon is a long-time fan of the book. Here's how he described its impact on his career … and rest of the writing world:
"The earliest edition of The Elements of Style was first set down nearly 100 years ago. But instead of something dusty and outdated, it remains by far the most brief and practical guide to English writing that's ever appeared.

"Whether you write B2C, B2B, commercial copy or even romance or mystery novels, you just can't find any more pithy advice anywhere else.

"Whenever I give a writing workshop, I ask who has a copy of The Elements of Style on their desk. A flurry of hands go up. And to any writer who doesn't raise their hand, I have to say, 'Why not? Go get a copy immediately!' I advise every working writer to refer to this little book often.

"When I'm feeling overburdened with corporate-speak, buzzwords, and jargon, remembering the advice of Strunk and White really helps me keep my writing crisp, clear and concise. For less than $10 and under 100 pages, nothing else can touch this little guide as a writing advisor and companion."
The goal of the Great Books Club is to expose members to the most impactful books in the areas of writing, marketing, business and self-development that can help further the skills and careers of copywriters and other freelance professionals. And each month, a special guest expert is brought in to share the most important lessons they've learned from the featured book.

The AWAI Method™ for Becoming a Skilled, In-Demand Copywriter
The AWAI Method™ combines the most up-to-date strategies, insights, and teaching methods with the tried-and-true copywriting fundamentals so you can take on ANY project — not just sales letters. Learn More »

Published: November 25, 2014