How to Determine Your Value in the Marketplace

The biggest joy and the biggest sense of terror for a new copywriter can happen within seconds.
The joy comes when you land your first paying client.
The terror immediately follows when you realize you don't know what you're doing yet.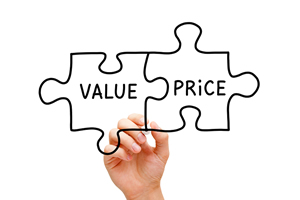 "Where do I start?"

"How much do I charge?"

"When do I send an invoice?"

"How many sets of revisions should I offer?"

"What happens if I can't deliver?!"
… and the minor panic attack begins.
It's not just rookie copywriters who experience this. Even with a few projects under your belt, you may have similar concerns when you face a new type of project.
It can be tricky.
Figuring out what you're worth and then coming to an agreement on deliverables, fees, timelines, revisions, and invoicing is not an exact science by any means.
Let me take them one by one and give you some tips to help you feel (and act) more like a pro even when you're just starting out.
I've learned some of these strategies from master copywriters like Bob Bly and Nick Usborne, some from my own clients, and some from mistakes I've made in the trenches trying to navigate the waters by myself.
1. Positioning is key
It all starts with how your prospects and clients perceive you, and first impressions count. Whether they meet you first on the phone, on your website, or in person, make sure you put your best foot forward.
Do you give off an air of confidence and success? Do you sound like you know what you're talking about? Do they see you as an expert?
You might be thinking, "I just started, and I don't have any clients yet. How can I act confident and portray myself as an expert?"
If you're new, the best way is to specialize. Focus on a narrow niche or a type of copywriting, or both. If you promote yourself as the "direct response web copywriting specialist for the travel market," you'll have more authority than a "freelance copywriter" (based simply on my own experience – I've had an increase in the number and average size of projects I've gotten since making that switch last October).
2. Handling inquiries: Take control
At some point, you'll get a call from a prospect asking, "What do you charge for … (a landing page, sales letter, home page, etc.)?"
The easiest thing is to give an estimate or a price range. Don't do this!
Here's why: first of all, if someone is calling you out of the blue, they're catching you off guard. They're firing questions at you, and your mind is spinning trying to keep up. Plus, you have no idea about the scope of the project if they're only asking you for a price. Even if you give a fair price, answering their question will almost always result in the same response: "Okay, sounds good. We'll call you back."
Instead, get their name and number and ask if you can call them back in 15 minutes.
Before you do, Google them and get as much information as you can. Then write down 10-15 questions to ask them.
Now you're in control of the conversation. And rather than trying to sell yourself to them, you're asking questions about their situation to see if you're a good match.
See the difference?
It goes back to the idea of "positioning." The second approach positions you as more of a professional. If you are a good match and move on to pricing and a proposal, your perceived value will be higher.
Same thing goes for in-person inquiries. Take control of the conversation by asking questions.
One other thing: don't tell the prospect you're available to start immediately. It makes it look like you've been waiting around for someone to call. Set your availability out at least a few days or a week, which will give you time to put the proposal together or more time to finish the project if you do start right away.
3. Pricing: Sell your value, not your time
Pricing your services is probably the most challenging thing for beginning copywriters.
Bid too low and you'll end up doing way too much work for what you're getting paid.
It's tempting to do if you need the work. But it undermines your authority, and you won't be on equal footing with the client. You may even lose the project because the client won't value your work as much.
Bid too high and you risk not being able to deliver the expected value to the client.
Whatever you do, don't charge by the hour. The client doesn't need to know, and probably doesn't care, how long the project takes you. They care about results.
I'd recommend erring on the high side. The client can walk away if they don't like the price, and you can always add value to the project if you choose.
I like Nick Usborne's advice on pricing: "Look at what you're going to do, consider the value of the likely outcome, and charge a fee that fairly reflects that outcome."
4. Proposals: Outline exactly what's going to happen
Once you've decided how much to charge the client, incorporate this into the proposal. I keep my proposals simple and list things out in this order:
The fee, with a very detailed explanation of what they're getting. I also write that I require 50% up front to get started, with balance due within 30 days of completion.
The timeframe, including when I'll deliver drafts and final copy.
A guarantee of their satisfaction (not results).
Revisions, which I provide at no cost up to 30 days.
Next steps. I ask the client to sign the proposal and send it back along with their one-half deposit so I can get started.
An agreement like this will help you avoid any issues of miscommunication.
5. Landing the project
If you've spelled out everything in the proposal, getting a "yes" is just a formality. Your positioning and the way you handle the initial conversation is what usually makes your case, not the pricing and proposal.
6. Follow through: Communication is paramount
You finish the job, make your final revisions, send the copy to your client, and sit back and wait for the second half of the project fee, right?
Not quite.
After my first two projects, I was nervous to call the client. I didn't want to hear their opinion of the copy, and I was worried that they didn't get any results from it.
Thankfully, that wasn't the case.
Check with the client to see if they'd like revisions. Ask if they've implemented it yet or gotten any feedback yet. Suggest ideas for another project. Let them know you enjoyed working on their project and that you appreciate their business. In many cases, this has led to future work for me.
The Cycle Continues …
I've given you a very simplified version of the work flow here, but it should give you a framework to get started. As time goes on, you'll develop your own structure, your own proposal templates, and your own follow-up system.
As you do, remember this one core principle: it's all about positioning.
Even if you're just starting out, your AWAI training through the Accelerated Program and other resources puts you head and shoulders above most working copywriters out there.
You probably also know more about direct response copywriting than 98% of your clients. The other 2% are paying you because they don't have time to do it themselves, so don't worry about them.
Have confidence in your abilities and the value you bring to the table. Convey that in a self-assured manner to your clients. Propose an equal exchange of your expertise for their investment.
And as your expertise grows, which it will, their investment in you will, too.

The AWAI Method™ for Becoming a Skilled, In-Demand Copywriter
The AWAI Method™ combines the most up-to-date strategies, insights, and teaching methods with the tried-and-true copywriting fundamentals so you can take on ANY project — not just sales letters. Learn More »

Published: February 16, 2012