Ad Exec Breaks Out of
9-to-5 "Prison"

Family flourishes inside her new elastic schedule
Cindy Cyr's oldest sister, Sue, was one of her heroes and one of her best friends. So when Sue learned that she had stage-four colon cancer, Cindy wanted to be with her as much as possible during the last, difficult days of her life.
But unfortunately, Cindy's boss declined her request.
At the time, Cindy was an advertising executive for a regional publication. She could do much of her job remotely, and her co-workers were willing to cover the local angles for her. But her boss refused to let her have the time off.
Being in that cage of a job during the remaining four months of Sue's life impacted Cindy in a big way.
"That experience remains to this day a very big driving force … I never want to be in that position again of not being able to go and be where I need to be or want to be," she says.
And there were also nitpicky things about her job that got under Cindy's skin. Like when her boss wrote her up for being barefoot at her desk – even where no one could see her feet! Or demanded that she wear panty hose in 100-degree weather.
Cindy wanted out!
Re-Visiting an Old Dream
Cindy loved to write and had even considered writing as a career … being an author could be fun. But could she make any money writing or would she fall into the starving artist trap? She considered being a reporter for a newspaper or TV station, but that lifestyle wasn't for her.
Cindy searched for other options, but none she found seemed likely to provide the financial support she wanted.
Enter American Writers & Artists Institute (AWAI). "One of the things that led me to AWAI was I was trying to figure out what made one ad work better than another. So that's how I discovered what a copywriter was," she says.
Through AWAI she also learned that she could make a living – a good one, in fact – copywriting. Ready to pursue this path, she signed up for AWAI's Accelerated Program for Six-Figure Copywriting and soon realized how much she enjoyed it.
"I liked the challenge of trying to figure out what worked and what didn't. It was kind of like a puzzle to me," she says.
Almost immediately, Cindy had the opportunity to attend an email copywriting workshop with Matt Furey. Her sister Sue was still alive at the time and Cindy thought writing emails might be a way to get started quickly. She invested her tax refund and went.
The Need for Speed
Eager to expedite her new career, Cindy additionally joined AWAI's Circle of Success (COS), which gave her lifetime access to all AWAI programs.
"Circle of Success kept me accountable," she says. "The feedback and the live workshops were so good for me and it really speeded up my learning curve."
At AWAI's FastTrack to Copywriting Success Bootcamp and Job Fair, besides refining critical skills, she joined a small group that did mini peer reviews for each other. Six months of these interactions made a huge difference in her confidence and skill levels.
To further hone her business skills and increase her revenue, Cindy attended the Business of Copywriting workshop with Dan Kennedy. "Overnight it changed my business," she says. "Instead of just going job to job, I was getting clients who would do six-month and year-long contracts with me."
Sadly, Sue died only four months after her diagnosis. Cindy was still slaving away at her old job, but the heartbreaking memory of lost opportunities with her sister only served to push her forward. Ultimately, she was able to resign from the advertising agency five months after beginning her journey with AWAI.
A Growing Roster of Clients
With networking and outreach, Cindy's freelance business – and income – steadily expanded. Early on, a local marketing agency hired Cindy to write a case study for renowned motivational speaker and writer, Zig Ziglar. She had never written a case study, but she was a member of COS – giving her access to AWAI's program for writing case studies.
At Bootcamp, she told Rebecca Matter about the opportunity. Rebecca introduced her to Pete Savage, a case study specialist who gave her some links and tips. He even offered to give her feedback on her case study after she wrote it.
With the case study in hand, the Ziglar Corporation was so pleased with her work they hired her for more assignments.
That was the start of a 12-years-and-counting, six-figure career for Cindy with a client list that includes 7 and 8-figure small business owners, national and international businesses, and info-marketing companies One of her biggest clients is No BS Inner Circle with whom she has been working since 2011. She also co-authored a book with Dan Kennedy, No B.S. Marketing to the Affluent (3rd Edition).
A Bi-Coastal Life
The death of Cindy's sister Sue may have lit a fuse for her, but Sue wasn't Cindy's only motivation for wanting more freedom in her life. She has two sons, Dalton and Austin, who were 6 and 11 when she joined AWAI. The boys' activities included baseball, basketball, theater, karate, and music. Cindy wanted the flexibility to accompany her sons to their various activities.
Twelve years later, Dalton is now, at 18, a successful singer, songwriter, multi-instrumentalist, actor, and recording artist working in L.A.
As Dalton's music career progressed through his teens, he was going on tour and fulfilling commitments on both coasts. Cindy, freed from that 9-5 job, was right there with him. For five years, her family kept an apartment in Los Angeles, as well as their home in Jacksonville Beach, Florida, to facilitate all the demands on Dalton's time and talents.
Cindy's older son Austin has his own story. "Austin always had a little bit of an entrepreneurial spirit to him," Cindy says. During his freshman year in college, he attended No BS Inner Circle's young entrepreneur workshop, at his mom's suggestion, which lit a spark for him.
After college, inspired by Cindy's free-flowing lifestyle, he set his sights on a copywriting job at the prestigious Agora Business Publications. It took persistence and some creativity, but within a year he moved into a dream job at Agora.
Cindy says that today, freedom and flexibility are still top priorities for her.
"While my kids are grown up now and one is in L.A. and the other one is in Baltimore, I still want that flexibility," she says. "My parents are in St. Louis, and they're elderly. Being able to be there for them is really important to me. And if my kids need me, I can get up and go see them. So that's still my 'Why,' that flexibility."
Cindy's Tips For Copywriters
Have a support system within the AWAI community. If you don't already have copy buddies, you can call AWAI, and they will connect you with someone who can help you.
Start now. "Write for yourself. Write for someone you know. Apply what you're learning."
Never forget your "WHY." Remembering why you started this journey will get you over some rough spots.
Ready to pursue your own definition of success?
Learn more about the program that kicked off Cindy's career,
The Accelerated Program for Six-Figure Copywriting.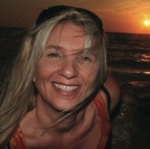 "There were times when I had to cut back on the amount of work I was doing, because I had things that needed to be a priority for my family. But that's the beauty of having this job… that you can ebb and flow."
Location:
Jacksonville Beach, Florida
Former Career:
Advertising Executive
How She Got Her First Client:
She sent out targeted letters and landed an assignment writing emails for a local retail store.
Top AWAI Programs:
Dan Kennedy's Business of Copywriting
Circle of Success