Matthew Furey:
Zero Resistance Writing for
Bigger Email Sales
"AWAI's Accelerated Program for Six-Figure Copywriting is the #1 program I recommend to all my coaching clients. Why? Because it's the most thorough, concise, simply written and easily understandable program on making a fortune as a copywriter available today. When I first read the program, I had already been writing copy for 10 years. Yet, I was astounded by what was revealed in this one program alone. This program contains a lifetime of combined copywriting knowledge pulled directly from the minds of the BEST copywriters on the planet – along with the secrets that would normally cost you tens of thousands of dollars and several years to acquire. Get the program and your eyes will open to a whole new way of living – filled with freedom, adventure and abundance."
— Matthew Furey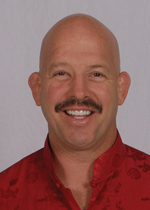 MATTHEW FUREY began swimming and wrestling at the age of eight. Through continued effort and discipline, he became an expert in both fields.
In 1996, Matthew published his first book, The Martial Art of Wrestling. Since that time Matthew has published several other books and launched a successful line of fitness products. He has also been featured in a number of fitness magazines including Grappling, Martial Arts Illustrated, Karate Illustrated, Gladiator Magazine, and Inside Kung Fu Magazine.
To promote his products, Matthew has created a popular ezine. Michael Masterson has called him, "the world's greatest email copywriter" for his ability to generate huge response rates from very short messages.
Learn more about Matthew Furey