Lisa Christoffel
Managing Editor, B2BWritersInternational.com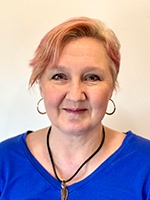 LISA CHRISTOFFEL began exploring copywriting because she'd just squeaked through one too many layoffs at her corporate job six months before seeing a Mark Ford promotion for The Accelerated Program for Seven-Figure Copywriting in late 2014. She had no copywriting or marketing background, but loved writing and decided to launch her freelance business in 2015.
With over 25 years' experience as a Global Service Business Manager and then a Global IT Implementation Manager, she began her copywriting career writing for SaaS and Services companies where she had a background and felt comfortable. But her passion, where she spent her free time, was in her children's schools and volunteering for PTA. Wanting to re-focus on education, Lisa settled into her Training and Education niche in 2017.
She is an AWAI Circle of Success member, copy reviewer, COS mentor, and writer (particularly for B2BWritersInternational.com and DigitalCopywriter.com). She's also the founder of Christoffel Copywriting, providing freelance marketing and copywriting services to B2C and B2B companies in the education and training industry. Lisa still has a day job … and in addition to her management role there, she provides B2B copywriting services to her employer (writing about solvents and specialty chemicals!).
Her decades of volunteering in her 3 sons' schools and running the various PTAs has consumed most of any free time she had, but she also enjoys slipping in biking with her husband, going to Penn State football games, and traveling. Most recently, she was a PTA Region Director, responsible for 83 units in 6 counties, a member of her school district's Board of Education, and was on the New York State PTA Board of Directors. Her passion is working on behalf of children in public schools, with a goal of one day knowing that no matter what a child's zip code, they have access to an education that will help them reach their full potential.
Lisa Christoffel Articles
More Articles By Lisa Christoffel …