Ilise Benun:
Marketing Mentor for Copywriters and Creative Pros
"The key to self-promotion is persistence. You can't start and stop. Building relationships with people is a constant seed-planting and watering process. So if you consider yourself introverted or shy, get over it – at least during the time you spend promoting yourself. The message you must convey is this: I have something of value to offer to you. Sit right down so I can tell you all about it."
— Ilise Benun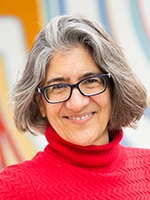 ILISE BENUN is the founder of Marketing-Mentor.com, the go-to online resource for creative professionals who want better projects with bigger budgets. She is also a national speaker and business coach, author of 7 books and the Marketing Mix Blog, and host of the #HOWLive podcast and the Marketing Mentor Podcast. In addition to being a Program Partner for HOW Design Live, she teaches as adjunct faculty at Pratt Institute and Maryland Institute College of Art. Her online courses can also be found through, AWAI, CreativeLive and HOW Design University. Follow her @ilisebenun and get her free Quick Tips: www.marketing-mentortips.com
Ilise Benun Articles
More Articles By Ilise Benun …
Books by Ilise Benun
Connect With Ilise
AWAI Programs by Ilise Benun
Pricing Your Writing Projects Has Never Been So Easy …
Talking about money with confidence is important to the success of your freelance business. Not only that, you need to be able to price your services accurately and provide quotes for projects that make sense for your clients and that are fair to you.
But, if you've never run a freelance business before …
Or "talking numbers" has never been your strong suit …
Or you don't even know what ballpark to start in …
Then AWAI's Simplest Guide to Pricing Copy Projects is the solution you've been looking for.
This is a simple guide for copywriters who want to quote, price, and negotiate fees like professionals — without fear or emotion. Simple, but also comprehensive.
Step-by-step, creative business expert and negotiator Ilise Benun will help you finally feel completely confident running the "money side" of your business.
In AWAI's Simplest Guide to Pricing Copy Projects, Ilise shows you exactly what it takes to price your services confidently.
Plus, she'll teach you how to negotiate with your clients to get your best fee every time.
And, she'll give you her proven tips for running your copywriting business successfully.
Most importantly though, you'll discover how to earn the income you need every single month as a freelance copywriter …
You'll discover secrets like:
The simple 3-step pricing process to figuring out what you MUST charge … and exactly what you're "worth" …
Her "secret of silence" … and her #1 tip for being a successful negotiator …
How to "talk numbers" without hesitation …
Why you do not have to put yourself at the mercy of anyone who comes along and "blesses" you with a writing project …
And much, MUCH more!
Replacing your full-time income with copywriting fees can be easier than you ever thought possible!
In short …
AWAI's Simplest Guide to Pricing Copy Projects has the power to skyrocket your copywriting business.
And you can order now with confidence, because your investment today is protected by our "10x Minimum Rate Guarantee" …
If Ilise's step-by-step program DOESN'T save you TEN TIMES your hourly rate by eliminating wasted time pricing projects …
And it doesn't transform you into a confident pricing machine …
Or, if it simply doesn't exceed your expectations …
Simply give AWAI's Member Services a quick call, up to a year from today.
They'll refund every penny you invest today … no questions asked.
Order your copy of AWAI's Simplest Guide to Pricing Copy Projects now, and you'll know within minutes.
AWAI's Simplest Guide to Pricing Copy Projects: $297.00
Effective Networking Made Easy
You Could Be One Conversation Away From Tripling Your Income … Will You Know Exactly What to Say?
This essential guide to networking can help you turn any casual or formal conversation into a $100,000 marketing effort. Use this tool effectively to either launch or dramatically improve your existing business, and you may even double or triple your income each year, too.
You'll discover:
How to tell someone what you do in 10 words and get them interested in knowing more …
Where to find low-key, low-pressure opportunities to meet prospects …
Painless ways of networking that limit the amount of time you need to spend actually talking to people …
Why your listening skills are just as important as your speaking skills when it comes to creating lasting connections …
How to apply your copywriting skills to your networking success … write your own USP for your services … brainstorm your features and benefits … do unto yourself as you would do for others!
How to avoid trivial chit chat and strike up strong relationships instead …
Why you should hang out at the buffet table next time you go to a networking event … whether you're hungry or not!
The magical power of the old-fashioned thank-you note …
Networking at its best is not a numbers game … it's a contact sport …
Nine most important considerations when naming your business …
How to use your outgoing voicemail message as a powerful networking tool …
How to package yourself professionally so you can network more naturally …
Three ways to make the most out of your business card …
How to let your name tag do all the hard work of breaking the ice at an event …
Effective Networking: The Fastest Way to Win Clients and Grow Your Business: $597.00