Dianna Huff:
Never Stop Learning
"In today's world, it's imperative you constantly learn new things. Gone are the days when skills could be 'silo'd'. The name of the game is integration: from content to search marketing to data insights. The more you know, the more you can evolve and the more you can offer your clients."
– Dianna Huff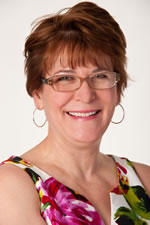 DIANNA HUFF helps small, family-owned industrial manufacturers grow through marketing. A marketing strategist, Dianna draws from over 20 years of marketing know-how, including marketing communications, PR, copywriting, and SEO and digital marketing, including being Google Analytics Certified.
She's also the creator of AWAI's B2B Website Copywriting program – a course geared toward helping freelance copywriters learn how to create copy for professional service, industrial, software, real estate, and other types of companies where the product or service is a "considered purchase."
In business since 1998, Dianna began as a B2B copywriter. In 2001, she taught herself SEO and was one of the first to offer B2B SEO copywriting. In 2005, she began doing what she called "odd projects" for which she didn't have a name – but now calls Website Overhauls. Since then, she's helped over 100 companies – across the U.S. and internationally – completely revise all or parts of their websites.
Dianna has won multiple awards for her work and has contributed to publications that include Search Engine Land, Marketing Land, Content Marketing Institute, and Gardner Media's Manufacturing Marketing newsletter / blog. She's also the co-author, with KoMarketing, of the 2015 B2B Website Usability Report was well as 101 Ways to Market Your Website with Rachel Cunliffe of Cre8d Design.
In her off time, Dianna is an avid cyclist. In 2016, she did a three-day ride that traversed New Hampshire from the Canadian border to the southeastern coast. Her future plans include riding across the U.S. in 2018.
Dianna's website is: http://www.huffindustrialmarketing.com. You can also follow her on Twitter @diannahuff.
Connect With Dianna