3 Reasons to Join Our Private Bootcamp Facebook Community Now!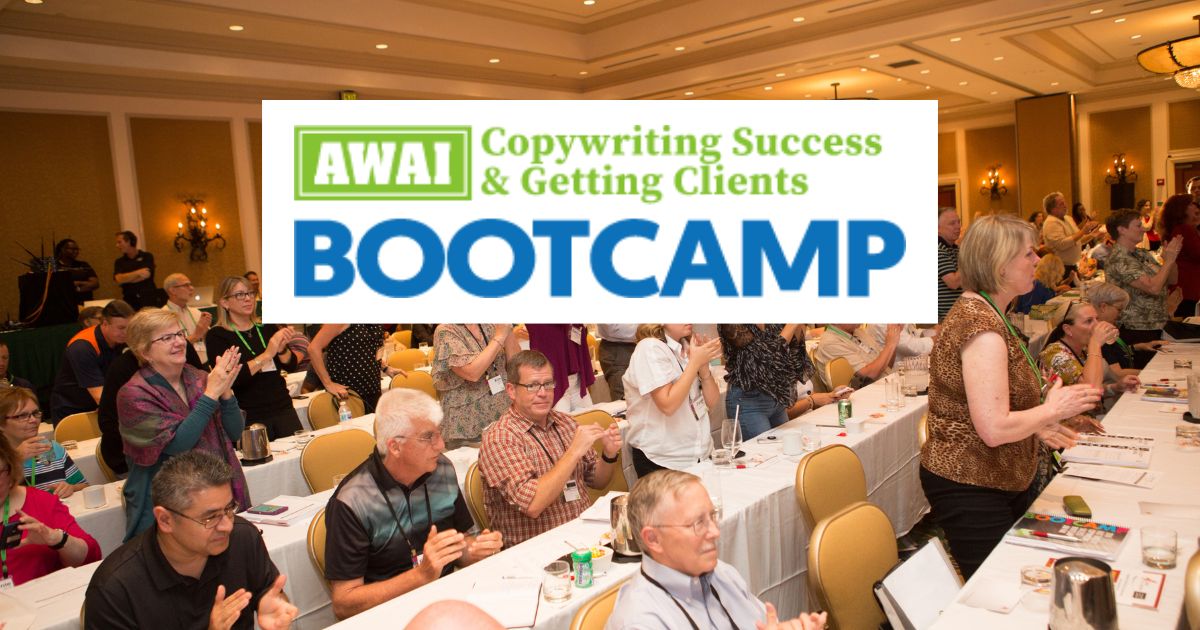 If you haven't visited our Bootcamp 2023 Facebook Group yet, it's time to jump in! You'll find a lively, motivated community including new copywriters, experienced copywriters, AWAI staff, and speakers … all looking forward to meeting in October.
Not sure what to do there? We have three suggestions:
Find a Bootcamp hotel roommate.
If you'd like to find a fellow copywriter to share hotel expenses, this is the place to provide specifics on that you're looking for in a roommate.
Find an accountability partner, Buddy Group, or fellow newbie(s).
One of the best aspects of Bootcamp is connecting with others so you're never alone on this journey! You can find others who live near you, or who share the same interests or niche-market focus, or who are first-timers (like you, if that's the case). Connect now so you find familiar faces when you arrive in October.
Share your hopes, goals, and wishes for Bootcamp — and get heartfelt feedback.
Michael Glenn, who's coming to Bootcamp for the first time this year, recently posted this awesome "rallying message" in the Facebook group. We love it!
"12 Weeks Till Bootcamp!

‍💁‍♀️💁‍♂️ RAISE THE ROOF 💁‍♀️💁‍♂️

This week, if I may, I want to take a moment to celebrate my big pre-Bootcamp win:

Ten weeks ago, I set my goal that before Bootcamp I want to find my first client, and I want to get paid to complete one project. Well, I'm halfway there: I have my first client.

What?! 🥳 🎊🎉

It's pro bono work, though — but after being out of the workforce for 15 years … as far as I'm concerned work is work. It just means I'll have to find somebody else to pay me to complete one project. (So if any of y'all are overbooked and need someone to help with a case study or site content audit, hit me up.) 🤓

Fortunately, I still have 12 weeks to achieve that goal if I so desire.

Now back to our usual programming:

This week is all about Rebekah Mays' 2022 Member Spotlight and let me tell you, this is one you do not want to miss!

Ted Capshaw offers some great insights into understanding how we spend our time, and Rebekah's observations on how to chart your own course are on point. 👍

(Plus, her own story is super inspiring.) 🤩

As usual, you can find the video in your member's area, on the Bootcamp 2023 page under Bootcamp Success Story Bonus Series.

Let me know what your biggest takeaway from this video is in the comments!

Okay bye. 😉"
How's that for taking action, encouraging other members, and making the most of Bootcamp prep? YES! (Thank you, Michael!)
If you've already registered for this year's Bootcamp, you'll find the access and secret membership code on your Bootcamp 2023 Member Page. (Look under the Private Facebook Group tab.)
If you haven't registered for this year's Bootcamp yet, go here now. And then go join our Bootcamp Facebook group so we can get to know you!

The AWAI Method™ for Becoming a Skilled, In-Demand Copywriter
The AWAI Method™ combines the most up-to-date strategies, insights, and teaching methods with the tried-and-true copywriting fundamentals so you can take on ANY project — not just sales letters. Learn More »

Published: August 12, 2023