Living the Writer's Life: Alice Watts
Back to Her Roots for Fun and Income in Second Career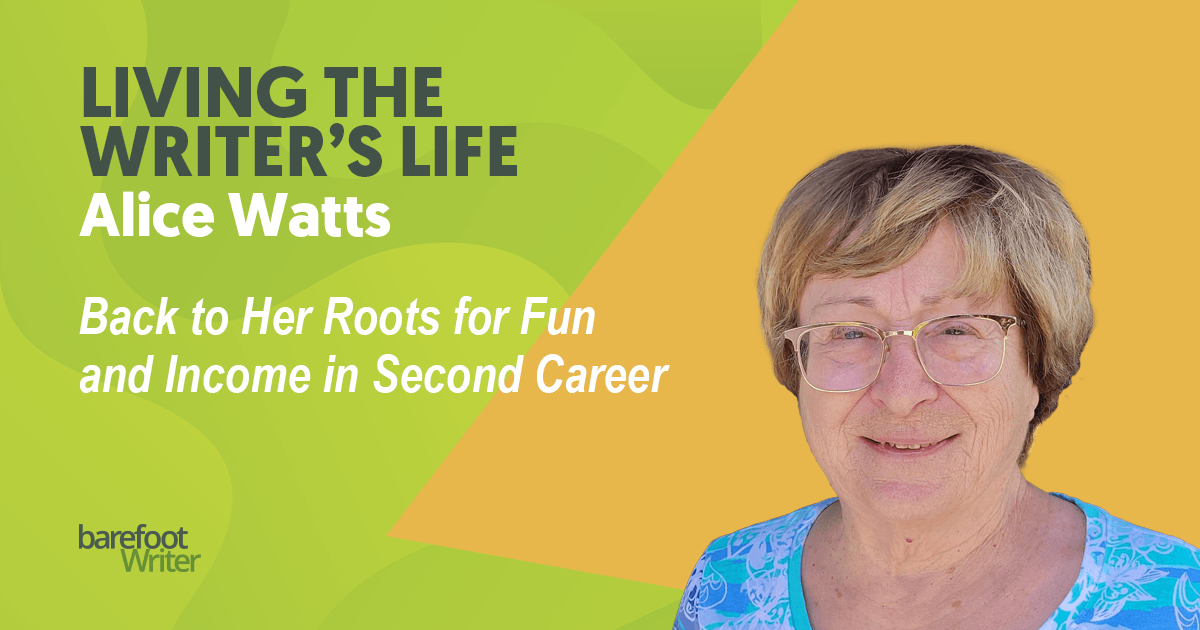 Alice was able to transform over two decades of work experience
into a profitable, niche-focused writing career.
Alice Watts didn't want to sit around bored in retirement, and writing sounded like something that would fill the void and bring in money. After a few false starts, she found her footing, and now she fills a need in the writing world that she never saw coming. Discover what it is below …
What was life like before becoming a Barefoot Writer?
I was a retirement benefit specialist and analyst, working mainly on 401(k) plans. I spent over 25 years in pensions. Then I retired but didn't want to sit around twiddling my thumbs.
I found AWAI about seven or eight years ago and discovered copywriting, so I learned how to write copy and that I preferred B2B. So it's been an evolution.
You were able to take your experience and channel that into your professional copywriting career.
I was, but not immediately. I tried another niche and got nowhere. Then I connected with B2B coach Ed Gandia and got a one-on-one consult with him. He basically said, "With your background, why aren't you writing about pensions?"
I said, "Because I didn't know they needed writers." I changed my LinkedIn profile, I changed my website, and here I am.
With your profile and website updated to target your niche, how did it go?
Well, I started going on LinkedIn and made baby steps at finding retirement companies. And then I signed up for a retirement conference, and about that time, I turned to Ilise Benun's 21-Day System because I was scared to network. She helped me develop plans to get my name out in the retirement space before the conference and after. That was four years ago, and ever since, I've been writing a monthly article for the business newsletter of the National Institute of Pension Administrators, the association that ran the conference.
Sounds like you're really capitalizing on your experience. What other kinds of writing do you do?
I do mainly articles and blogs, and I've done a couple of white papers. I took Gordon Graham's white paper program. And I've talked to some clients about writing case studies. So far, it hasn't materialized, though they've shown interest. When I'm not writing 401(k) stuff, I like to write history. American History magazine likes things very conversational and very nontechnical.
That's a big departure from what you write on the business side.
Yes, but even though I'm writing about technical subjects with 401(k)s, I'm writing for the average person, so I'm writing conversationally in words that the everyday person can understand, which I learned a lot about from Steve Slaunwhite's B2B program. I'm like a translator. I can read the legal language in the bills and in the plan documents, and then I translate it.
How did you transition from working in the corporate world on retirement plans into freelancing?
I got tired of sitting around the house. After I left the corporate world, I took a couple of creative writing classes, and that fueled my interest in doing it, seeing if I could make some money.
What does your life look like now?
It depends on what projects I have and what else has come in, what I'm scheduled for, but generally, I'll write four to six hours a day, four days a week. Not Friday. I live in The Villages in central Florida, north of Orlando. It's a golfing community. I moved here from the Dallas, Texas, area. Now I find myself the proud owner of a golf cart. And so, Friday mornings, my aunt and my cousin and his wife and I go golfing.
If you were talking with somebody who had just heard about Barefoot Writing, what advice would you give them about starting?
I would say be a good writer. You don't have to be perfect, which I always thought I had to be, but be a good writer. Know your craft. Find a niche early that's based on your background. You may not love it, but use your background to get into a niche so you can get started early. Don't fumble bumble around like I did.
Alice's Living The Writer's Life story was originally published in Barefoot Writer. To learn more about how you can start living your dream writer's life too, click here.
What help do you need to move forward with your version of the writer's life? Let us know in the comments below so we can help guide you in the right direction.