Congratulations to Michelle Miles, Our Spring 2023 Winner of AWAI's White Paper Challenge — Awarded $5,000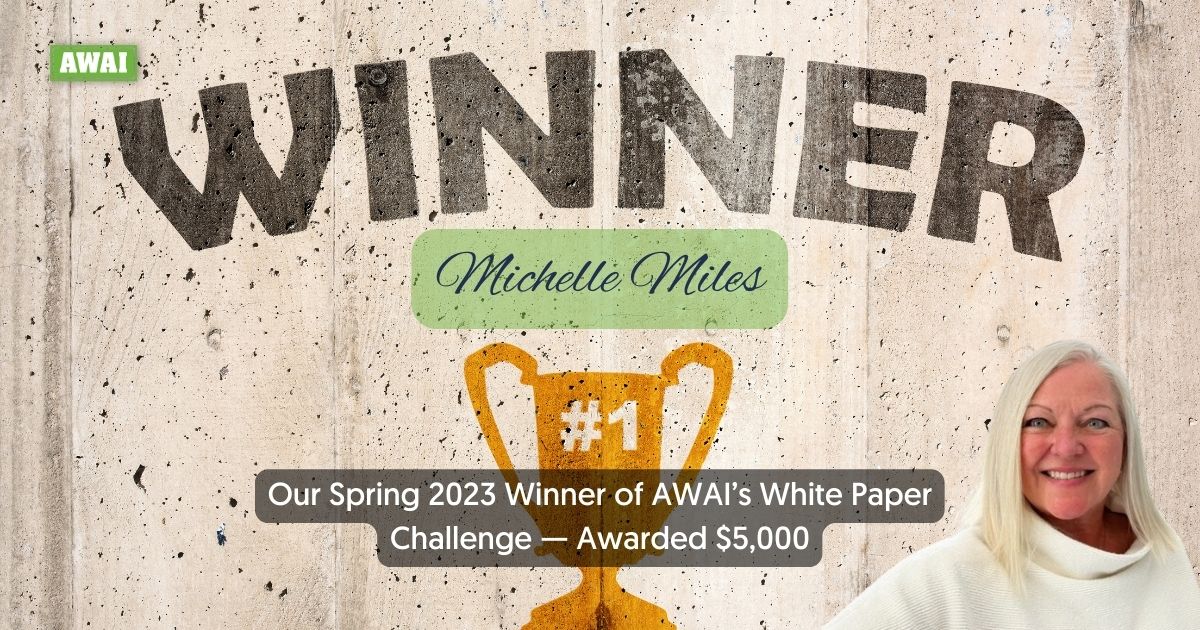 On Thursday, May 4, 2023, Michelle Miles received the big news that she has become our latest champion of AWAI's $5,000 White Paper Challenge.
As part of our training program White Paper Mastery & Certification, participants could become AWAI Verified™ White Paper Specialists … and were eligible for a grand prize if their paper was selected as the top submission.
Participants in the live eight-session program followed a step-by-step method for writing a 10-page white paper on B2B copywriter training (sponsored by B2B Writers International).
This program was taught by Pam Foster, AWAI learning chief. Pam is an experienced B2B copywriter and trainer on white papers and more. Class members were given the challenge of turning in a complete, 10-page white paper and possibly earning $5,000 as the grand prize. They also took a rigorous test to demonstrate their understanding of white paper principles and earn their AWAI Verified™ White Paper Specialist certification.
Of all the entries we received, one stood above the rest. Aside from meeting all the requirements and scoring a 99 out of 100 … the paper went above and beyond expectations. According to the reviewer, "I think we'll be hard-pressed to find a more professionally written white paper. Michelle's work is outstanding."
Here's what our winner had to say when she learned that her white paper was the top choice.
👏 Michelle Miles 👏
She said, "Oh that's so wonderful! What a great surprise! It was a lot of hard work, and there was a time where I got behind about three sessions when we had visitors come and I'm like, 'Okay, how am I going to do this?' But I finally said, 'Oh, just do what they said. Stick something on the page and it'll all come.' And it did! You guys were amazing as facilitators; everything made sense. And the materials were fabulous. All the tools, the templates, etc. Thank you!"
Not only did Michelle win the grand prize, but she landed a white paper client before the course was wrapped up. She told us, "It's actually someone that I know who's the CEO for a biotech company. We're working on a white paper right now. The company is going public at the end of the year, and what they really need is something of a backgrounder because it's a complicated process that they're trying to explain to potential investors. It's a good fit for me."
Congratulations to Michelle and to all White Paper Mastery & Certification participants who submitted a report!

The AWAI Method™ for Becoming a Skilled, In-Demand Copywriter
The AWAI Method™ combines the most up-to-date strategies, insights, and teaching methods with the tried-and-true copywriting fundamentals so you can take on ANY project — not just sales letters. Learn More »

Published: May 20, 2023