Bootcamp Challenge Ad Writing Contest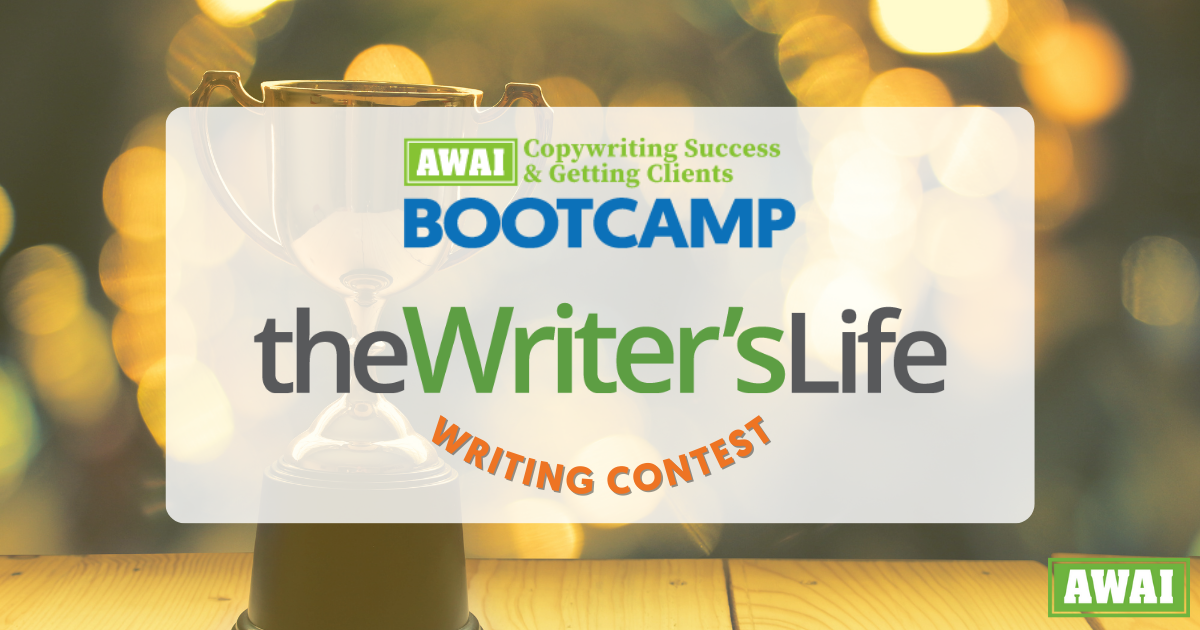 Here's Your Chance to Write an Ad for AWAI's Upcoming 2023 Bootcamp …
And be one of three winners who receive a ticket to attend
The Copywriting Event of the Year! (A $2,495 Value)
In just a couple of months, AWAI will kick off its annual Copywriting Success & Getting Clients Bootcamp.
And no doubt our motto will hold true … This will be the BEST BOOTCAMP EVER!
Featured speakers include …
Donald Miller — The legendary New York Times bestselling author who teaches business professionals everything they need to know to grow a profitable business.
Terri Trespicio — An award-winning writer, in-demand speaker, and brand advisor whose TEDx Talk, "Stop Searching for Your Passion," has been viewed more than six million times.
Mari Smith — This top social media thought leader known as the "Queen of Facebook" demystifies social media marketing, and emphasizes how relationship building is always at the heart of successful business.
Those are just a few of the "headliners" who will be sharing their expertise at this action-packed three-day learning event.
Since the first event over 25 years ago, Bootcamp has become known as the "must-attend" event for marketers and writers of all levels of experience. That's because it's changed the lives of so many people in so many ways.
And today, you're going to have the opportunity to experience Bootcamp in a completely new way.
I'm inviting you to take part in a special Bootcamp writing challenge where if you're one of the lucky three winners, you'll get a FREE entry ticket to the event.
All you have to do for a chance to win is follow the writing instructions outlined here.
But first you might be wondering why we're doing this.
Well, it's simple.
Bootcamp is by far the biggest event we host each year. And because it's become such a game changer for so many people, we want to spread the word to as many writers as possible.
We'd love to give you the chance to help us do just that by writing an attention-getting ad we can use for our online marketing campaigns.
But it runs deeper than that. Because if you decide to take us up on this challenge, you're actually getting a chance to use your freelance writing skills.
And if we like what you hand in, your ad might be one of three we'll use to promote Bootcamp. If your ad is chosen, you'll get a free entry ticket for Bootcamp on us.
Yep, that's right. You'll be one of three people who will be given a Bootcamp entry pass for the in-person event — a $2,495 value — absolutely free of charge.
The Bootcamp Challenge Ad Writing Contest is open to all AWAI writers, regardless of the level of writing experience you have … from newbie to experienced professional.
Now, I'll share the details in a minute, but let's take a few minutes to talk about ads and why they are so important to our online campaigns.
When I say "ad," I'm talking about writing a message that runs on a website with the intention of gaining attention, generating awareness, and getting visitors to take action.
That action is clicking on the link included in the ad. And when a prospect clicks the link, they are taken to either a blog post with more information, a mini-website, or a landing page with more in-depth information or an online order form.
Now that you know a little more about how ads work, I'm going to walk you through a few guidelines to help you feel comfortable writing an ad, especially if this is your first time.
Writing Ads Guideline #1: What is the goal?
Banner ads are written for different reasons, including letting potential customers know about a new product or service, offering them a discount or free report, or telling them supplies are limited.
Whatever the ad is about, as the writer, you need to know what the client's goal is. In other words, what do they want to achieve with the ad?
Do they want to bring awareness about the product or get a visitor to take some kind of action?
Writing Ads Guideline #2: Who will read this ad?
Readers pay attention only to ads that mean something to them. It's similar to that old saying, "If you're speaking to everybody, you're speaking to nobody."
Before you write an ad, you'll want to know the target audience. What are their core desires and beliefs?
In addition to researching the target audience, the other way to get to know who you are writing to is by putting yourself in their shoes.
Writing Ads Guideline #3: Get them started with a strong headline
Whatever the goal of your ad is — to gain recognition or get someone to act — it all starts with a headline.
After years of studying how headlines are put together, we know the most successful ones usually share several key elements:
One strong idea
One desirable benefit
One driving emotion
One inevitable solution
In addition to these elements, AWAI has developed a set of criteria that makes writing headlines much easier for writers to do. We call these criteria the Four U's™:
URGENCY. Give the prospect a reason to desire the benefit of the product/service sooner rather than later.
UNIQUENESS. Make the prospect feel that there is one particular thing about the product/service that is different — in at least one small way — from every other product/service of that type. Uniqueness also suggests that you are talking about something real and concrete.
ULTRA-SPECIFICITY. Be as precise as possible, stating true facts and figures.
USEFULNESS. Promise the prospect something that has value for him.
These criteria can be applied to any kind of writing project you take on … from writing sales letters and articles to blog posts and ads. That's because all good copy starts out with a compelling headline.
Writing Ads Guideline #4: Write relevant body copy
Much like writing a long-form sales letter that keeps your reader engaged from page one until the close, no matter the length, writing ad body copy also needs to keep your reader's attention.
Although it's okay to use catchy words, you don't want to bore the reader with clichés and terminology they've heard before. You have limited space when writing ad body copy, so you must choose your words carefully.
Think in terms of benefits, not features. As a refresher, a benefit is the positive impact the product or service will have on the customer, whereas the feature is part of the product itself.
Writing Ads Guideline #5: Can't resist not clicking
The body copy of your ad should get the reader eager to take the next step. That next step is clicking on the link in your ad. This is also known as the call-to-action.
You want the call-to-action to be explicit. A simple "click here" may just do the trick, but you can also experiment with some more specific approaches, such as "read our free report," "join our contest," or "reserve your spot now."
Now that you know the guidelines for writing an ad, it's your turn to give it a try for the chance to win a free entry ticket (worth $2,495) to Bootcamp.
The Project:
Write an ad for AWAI's Copywriting Success & Getting Clients Bootcamp.
When you're ready, you can submit your ad.
The AWAI team will be reviewing the submissions, and based on what we see, we'll pick three winners.
And those winners will be awarded a free registration ticket to Bootcamp.
Here's a sample of the kind of ad you'll be writing.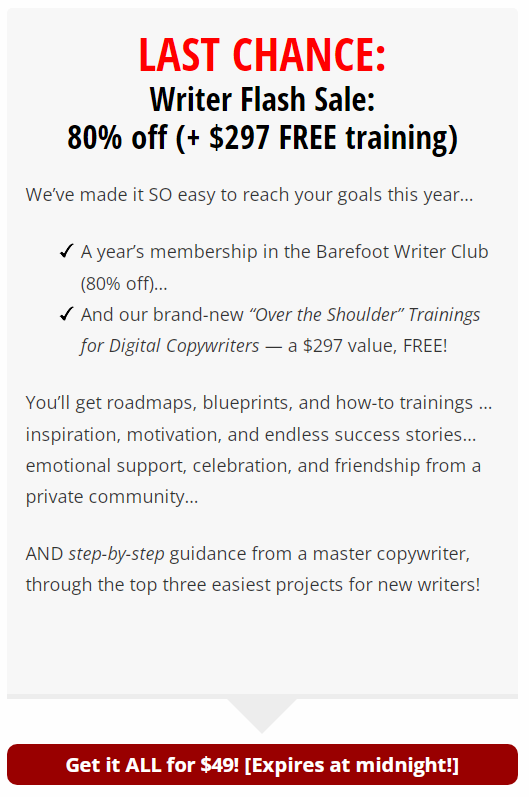 About The Product:
AWAI's Copywriting Success & Getting Clients Bootcamp.
For more than 25 years, copywriters worldwide have called AWAI's Bootcamp the "rocket fuel" that launched and propelled their writing careers.
It's where writers from all age groups, backgrounds, experience levels, industries, and niches come to hear the latest writing secrets from top experts … learn up-to-the-minute industry trends … discover the hottest writing opportunities … and make lifelong connections with marketers and insiders who can impact their careers.
You can find more information about AWAI's Copywriting Success & Getting Clients Bootcamp at the website here.
Guidelines for Writing Your Ad
Get familiar with Bootcamp by reading all the information available on the website. It's here you'll find golden nuggets of information you can use to craft your ad.
Perhaps you'll focus your ad on a particular speaker and the information they'll be sharing … or a testimonial of how Bootcamp changed a person's life … or the new trends attendees will learn.
This is important because when a reader clicks on the call-to-action link in your ad, they will be taken to the Bootcamp website.
The Rules for Submitting Your Ad
Rule #1: Make this all your own, original work. Remember, the real value here lies in practicing and improving your craft.
Rule #2: The headline needs to grab attention. But it also must be short. In fact, it cannot be more than 135 characters long. Why so strict? Ads are short bursts of copy and the amount of space you have to work with is limited.
Rule #3: The body copy should be relevant to your reader. But again, you have space limitations to follow. Keep your body copy limited to five sentences in total length. You can structure your body copy as bullets, but each bullet will count as a sentence.
Rule #4: Explicit call-to-action. Be concise and clear. Avoid vague terminology and wording. And make certain your call-to-action is just 30 characters (including spaces). If the call-to-action doesn't fit on one line, it will be trimmed.
Rule #5: You have a deadline. Submit your copy by 11:59 p.m. ET (one minute before midnight) on Wednesday, May 31, 2023.
AWAI will announce the three winners in Week in Review.
Bootcamp Challenge Submission Details
This contest has ended. Check out the winners, here.
Do you have any questions? Let us know in the comments.

The AWAI Method™ for Becoming a Skilled, In-Demand Copywriter
The AWAI Method™ combines the most up-to-date strategies, insights, and teaching methods with the tried-and-true copywriting fundamentals so you can take on ANY project — not just sales letters. Learn More »

Published: May 24, 2023