Living the Writer's Life: Katie Sanders
Triple AWAI Spec Winner Shares Her Views on Creating a Writer's Life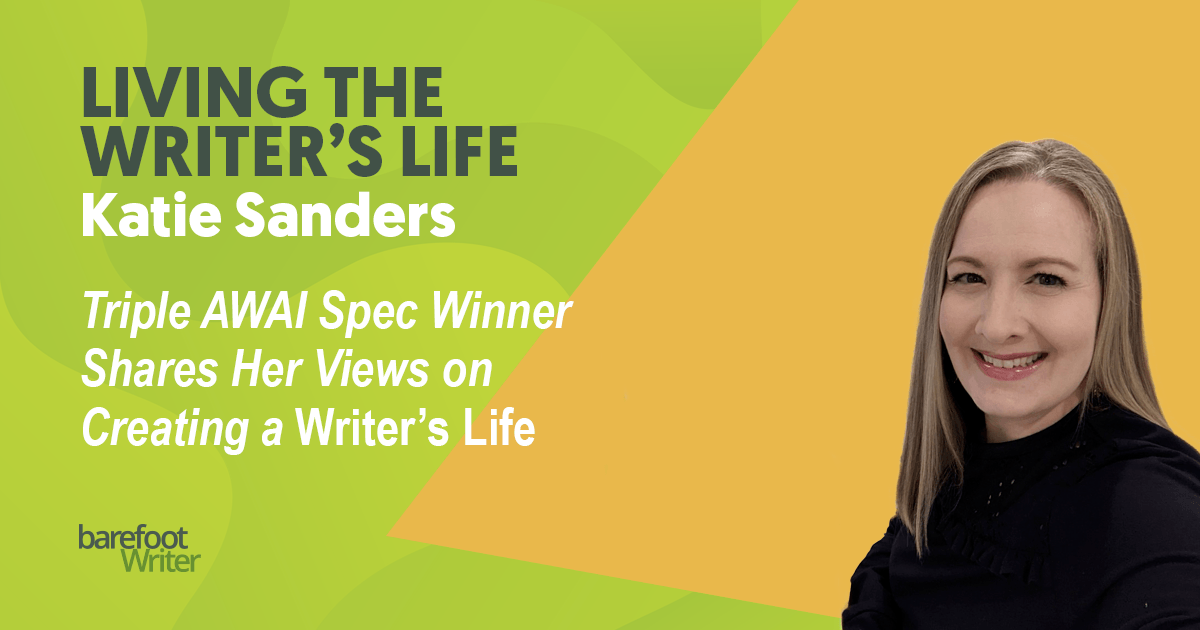 Katie is a triple AWAI spec winner with her sights set on learning all she can while enjoying motherhood.
Katie Sanders has five young children under the age of 12, but that hasn't stopped her from pursuing a successful writer's life focused on helping nonprofits. Her writing desk is often the kitchen counter (while she's cooking dinner for her family), and she thinks up ideas for projects while running around after her two toddlers. Katie's writer's life may look different from others, but she is determined to make things work for herself and for her family.
What first drew you to copywriting?
I've always been a writer, but I never thought about looking into it as a career. I worked as an RN for years before making the switch. When I came home after having my fourth child, I felt a deep desire to start blogging about our personal family journey. I invested in blogging courses to learn how to build and monetize a site. I quickly realized how much work it takes to maintain a blogging business. But during that time, I realized there was probably a huge market in writing for others.
So I Googled "how to make money as a writer," which led me straight to AWAI. It was exactly what I was looking for. Copywriting just made sense in my brain and came very naturally. I felt like I'd found my calling.
You've won several certification spec assignments for AWAI. What's your favorite type of writing?
I've actually won three certification spec assignments (Case Studies, Emails, and UX), but case studies are my absolute favorite. I just love the whole process. I was thrilled when AWAI contacted me to write another case study for them last winter! And I was super surprised when I got asked to be Casey Hibbard's TA for Case Study Mastery in the spring. I think case studies are incredibly fun and rewarding, especially on the B2C side.
I've worked with several different types of clients, but my goal is to spend the majority of my time working with nonprofits. They need so much help with marketing … so I want to learn as much as I can so I can step in and help as much as I can.
What is it about your chosen niche that you love so much?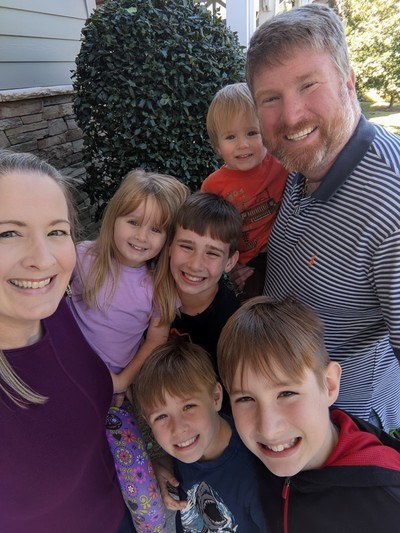 Katie with her
family after
a Sunday
church service.
I've always had a heart for Christian and humanitarian efforts. I've always wanted to make an impact in some way, but everything I wanted to help with just seemed so big and overwhelming … and unreachable. I have five kids all under the age of 12. My time outside the house is extremely limited.
I don't have time to volunteer and get involved like I want. So, when I found out writing for nonprofits could help make the impact I was looking for, I was all in. I knew this was my gift and this was the way I needed to use it.
What do you see as the most important ingredients for a writer to be successful?
Patience, perseverance, self-motivation, having a plan, and good old-fashioned grit. That's my story in a nutshell.
I started learning the craft of copywriting in early 2021, starting with The AWAI Method™. Once I got started, 2021 went really well for me … and then the bottom absolutely dropped out at the beginning of 2022.
We lost my mom very suddenly in January … our house unexpectedly flooded from a burst sewage pipe just a few months later in April … and just weeks after moving back home, my dad was in a terrible car accident. The whole year has really been unbelievable … and it's been very difficult to work.
But, I still showed up every day over the past nine months. I'm still putting in the work wherever I can, whenever I can … because I want it. I want it bad, not just for me, or my family, but also for the people I'm yet to help. Life happens … and you have to keep going.
My writer's life, my story, and my definition of success may look different from most, but I love it … and I'm motivated as heck to make this into a fruitful and impactful career. You have to be able to roll with the punches and keep going if you want to realize your version of the writer's life.
When not writing, what kinds of things do you do for fun?
Honestly, writing is my fun time! This is my creative outlet and what I love.
Katie's Living The Writer's Life story was originally published in Barefoot Writer. To learn more about how you can start living your dream writer's life too, click here.
What help do you need to move forward with your version of the writer's life? Let us know in the comments below so we can help guide you in the right direction.

The Barefoot Writer
Discover a lucrative style of writing that will give you as much freedom as you can have while earning a great income at the same time. Learn More »

Published: December 31, 2022