Living the Writer's Life: Jon Stoltzfus
Former Engineer Trades in Office Job for a Writing Career He Loves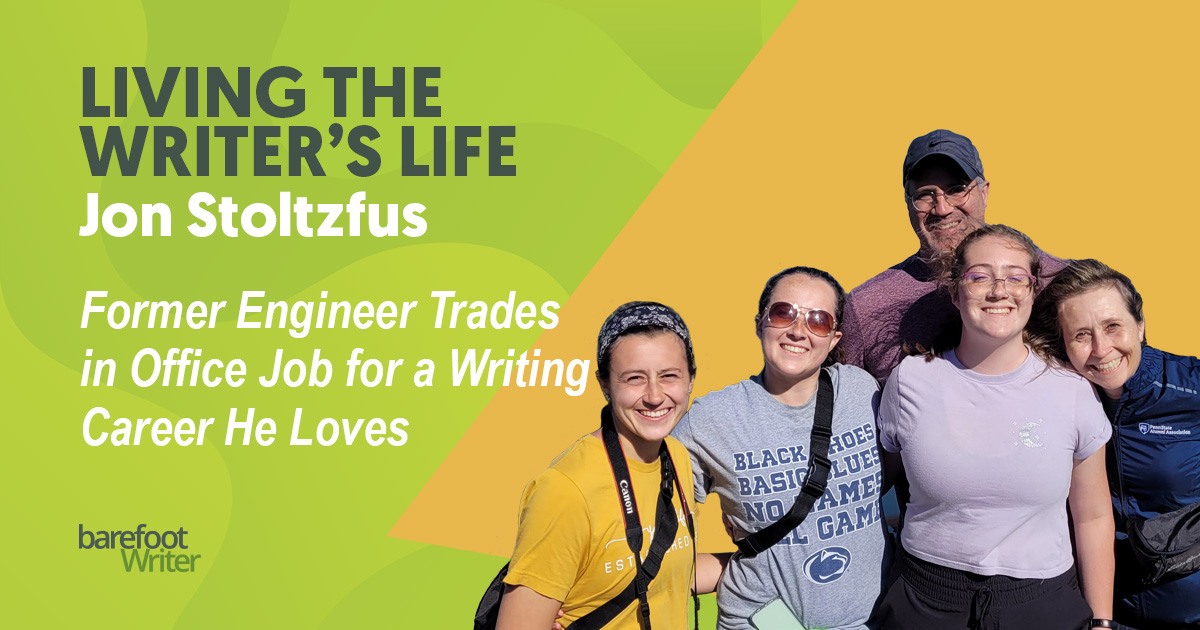 Jon and his family love going to national parks and visited Acadia National Park in early June just after school ended. A lot of nature, not a lot of cell phone service!
We last checked in with Jon Stoltzfus back in 2016 when he was still writing on the side and maintaining a full-time career as an engineer. Now, six years later, Jon has succeeded in building a writer's life filled with projects he loves. In this "where are they now" interview, you'll learn why Jon says it's so important to follow through on commitments as a copywriter. Plus, you'll discover his secret weapon that helps him write more efficiently when the big projects come knocking!
What's new in your copywriting career since we last checked in with you?
I continued to work as both a copywriter and engineer until 2018, when I left engineering behind completely. At that time, I joined Charles Street Research — a former Agora division — as a senior financial copywriter. I wrote financial copy for a couple more years, then in 2020 was recruited by Anik Singal, CEO of Lurn, to join them as his copy chief and build our team.
Lurn is an online business opportunity/education company, so it was a change from financial copy, but it's been fun diving into a new niche and writing some different styles of copy. I still write some financial copy on the side, as it's a topic I really enjoy.
When you were just starting, you made a commitment to submit five specs at your first AWAI Bootcamp (one of which you won!). What is your philosophy on making and keeping commitments?
I think the two biggest commitments beyond those specs have been to lifelong learning and networking.
None of us knows everything, and the industry/market is constantly changing. Anyone who doesn't continue to learn new skills, track the pulse of our customers, and develop every day as a better copywriter and marketer will eventually get left behind.
Also, networking has been one of the biggest keys to my continued opportunities. I'm a strong introvert by nature, but I can talk with people and build relationships when I need to. Relationships are the strongest asset you have in a changing job market — and that's true for traditional jobs as well as freelancing. Everyone should get out there, make new connections, build relationships, and start building respect among your peers. It will pay off in the future, sometimes when you least expect it.
And of course, you need to follow through … If you're going to be successful as a freelancer, not just as a copywriter, you need to treat it like a job, not a hobby. If you don't take it seriously, why should your potential clients?
Do you have any writing methods that help you be more productive and write better copy?
I outline — a lot. It's something I think too many writers don't do, but when you do it right, it can really accelerate the process. That tactical, systematic approach to copy comes from my engineering background. I also use Scrivener for long-form sales letters because it really fits how I outline and write longer promotions.
And finally, for short copy like ads and emails, I've found just a few bullets and dictation is one of the fastest ways to write strong, conversational copy.
What's your advice for new writers?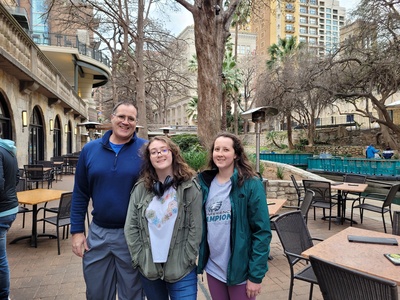 Jon and his family enjoyed a trip to Texas over
spring break, including San Antonio's River Walk,
where he's shown with his two oldest daughters.
Don't wait too long to start prospecting for clients. Build a portfolio, even with samples if you need to, and start putting yourself out there.
And don't go it alone. There are so many communities, coaching programs, and other places online to connect with and learn from other writers. If you're reading this right now and you're not active in the Barefoot Writer Facebook group, why not? Get in there, introduce yourself, and start learning and networking.
What do you love most about your writer's life?
I love the variety of both projects and what I'm doing. My days are never the same, which keeps it interesting.
What's your favorite tech gadget and why?
I have been messing around a bit with a Rocketbook. It's an erasable-page notebook with grid dots and you write or draw on it, snap a picture of it, and it gets scanned to your account or computer. I don't really write in it, but I have been using it for sketching out marketing funnels and other diagrams I want to use in copy. It gives me a quick sketch I can either convert on my own or pass off to our design team.
Jon's Living The Writer's Life story was originally published in Barefoot Writer. To learn more about how you can start living your dream writer's life too, click here.
What help do you need to move forward with your version of the writer's life? Let us know in the comments below so we can help guide you in the right direction.

The Barefoot Writer
Discover a lucrative style of writing that will give you as much freedom as you can have while earning a great income at the same time. Learn More »

Published: October 29, 2022