Living the Writer's Life: Anne Hill
Anne's Story: Finding the Courage to Start over Again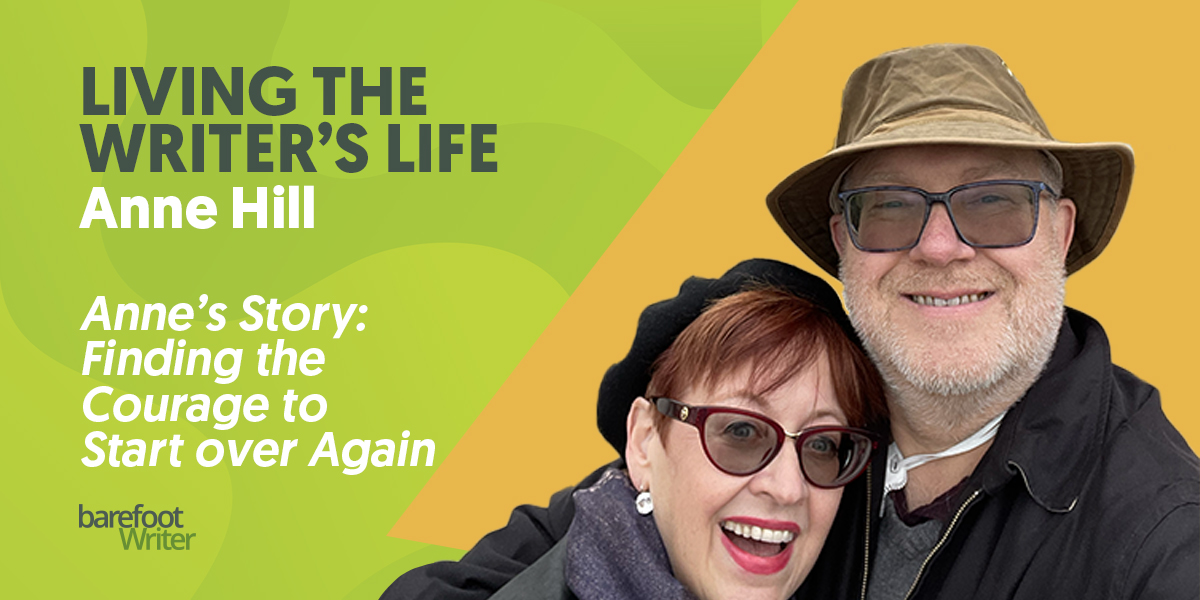 One of Anne Hill's favorite quotes is from the movie The Curious Case of Benjamin Button. In part, it reads, "I hope you live a life you're proud of, and if you're not, I hope you have the courage to start over again." It's something she reads regularly and has taken to heart. We're so thrilled Anne was willing to share her story of reinvention and perseverance with us here. Not only has she managed to build a beautiful writer's life, but she now writes on her terms for clients she loves.
How did you begin your life as a copywriter?
I was a freelance graphic designer in the mid-'80s, and some of my clients needed copy with their designs. So, I wrote for them but never planned on being a copywriter. I had a degree in linguistics and French and planned to go to the UN as a translator.
Then, in the late '80s, my life took a massive turn. I wanted to save the world, so I joined an organization I thought was doing that. I spent the next 18 years of my life there.
I worked in international marketing and was the senior magazine editor in charge of a dozen international publications. I wrote a lot: 18-to-20-hour days, seven days a week, for over a decade. Of course, I had no idea what real marketing or copywriting was, but I sure knew how to pump out the words!
As you can imagine, when I escaped, I had no desire to do any form of writing whatsoever — I just wanted to have a life! It took about 10 years, but I created a successful career as a retail store manager.
Then, in 2018, I saw an ad for Barefoot Writer on Facebook, and something sparked. I decided to check out this copywriting thing and was hooked. On January 1, 2020, I was a full-time copywriter, and I've never looked back.
What kind of writing gets you the most excited these days? Why?
I love to write content for the health and wellness fields, and most of my clients are in that niche. But what excites me right now is writing my memoir. I call it my cult escape/midlife reinvention story, so you can imagine what that's like to write!
What do you look for in an amazing client?
When working with a client, I look for someone easy to communicate with and who gives good feedback. The rest is simple after those two things are in place. I can usually tell if a client will be difficult to work with based on how they communicate (or don't communicate) with me in the discovery process. So far, that's worked well for me.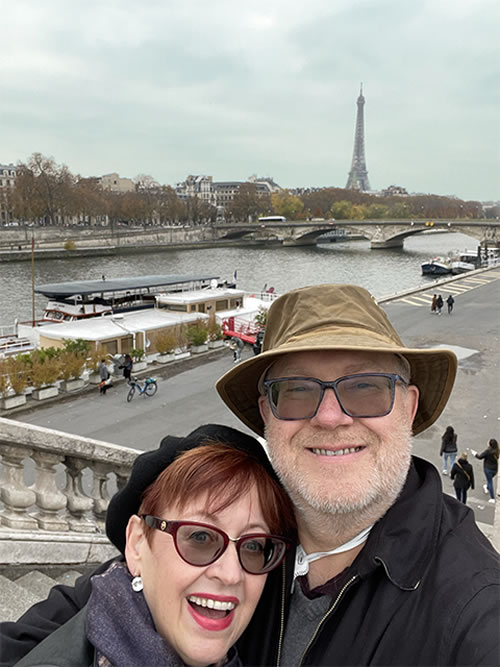 Anne and her husband,
Tom, love to travel.
Here they are in Paris.
How do your hobbies and personal interests complement your writer's life?
My husband and I love to travel, and we love fine food and wine, so we take every opportunity to enjoy all of it. Last year, for instance, we went on a dream trip to France. Honestly, thanks to my writer's life, if I want to do something fun, I can almost always say yes! That's freedom for me.
Can you tell us about a time you had to overcome self-doubt?
In October 2020, I found out about an opening with Metabolic Living and decided to go ahead and apply. That included writing three spec assignments and sending a cover letter to them. I expected to hear back within a week, but that came and went, so I figured that was it. I still patted myself on the back for doing the work and putting myself out there, though.
A few days later — on my birthday, of all days — I got an email. I was moving on to the interviews, and I was on the top of their list! I was utterly shocked but so excited. And they are now one of my best clients. It's a dream job, and I'm so glad I put the doubt aside and went for it.
How does your life now differ from what you imagined?
I never thought I'd be in the position I am now, working when I want, on projects I love, for some of the best people I've ever met. I'd say it's a dream come true, but I could never have imagined a life as wonderful as this one!
Anne's Living The Writer's Life story was originally published in Barefoot Writer. To learn more about how you can start living your dream writer's life too, click here.
What help do you need to move forward with your version of the writer's life? Let us know in the comments below so we can help guide you in the right direction.

The Barefoot Writer
Discover a lucrative style of writing that will give you as much freedom as you can have while earning a great income at the same time. Learn More »

Published: June 17, 2022