Which Well-Paying Writing Projects Would You Like to Write?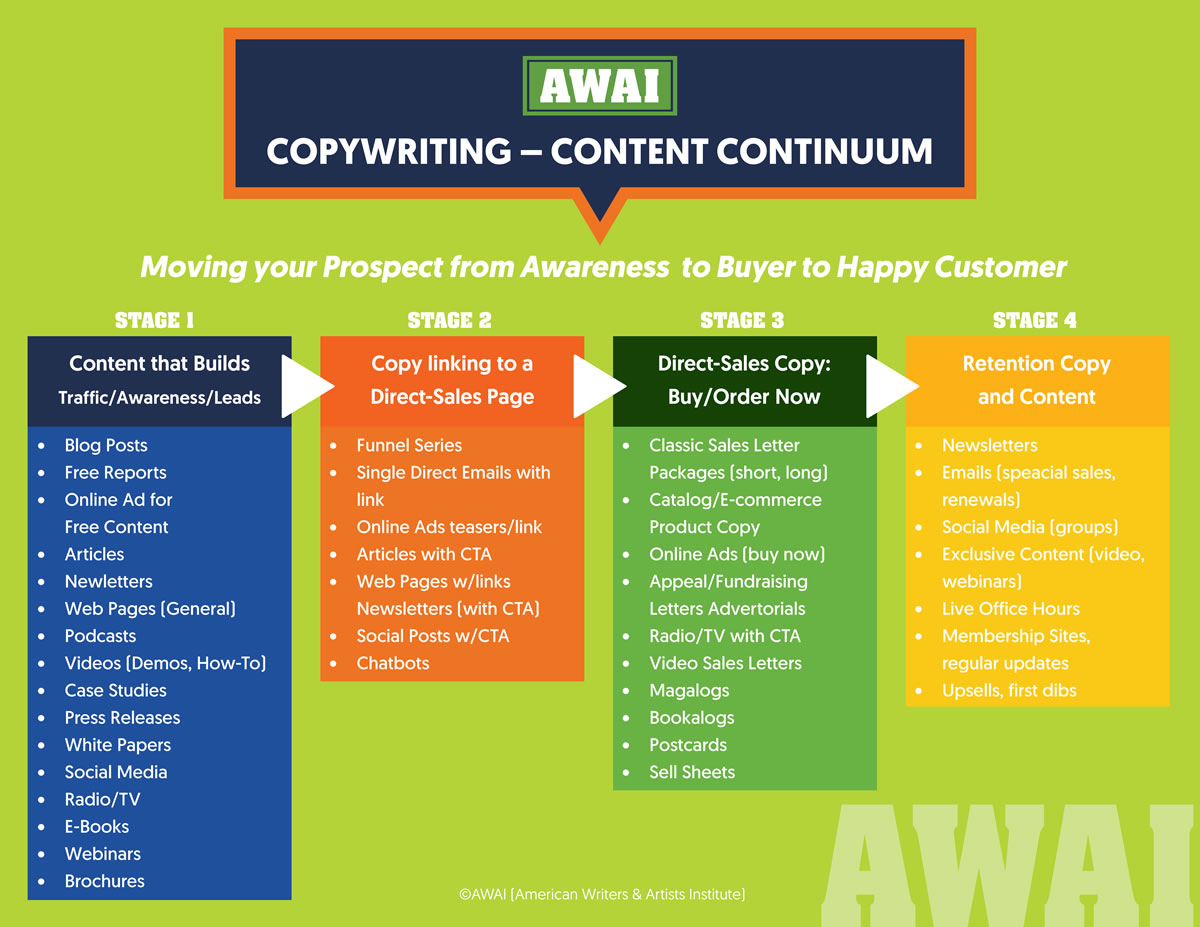 We're living in a golden age for freelance writers. The opportunity is huge — and still growing.
Take online shopping. A recent McKinsey report says the pandemic accelerated online shopping habits by an enormous "Leap." What they thought would take 10 years took just three months. Since stores were closed, more people turned to online shopping.
Conferences and face-to-face meetings paused in the business world, but that doesn't mean companies stopped selling.
Not at all.
Everything moved online — and it's stayed there.
Which means HUGE opportunity for you … and a variety of writing projects you can take on from the "pre-suasive" side of gaining attention and building relationships … all the way to the persuasive side of helping turn a prospect into a loyal customer.
More often than not, it starts with a search …
There are an estimated 89,409 Google searches every second.
Many of those are "how-to" questions or comparison shopping.
Whether you want to know "how to" to make cauliflower rice or you want to know the pros and cons of specific car tires, the answers to these questions are only a Google search away.
And what happens when you search for the answers to things?
Your search turns up answers in the form of content (the first big opportunity for you!).
Content Is a Bridge Between Question and Sale
From blog posts to videos, content is what helps potential customers find brands.
And writers get paid very well to create effective content. Because it's the very beginning of a long chain of "touches" …
This high-quality content introduces a reader to a brand. It educates and maybe entertains them. But few people buy something the first time they come across it, do they? Chances are, they don't even notice it the first time or two.
That's because our brains are wired to filter out most of the "noise" around us. Otherwise, we'd constantly be overwhelmed. But if the content is good and we're the right audience and keep seeing it, we'll gradually become aware.
That's what we mean by brand awareness.
What's Brand Awareness?
Imagine you're looking for a new pair of walking shoes. You want something stylish and versatile with a comfortable arch support. You google "best women's walking shoes" and up pops a blog post called "11 of the Best Comfortable (and Stylish) Women's Walking Shoes."
You click on it and scroll through the images and descriptions. The links take you to an online store where you can buy the shoes.
That's an example of a comparison blog post.
Now imagine you want to learn more about how to clean your dog's ears. You google "How to clean a dog's ears" and up pops several blog posts and videos. One of them is from your local dog groomer. You read through the post and follow the instructions. You're impressed by the groomer and decide to take your dog in for complete grooming.
That's an example of content marketing at the local level. If that groomer consistently puts out good content, their website will be at the top of Google, which means their ideal clients find them online quickly.
Every single industry publishes new content every day. Much of this content has an educational focus to build brand awareness.
Blog posts (Typically 600-1,200 words)
Free reports
E-books
Case Studies
General web pages
Social media posts
Ad content
Videos (How to, demos)
Webinars
And more
You don't even have to do all of these to make a good living as a freelance writer. You could focus only on blog posts, for example. Or web pages, e-books, or social media content. Or any combination you can imagine.
Businesses of all sizes need educational brand awareness content …
Yet, it's only the first stage of becoming a customer! And it's the first stage of a LOT more copy and content projects for you …
Consideration Stage
Now that your potential customer knows who you are, what you do, and why they need you, they're considering their options.
They're still not ready to buy. But they're thinking about it.
This content often has links that take the reader to a sales page. There's still a lot of education, but this can be more like traditional direct-response copywriting.
This type of content includes:
Email funnels
Single emails with an offer
Online ads
Newsletters with links
Social posts with a strong call-to-action
Chatbots
Again, you can make a fine living focusing on these. You can tell clients you only write chatbot scripts or email funnels and focus on those. Or, you can become skilled on a mix.
Buying Stage
At this point, the prospective customer is waiting on the "right" moment to tip them over the edge and pull out their credit card. The copy is more focused on getting the sale.
Traditional sales letter
Product copy (Like Amazon descriptions)
Promotional emails
Radio/TV ads
Magalogs
Postcards
Sell sheets
And more
By now you see that it takes a lot of content and copy to turn someone into a customer.
Whether looking for a new computer, a new pair of shoes, or considering a new accounting program at work, people weigh the pros and cons as they interact with that spectrum of content and copy. Each piece is answering questions and building trust and credibility along the way.
Research in the past has shown it would take 7-12 "touches" before someone becomes a customer — that number has now increased to 27 touchpoints!
This means they need to see your content in multiple ways anywhere from 7-27 times before pushing the "buy" button.
If you watch a video or read a blog post, and then you see ads for that "thing" later, that's one way a brand can remind you they exist. If you sign up for a webinar and the company sends you a "cheat sheet" to go along with it, that's another "touch."
The process of becoming aware to becoming a buyer can take five minutes or five months.
And every step of the way requires content.
Not just any content either, but high-quality content designed with the customer in mind.
And you're not done yet. The cycle doesn't end with the sale. Because once the person buys, the company wants to keep them as a customer. That's called "customer retention."
The Customer Retention Stage
What's the last thing you bought? Did you receive emails afterward? Surveys? Access to private groups? Information about related products? Many brands send follow-up emails. For example, software companies often send emails to show you how to use the product.
You might also get access to membership sites, behind-the-scenes Q&As, and first dibs on sales or new products.
These are all ways to keep customers interested and coming back for more. Companies who inspire loyal customers can grow and enjoy greater profits because they add to their happy customer base.
Your Next Step
Now that you've had a tiny taste of the four stages to buying, you can play a little game. As you go through your day, notice each of the different types of content you come across. Where does each piece fit within the buying cycle?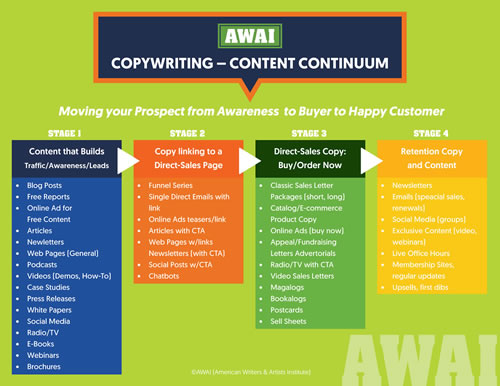 You know what an email is already. You know a video when you see one. But can you pick out which stage of the buying cycle it matches? Can you identify entry-level blog content vs. a more in-depth case study?
Which do you want to write? Which intrigues you the most?
The great thing about the direct-response industry is that you can choose the types of copy and content you want to write.
You just need to choose a starting point and get the training you need to move your writing career forward. The opportunity is waiting for you.
Now, will you share in the comments which type of copy or content appeals to you most?

The AWAI Method™ for Becoming a Skilled, In-Demand Copywriter
The AWAI Method™ combines the most up-to-date strategies, insights, and teaching methods with the tried-and-true copywriting fundamentals so you can take on ANY project — not just sales letters. Learn More »

Published: December 9, 2021