Being a Chatbot Copywriter Feels Like You're Getting Paid to Play a Game!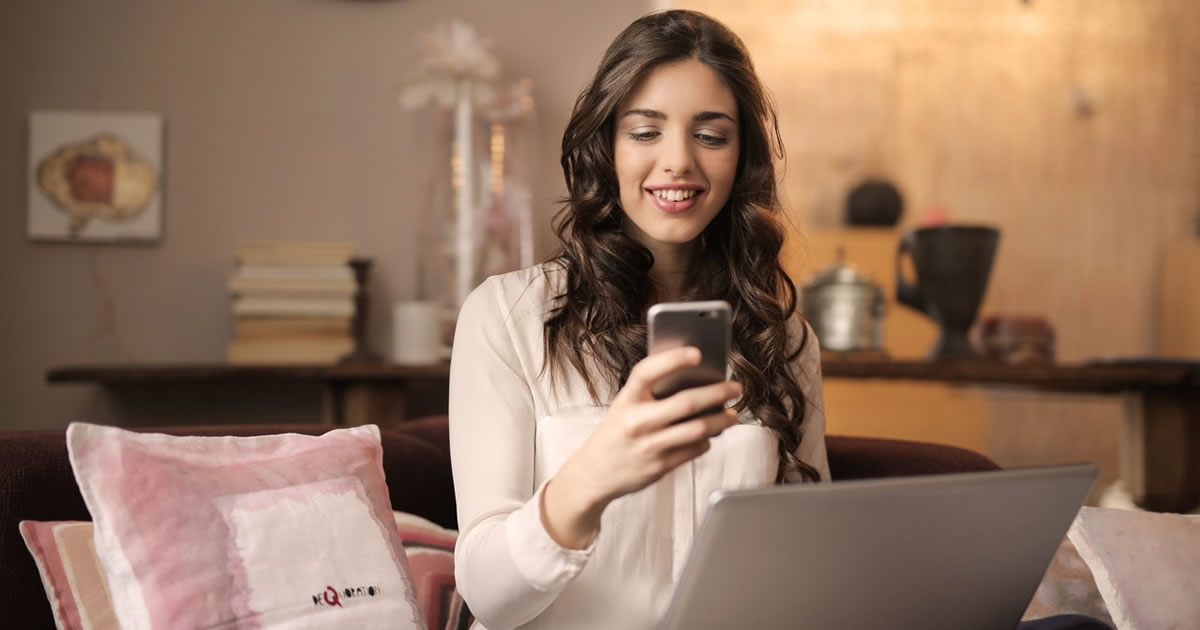 It's true.
I've been a professional copywriter for over 40 years now, and I've written all kinds of copy … for print ads, direct mail, billboards, video, websites, email, social media … and more.
But I have never had as much fun as I do when I'm writing the script for a chatbot.
Honestly, every time I sit down to write a new script, it puts a smile on my face and a spring in my step.
Better still, I can get paid $2,000 or more for each project … even if it's only a couple of hundred words long.
Not a bad payday for having fun!
First, what's a chatbot?
The majority of chatbots are published on the Facebook Messenger platform.
That's right, interacting with a chatbot is just like texting with a friend.
But instead of you chatting back and forth with someone you know, you're chatting back and forth with a business.
And the process is automated. There is a piece of software running the conversation.
In other words, a chatbot is a piece of software that automates a conversation between a company and its customers and prospects.
And here's is the BIG opportunity …
It's still early days with chatbots and chatbot marketing. The business has a ton of developers working on the software code.
But … and this reminds me of the early days of the Web in the 1990s … there are very few professional copywriters in this field.
This means the scripts are being written by developers and "computational linguists." No disrespect to those linguists, but they really don't have the natural, conversational touch you need to write a good chatbot script.
This is where WE come in.
Why chatbot copywriting feels like you're playing a game.
The chatbots I'm talking about are called rules-based chatbots.
You can see the process of writing the script for a rules-based bot in this example for a realtor called Jen.
She's interacting with someone interested in buying a new home.
As you can see, she's asking a series of questions, to zero in on exactly what her prospect is looking for.

This is why chatbot copywriters feel like they're playing a game!
Do you remember those "Choose Your Own Adventure" books?
In each book, the reader became the protagonist, and made choices that would determine the next steps in the story.
On page 5, if you chose storyline option C, you'd jump directly to page 36. And so on.
It's the same with chatbot scripts.
The visitors are the protagonists, and you're giving them choices as to how they move through the experience.
In this example, some people will want to know more about condos, while others will want to know more about houses.
And so on.
They're choosing their own adventure … with a little bit of help from you.
When you're mapping all this out, it might look a little like this: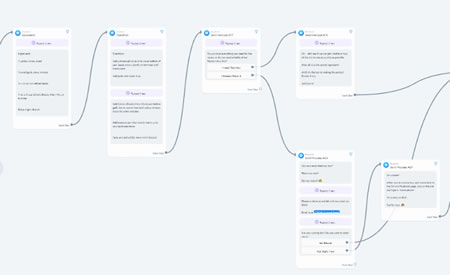 It really does feel like you're playing … moving message blocks around, and creating more pathways to help visitors find the answers they're looking for.
And as you can see, there isn't a ton of writing to do here.
This isn't like writing a 20,000-word sales page, or even an 800-word blog post.
An entire script could be less than 100 words long!
It feels like a game … creating these "What if" scenarios …
"What if the visitor is looking for a condo for less than $500,000?" You have to create a pathway for that person.
Part game, part puzzle. And a lot of fun!
A chatbot copywriter is skilled in two connected areas.
First, you have to design the flow of the conversation.
This is called Conversation Design.
This is what you do first, designing the full scope and flow of the conversation. How does it start? What choices will you give your visitors? And what is the end point of the conversation? What do we want people to do?
Once you have designed the flow of the overall conversation, now it's time to apply your skills as a short-form copywriter.
As you can see, every message block is very short.
You need to write short messages that feel natural and conversational … as if you were texting with a friend.
This fresh new opportunity is wide open for copywriters right now.
Like I said, there are a ton of software engineers in this space. But not nearly enough writers.
That's why this is such a big opportunity for new writers. They need you, and now.
And yes … there is a learning curve. This is a whole new space, after all.
BUT … it's a fun learning curve!
You don't have to juggle a bazillion rules in your head like when you're writing a long-copy sales page.
You just have to learn how to write in a super-simple, natural way … as if you were texting. Which you are!
Put simply, if you're looking for a new copywriting opportunity, this could be it.
It will put a smile on your face every time you sit down to work, and money in your pocket too.
I can definitely recommend chatbot copywriting!
All you need is a bit of training to take advantage of these early days in this field.
That's why I created the first-ever live training program, which I call Chatbot Copywriting Mastery & Certification.
The chatbot market's exploding. It's a market crying out for trained chatbot copywriters. Here's quite possibly your once-in-a-lifetime chance to be a pioneer in a whole new field of copywriting.
Find out more about my upcoming live training here.
Do you have any questions about becoming a chatbot copywriter? Let us know in the comments.

The AWAI Method™ for Becoming a Skilled, In-Demand Copywriter
The AWAI Method™ combines the most up-to-date strategies, insights, and teaching methods with the tried-and-true copywriting fundamentals so you can take on ANY project — not just sales letters. Learn More »

Published: November 2, 2021