Write Your Way to Personal Freedom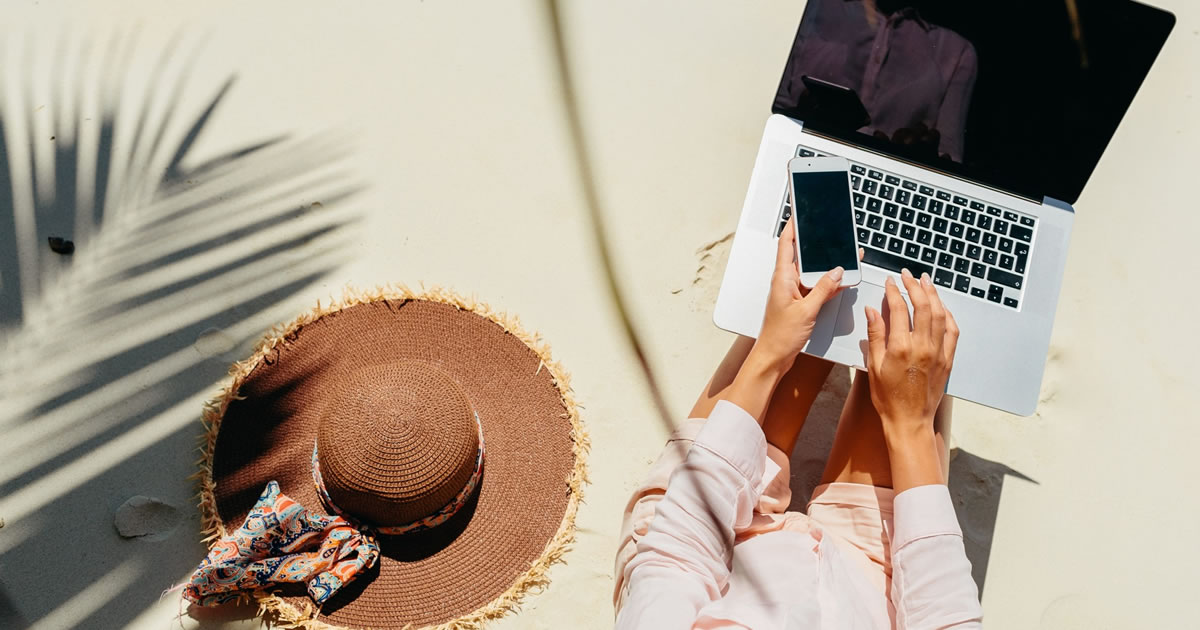 How does your ideal Monday look?
Mine includes waking up without an alarm. I roll out of bed, bumble my way into the kitchen, and pour a cup of cold coffee from the fridge. I can't reconcile myself to a steaming café in such a steamy climate.
Some mornings, I step onto the balcony where I'm eye to eye with the noisy chachalacas in the palm trees softly swaying in the slight breeze.
Soon, I'll settle into my writing chair. I'll flip my laptop open to plan my writing schedule for the week ahead and work on the day's assignments.
But for the moment, I'm enjoying the lush green palm fronds and the birds carrying on their conversation among the branches.
That's my ideal writer's life, and I'm thrilled to say I'm living it.
I Needed a Push
Like many people, a layoff pushed me into my freelance writing business. There I was, working my job as a museum educator at a famous historic site in Pennsylvania when the pink slips came around — well, mine was in a manila envelope.
We'd lost our funding and would close the site for at least a year.
It was a rude awakening.
The Great Recession raged. I was newly divorced and now, newly jobless.
Since I'd been thinking of a freelance writing career for YEARS, I figured this was the push I needed.
I'd already bought AWAI's Six-Figure Copywriting Program. I'd read multiple books and spent hours trawling the internet for anything and everything that might help me launch my freelance writing dream.
However, I needed a shove to take the necessary steps.
So, I pushed my fear aside and created a plan.
I wish I could tell you I started out with a full roster of clients due to a lucky meeting and made six-figures in my first year.
Instead, I started with no contacts, little professional writing experience, and no clue how to find clients.
I told a dog trainer friend I was launching my freelance writing business, and she said, "I'll be your first client!" My next client came via Craigslist. She wanted someone to write her newsletters and blog articles.
Next, I worked up my courage to attend local networking events and said "yes" to everything that came my way. I worked with a slate of professional service people those first few years. A local attorney, a fitness trainer, a yoga teacher, life coaches, and psychiatrists were all early clients.
I realized I could have independence
It wasn't a bad start, and I realized I wanted location independence. I wanted to travel and live in other countries. That's what my ideal freedom and flexibility looked like, so I built on my experience.
I joined the Circle of Success, connected with other freelancers from the AWAI community, and learned how to grow my business.
A decade after my business launch, I'm writing this from my kitchen counter in the tropical splendor of the Mayan Riviera.
My clients are all over the world. My office fits into a backpack, and I can work from anywhere.
I can choose the types of clients I work with.
I'm in control of my income. I can raise my rates and choose different types of projects or clients to pursue.
I have a support network of other freelancers (many of them I met through AWAI).
There's no traffic-snarled commute or annoying office politics.
I can be virtually anywhere. If there is internet, I can work.
I can visit family in the U.S. and work while there (I spent five weeks in New Orleans not long ago).
Sometimes, when the beach is perfect, I run down for a quick swim in the Caribbean Sea … at 3 p.m. on a Wednesday.
Your ideal freedom might look different than mine, but I'll bet it doesn't include toiling away in an unfulfilling J.O.B.
These days, I primarily work with B2B software companies. They sell business management software to daycares or pet groomers or hoteliers. I also write profiles for the pet industry. My work is varied and interesting.
One thing I've learned over the years, you won't have it all figured out right from the beginning. The most important thing is the willingness to start. You can start by doing something as simple as writing blog posts for a friend's business. Get some experience.
What about you?
If you're ready to declare your personal freedom, what does that look like for you? This exercise can help:
Write out your ideal Monday.
Commit to a plan for getting your first client. (Doing what? For what type of client? By when?)
Make a list of 10-15 people you know well (family, friends, neighbors, etc.) and tell them you're launching your freelance writing business. You might be surprised at how often that'll land you your first client or two.
Build from there. Step by step, you can create your version of the writer's life and the sense of personal freedom it brings.
We'd love to hear from you. Please take a moment and drop a comment about how you see your personal freedom!

The AWAI Method™ for Becoming a Skilled, In-Demand Copywriter
The AWAI Method™ combines the most up-to-date strategies, insights, and teaching methods with the tried-and-true copywriting fundamentals so you can take on ANY project — not just sales letters. Learn More »

Published: July 2, 2021