This Is How 10 Minutes of Writing Could Mean an Extra $390 per Day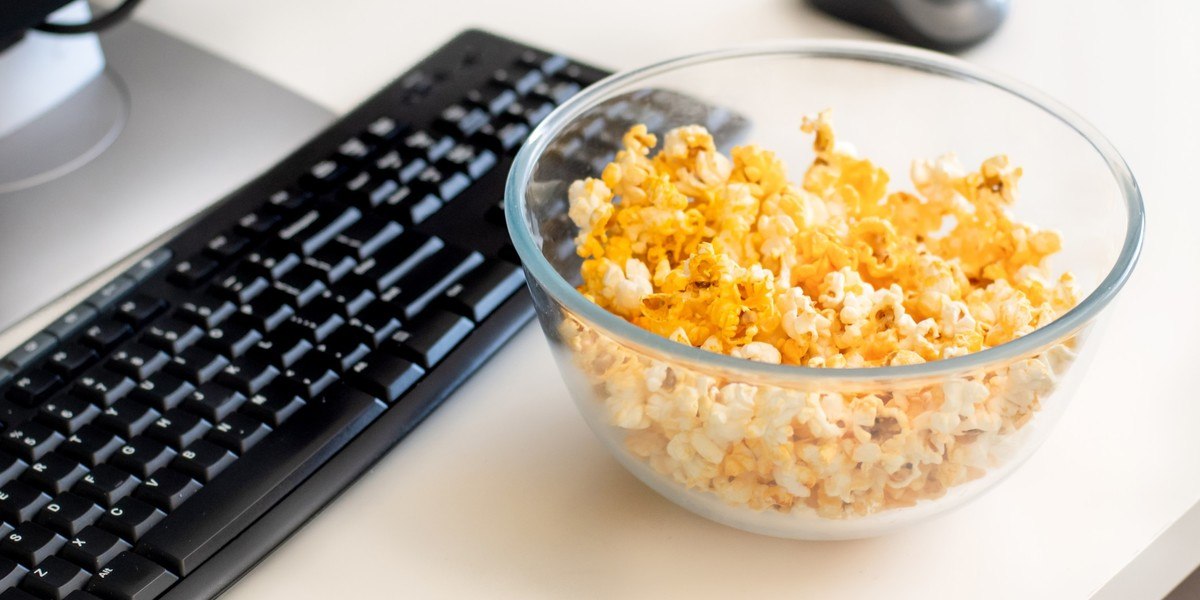 Ever had a not-so-pleasant experience with a purchase you've made and decided the best way to handle the situation was to write the company instead of calling?
I've done it myself several times. Everyone has at one time or another. But not every complaint email is harsh. Some can be downright funny.
Like the email two customers wrote to the Chairman of Tesco House, a London-based grocery and cookware store. Turns out these two customers were fans of Tesco's salted popcorn, but when they went to buy some, it was no longer available.
So together they wrote an email letting the Chairman know they were not happy with the situation. But their email wasn't written in the way you'd expect of a customer complaint. Nope, instead, they wrote this poem:
I write to offer congratulations
On a truly impressive achievement
Selling us salted popcorn sensations
Yet this praise is not without bereavement
I found no real solace to my upset
When I went to the shelf popcorn sits on
And just round the lump in my throat you get
When something you love is there, then it's gone
I live in St. Andrews, thus the issue
No plans to restock you said with a sigh
So answer this, or hand me a tissue
Have I butterkist my true love goodbye
Let this be a dream. Restock when I wake.
I live with salt in my wounded heartbreak.
Now as you can imagine, since this wasn't a typical email complaint, it was read by a lot of Tesco employees, and eventually, it landed on the Chairman's desk. And he decided the best way to respond was to write back in the same manner … that is, with a poem that read:
Alas, dear ladies, your woes are continued
The popcorn in question has been discontinued
At least from St. Andrews in old Market Street,
As nobody wanted to buy this sweet treat

The product in question is not one they chase,
Just when on offer, as limited space
A decision was taken though not in great haste
To de-list this item 'cos it ended in waste

However, dear ladies, please dry your tears,
We'll still sell your popcorn for many more years
The only thing is that you may need to travel,
To find your true love for this tale to unravel

Your favorite popcorn is waiting for you,
Across the Tay River, no really it's true!
Our product is stocked in both Perth and Dundee,
And I've found a way you can have it for free!

Please smile again 'cos the sun's coming out,
You don't have to worry, you'll not go without
We know it's been stressful, we know it's been hard,
But you can still buy your product, here's a £10 Giftcard.
Now, I don't how long it took Tesco's Chairman to come up with this poem — it's so clever! — but I can imagine it didn't happen overnight. However, I'm certain that receiving and sending emails is something Tesco is used to doing.
In fact, email marketing is something all companies are using on a regular basis. That's because the pandemic has changed the way companies reach out to customers. And the number one method they use these days is through email marketing.
During most of the pandemic, here in the U.S., email sending volume increased by 45%. And the number of customers signing up to receive emails is growing just as rapidly … by 40%.
On a global scale, the numbers are even more impressive: Roughly 306.4 billion emails were sent out each day in 2020. And according to Statista.com, this figure is expected to increase to over 376.4 billion by 2025.
The reason why companies use emails is because they have a high Return on Investment. For every $1 spent on an email, a company can expect to get back on average $42. That's a higher consistent return than you can expect from any other form of marketing — digital or otherwise.
Now, wouldn't it be nice if you could get a small piece of that action and build your own email marketing business?
Well, you can. When you follow a proven blueprint, it's possible you could earn as much as $390 a day writing emails on subjects you are interested in or passionate about. (Maybe more!) Starting your own email marketing business is a way to make extra money on top of what you earn writing copy for clients.
It's how Ben Settle earns his living. He's an email marketing expert. And he's gotten so good at writing emails that people like to read, he spends no more than 10 minutes a day on his email business.
And yet for that small amount of effort, he earns a huge six-figure income by promoting offers to his list of readers — without having to answer to any clients!
Ben loves to teach people how to succeed. It's something he has in common with everyone here at AWAI. And it's why he put together a special training program to teach you how to get your email marketing business up and running.
He walks you through the entire process … from finding a subject you like to write about, finding the right audience of email readers, how to write emails that get attention, and how to put together products those readers can't wait to buy from you.
Ben suggests that you start out selling an information product for $39. And if you get 10 people to buy, you make $390 a day. Do that every day of the year and you're looking at a business that earns $142,350 a year — all without clients.
And we're not talking lengthy emails either. Ben will show you how to write a short email that brings in sales.
Now, I could go on and on with all the details on Ben's training program, but you can see his simple blueprint for yourself right here.

10-Minute Workday
If you want to be a well-paid writer without having to land clients or spend hours every day working on your business — Ben Settle's 10-Minute Workday shows you how to create an easy email business. Learn More »

Published: May 24, 2021