5 Ways You Can Earn a Healthy Income Without Clients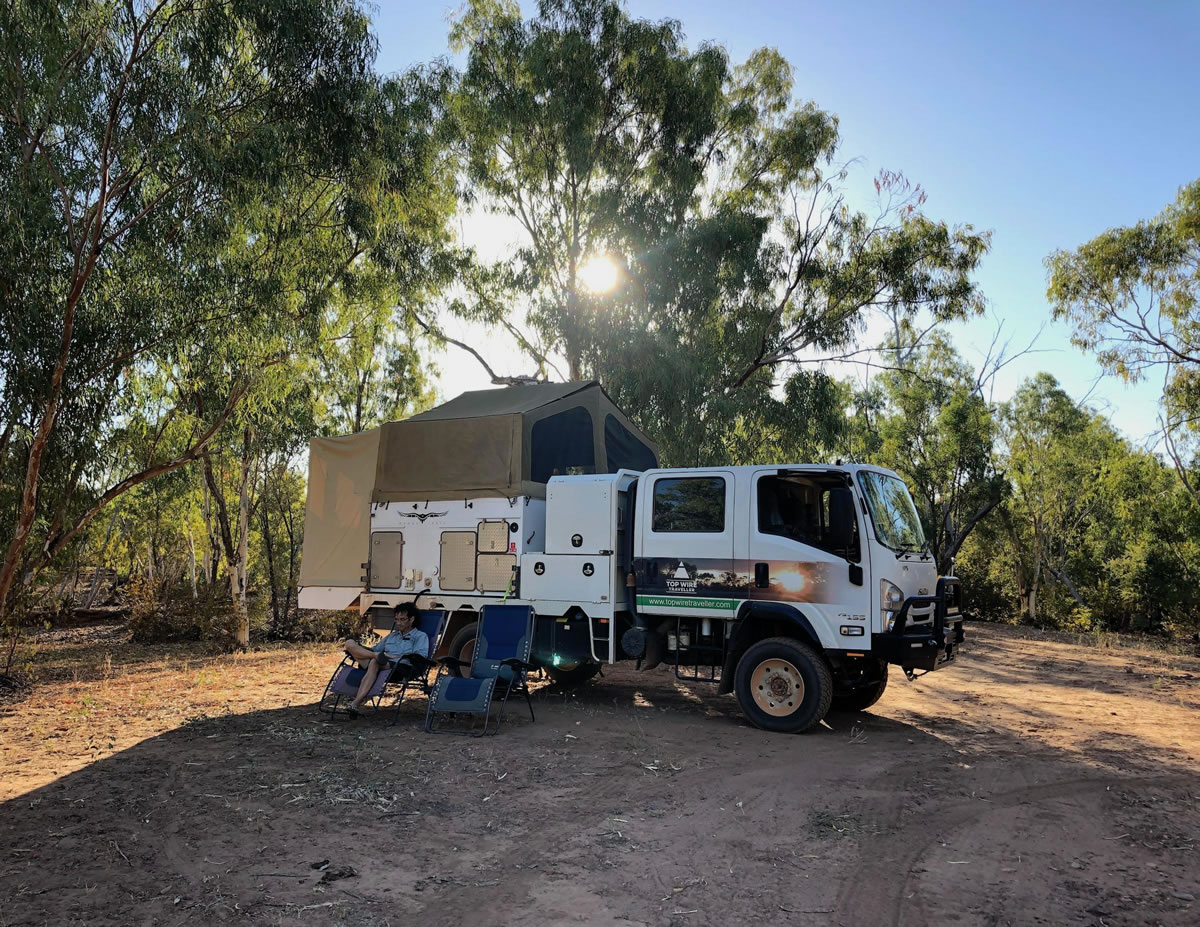 Andrew Murray loves making money writing from his remote office in the Australian Outback!
How would you like to earn an income from writing, without clients?
Well, there is a way.
Have you heard about Money-Making Websites? You can earn passive income … income generated by your website while you sleep.
No clients, no scary phone calls, no stressing about where your next paycheck is coming from, no hassles.
Let me tell you a story.
Our Life on the Road
Several years ago, my wife Peta and I decided there was more to life than the endless cycle of making money, buying new things, working to earn more money … cycle repeats. Sound familiar?
So, we decided to do something about it.
We made a plan to travel Australia full-time as wandering nomads! Break away from the endless cycle of consumerism and the stresses that go with it.
Now, this all sounded great, but how would we fund our endless travels?
That's when I discovered copywriting. I started learning the craft, which eventually led me to Money-Making Websites. Here was a way to write about our passion (Outback travel in Australia) and earn income at the same time. Now we're talking!
We've discovered a few hidden benefits too that you may enjoy also.
Taking Control
We're in control of our income. We determine our schedule, when we work and when we don't. Rather than fitting our life around work, we fit work around life!
And we're in control of our future. Right now, we just want to earn enough money to get by. But if we decide we need more income, then we can scale up our Money-Making Website as needed.
The most rewarding part? We're building a community of like-minded people.
For us, this means our audience has a passion for outback travel. They're either traveling, considering long-term travel, or simply love following our nomadic lifestyle.
It's your audience who help you plot the path your website takes. You'll find you're exploring topics you'd never even considered before. It's fun!
And the best thing about Money-Making Websites is the passive income. You do something once and it keeps earning money for you, even while you're sleeping!
How? Let's get you started … here are five ways you can make money from your website.
1. Google AdSense
Set up ads on your site, then when someone clicks on an ad, you get paid.
The best part is, you set these up once and you're done. Every time you publish a new web page, you simply add some code from Google. Done!
Google presents targeted ads (ads related to a user's search history) to your readers, so they're more likely to click … and you're more likely to earn passive income.
2. Affiliate Marketing
Become an affiliate marketer. Join an affiliate program, then promote products on your website and social media channels.
When a reader clicks through and buys, you receive a percentage of the sale value.
3. Product Reviews
There are two options here. You can write sponsored content and publish it on your site. This way, you get paid by companies to write reviews about their products.
The other option is to contact companies and ask them to send you products to review. You get to keep the products. So if there's something you need and a company is willing to send their product, you get it for free!
And of course, you add an affiliate link within your review. Now you're earning passive income and getting free products!
4. Courses and E-books
Maybe you'll decide to promote and sell courses and/or e-books. These can be courses and e-books you've written yourself, or you can sell other people's as an affiliate marketer.
Either way, courses and e-books generally have a high return because they're fully digital … no physical product to store, post, or distribute.
5. Stock Photos
Maybe you're a keen photographer … why not sell stock photos? You join an online stock photo "store," then when someone buys your photos, you get paid.
Or sell them through an online store on your website. This way, you have total control.
And you don't have to be a professional photographer. Photos and short videos taken with your smartphone are fine. Start by learning the basics and improve as you go.
So, that's five ways to earn passive income from your site. But what if sometime in the future, you decide you want to work with clients after all?
Well, a Money-Making Website can open doors to getting clients … a no-stress client prospecting tool. Let's explore this a bit more.
Another Way to Earn Income
Much of our income is earned from our Money-Making Website. But it's not just passive income.
In fact, I've concentrated more on getting paid work from clients.
Let me explain.
After a while, you become an "expert" in the topic your Money-Making Website is about. Don't let the word "expert" scare you. You don't need to know everything about your topic. Far from it.
You just need to know a little more than your audience.
Once you get to this point, you have credibility with prospective clients. In their eyes, you're an expert.
At this point, you can ask prospects about opportunities for you as a web writer.
Never fear, this is not cold calling. Far from it. Contact the prospects whose products you've already reviewed. They'll likely know who you are already.
I write paid blog articles for a dream client, conduct Site Audits, and re-write websites from scratch. And this work leads to other paid work. Designing websites, writing Google Ads, targeted marketing, banner ads … whatever work you want to say "yes" to!
And all this work came from companies related to our Money-Making Website's niche.
Why? Because those companies see me as an expert in their field … someone who understands their industry, their products, and their audience. All this because we started a Money-Making Website!
The best part is, you don't need to provide samples or prove your worth.
You simply point them to your website and say, "My website is my sample. This is how I write and I can do the same for you."
If all this talk about working with clients has you breaking into a cold sweat, don't worry! Concentrate on building your passive income instead.
"Ahhh, No Clients"
Let's summarize the benefits of a Money-Making Website:
You're in control …
The only deadlines are the ones you set for yourself.
You get to write about your passion. And you get to share this with a community of like-minded people.
You're answerable to no one, except your audience.
You can earn a side income from passive income.
Or you can choose to add on "active" income, like selling physical products via your website. And of course, you can have a mix of passive and active income … the best of both worlds!
A Money-Making Website is the perfect marketing tool if you do want to get clients, without the usual hassles.
As you build the website, you learn so much about website structure, social media, email marketing, landing pages, and so on … all the skills that make you a valuable web writer. You can showcase these skills to potential clients if you decide to pursue clients.
A Money-Making Website is a fantastic way to earn an income without clients.
Use your passive income to pay some bills or save for that trip around the world you've always dreamed about.
And take it to the next level, if you want. Use your website as a foot in the door to your dream clients … you know, those ones you'd love to work with. You choose who you work with and when.
You're in control!
If you have any questions about Money-Making Websites and passive income, ask in the Comments below.

How to Build, Write, and Grow Your Own Money-Making Websites
Learn how to write an information website in your spare time and earn $1000, $3000, even $5000 a month in passive income. Learn More »

Published: April 14, 2021