How to Get That Coveted Conversational Tone in Your Writing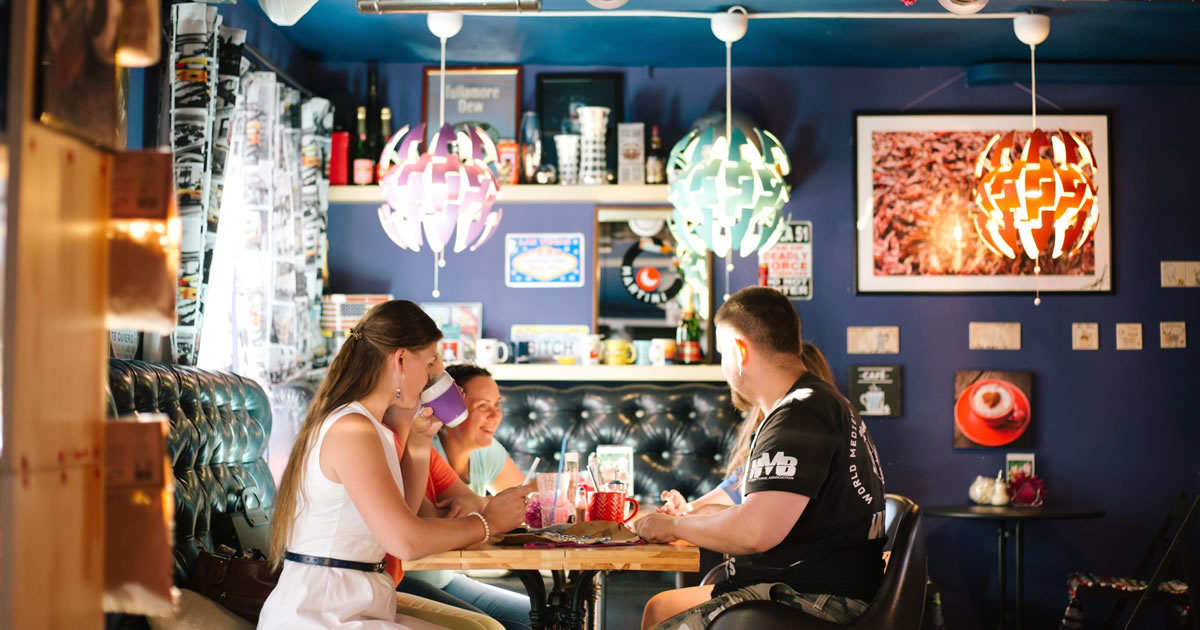 I'm sure you've heard copywriting gurus tell you to "be conversational" and "tell stories."
It's excellent advice.
Read any great piece of copy, and it's like munching on popcorn while watching a good show … effortless and addictive.
But in practice, it's not so easy to do.
Trying to write less formally can make your copy choppy and unclear.
Telling someone else's story can at time sounds more like a list of facts than an actual story.
Anyone's copy might start out with problems with clarity, smoothness, or logic.
It's how they fix the copy that puts the magic in it.
Just the Facts, Ma'am …
Let's say you were writing a case study for your client who sells software to contact centers and other service providers who want to track caller's issues.
Your client is Matt's Call Center Software, and you interview your client's customer, A-Plus Call Center Service.
They tell you it used to take their agents five whole minutes just to capture the caller's information, before they could even start helping them with the problem they called about.
They also tell you they had to pay the software company every time they wanted to make a change to the software.
So, to minimize costs, they didn't make changes that might have made their call center employee's jobs easier or provided more information on problems to the engineering department.
You then ask them what positive changes came from your client's software.
They tell you things like:
They can capture more information in less time, allowing the agents to focus on solving the customer's issue.
They have an employee, called a super user, who can make a lot of changes herself, so they don't need to pay the software company to make changes, and they can implement changes the agents want.
The system is more secure, so they don't have to hire outside help to put in extra layers of security.
They've banked 30% reduction in operational costs after implementing the system.
Customer satisfaction ratings are up 15%.
The system only took them three months to install (their closest competitors took six to nine months).
Those are the facts … but how do you turn them into an engaging, persuasive story?
Folding in the Conversational Story Elements
Remember one of the basic tenets of how copy works: people buy on emotion and justify their purchase with facts and proof.
So to get Matt's software noticed by his target audience, you need to write copy that generates some kind of emotion in a reader, supported by proof elements that justify the purchase.
Let's take some of those facts and create a story.
Rachel looks up from her desk, across the call center floor, and smiles. She's just pulled the latest performance reports … and they look pretty good. The employee satisfaction rating for her call center agents is up 30%. They can capture caller information faster and focus more on problem solving instead. The customer satisfaction rating with the support her call center provides is up 15%. And her costs are actually down.

30%.

How did she achieve such a significant level of improvement in less than a year? She installed Matt's Call Center Software.

That's it. And it only took 90 days, from start to finish.

She's got happier employees, happier bosses, and happier customers … and all she had to do was make one decision … the right decision.
Those are all the "facts" you got when you interviewed Rachel at A-Plus Call Center Service.
But presented in a conversational tone that told a story. A happy customer story, otherwise known as a case study. By the way, the copy above could also have been used for web copy, an email, a section of a brochure …
How to Get from A to B
So how do you take a set of dry facts and turn them into an interesting and persuasive story, with an easy-to-read conversational tone?
Editing. A lot of editing.
Get rid of big words when smaller ones will work. Get rid of long, complex sentences. Break them up into individual thoughts. Get rid of long, complex paragraphs. Break them up into one or two sentence blocks. But make sure you've got complete thoughts … choppy copy is as bad or worse than dense copy.
And one more key element.
Empathy. Put yourself in Rachel's shoes … what emotions would she have been feeling before she found Matt's Call Center Software? What emotions did she feel afterward?
Now, as you're editing your copy, use words that convey those emotions.
Notice I talked about her smiling, having happier employees and happier bosses.
Before she implemented the software, the implication is that her employees were frustrated with the system and the customers probably were too. And this existing software was costing the company money with less-than-ideal results. Rachel herself was likely frustrated and potentially worried about her job if she couldn't get her costs down and her customer satisfaction up.
After she implemented the software, her employees are happy, which makes her job easier. Because they're happier, customers are happier, which is good for the company and their reputation. And the icing on the cake … they got happier employees and happier customers at a lower cost. So, Rachel is also a hero to her bosses.
You're taking your heroine on a journey from her before state to her after state.
After you've created your story, have someone else read it. Or read it out loud yourself and record yourself. Then play it back. Does it sound natural? Does it flow easily? Or do you stumble over a word or phrase? Does it sound boring or awkward?
Now you've gone from a list of dry, boring facts to a persuasive story that moves readers to take action.
And a little secret: the more storytelling you do, the more conversational your copy will be. Because people tell stories naturally in conversational tone.
You can greatly improve the effectiveness of your copy with a lot of editing … and a little empathy.
This article, How to Get That Coveted Conversational Tone in Your Writing, was originally published by B2B Writing Success.

The AWAI Method™ for Becoming a Skilled, In-Demand Copywriter
The AWAI Method™ combines the most up-to-date strategies, insights, and teaching methods with the tried-and-true copywriting fundamentals so you can take on ANY project — not just sales letters. Learn More »

Published: January 20, 2021