The Anatomy of a Well-Niched
Freelance Website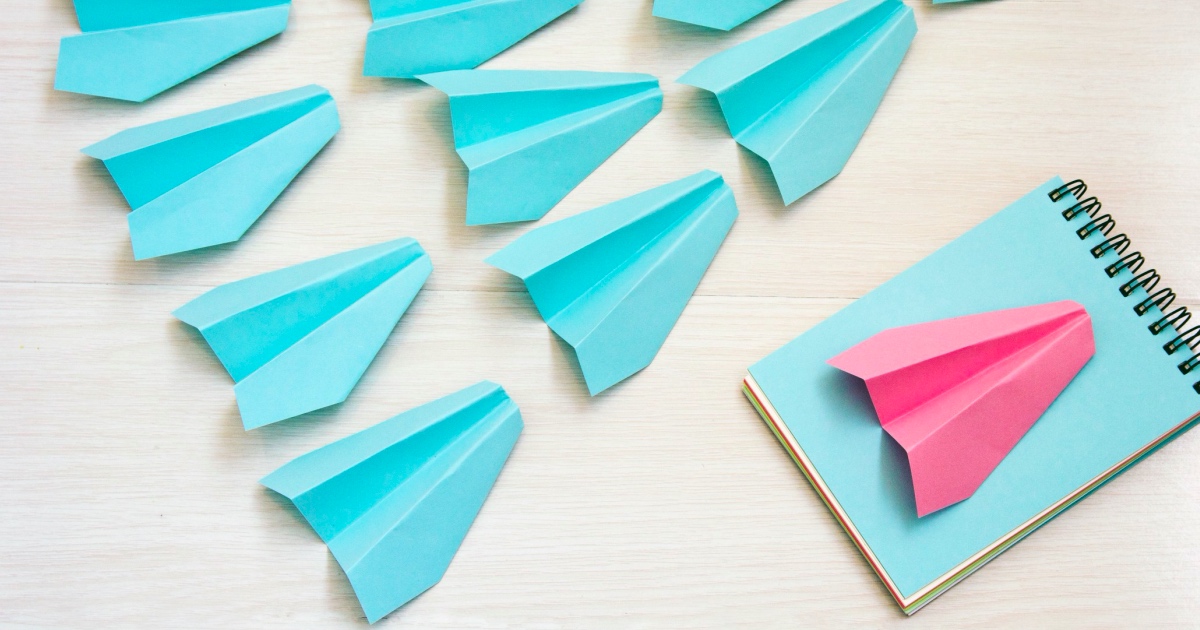 Do you need a niche?
It's a hot debate in the freelance world.
But, whatever side of that debate you're on, there's no denying picking a niche can help your marketing message stand out.
If you're still choosing your niche, there are many resources on Wealthy Web Writer to help you with the process.
But, if you're ready to move forward and market yourself, it's useful to take a look at what makes for a great niche-focused freelance website.
That's what we're up to today. Keep reading to see three examples of strong, well-niched freelance websites, along with some thoughts on what makes them work.
Then I'll share three takeaways you can apply to your own freelance website, so you can get your marketing materials in shape and start bringing in those high-value clients!
Ready? Let's dive in.
Example #1: Standing Out in the Health and Wellness Industry
Health and wellness is a popular niche with a big demand for writers. Celsea Jenkins over at www.celseajenkins.com is doing an excellent job making her mark in this industry.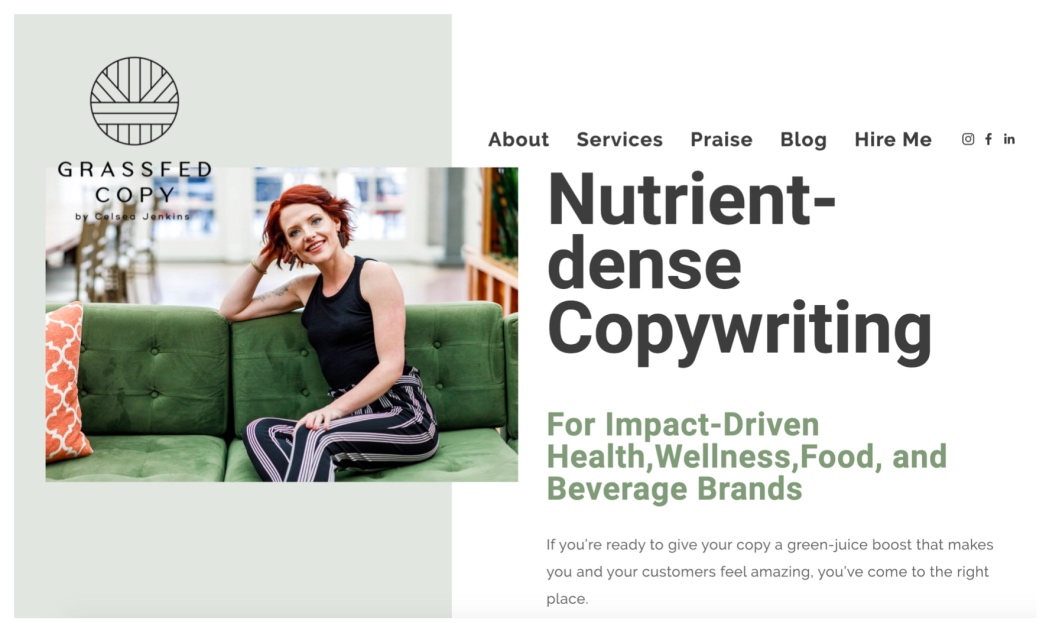 Clear messaging
First, let's look at her business name, "Grassfed Copy" – the name is the first tip to her copywriting specialty.
Next, check out her headline, "Nutrient-dense copywriting." This headline is clever and speaks the language of her audience. You can argue that it could be clearer, but it certainly ties into her industry … and, if you don't get it, she's probably not trying to attract you as a client.
Then comes her subhead, which states exactly the businesses she's targeting: "For Impact-Driven Health, Wellness, Food, and Beverage Brands." That's quite a clear target audience, isn't it?
Just from those three things – her business name, her headline, and her subhead – we know what she does and who she does it for. More importantly, those in her industry are going to see her as part of that industry.
Throughout her website, she sticks very closely to that theme, making it 100% clear who she's targeting.
The proof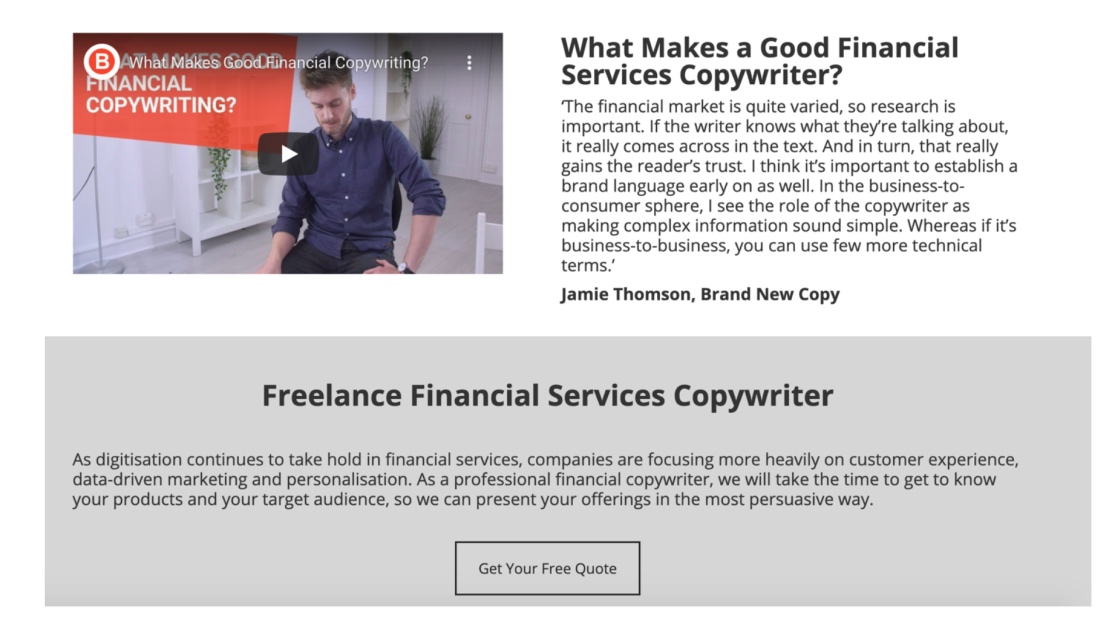 In addition to strong copy at the top of her home page, Celsea uses a lead magnet to further demonstrate her expertise. "Copy need a cleanse?" she asks … before offering a download of a free guide called, "The Definitive Guide to Writing Health and Wellness Copy That Sells." By creating free content tailored to her audience, she positions herself as a helpful expert.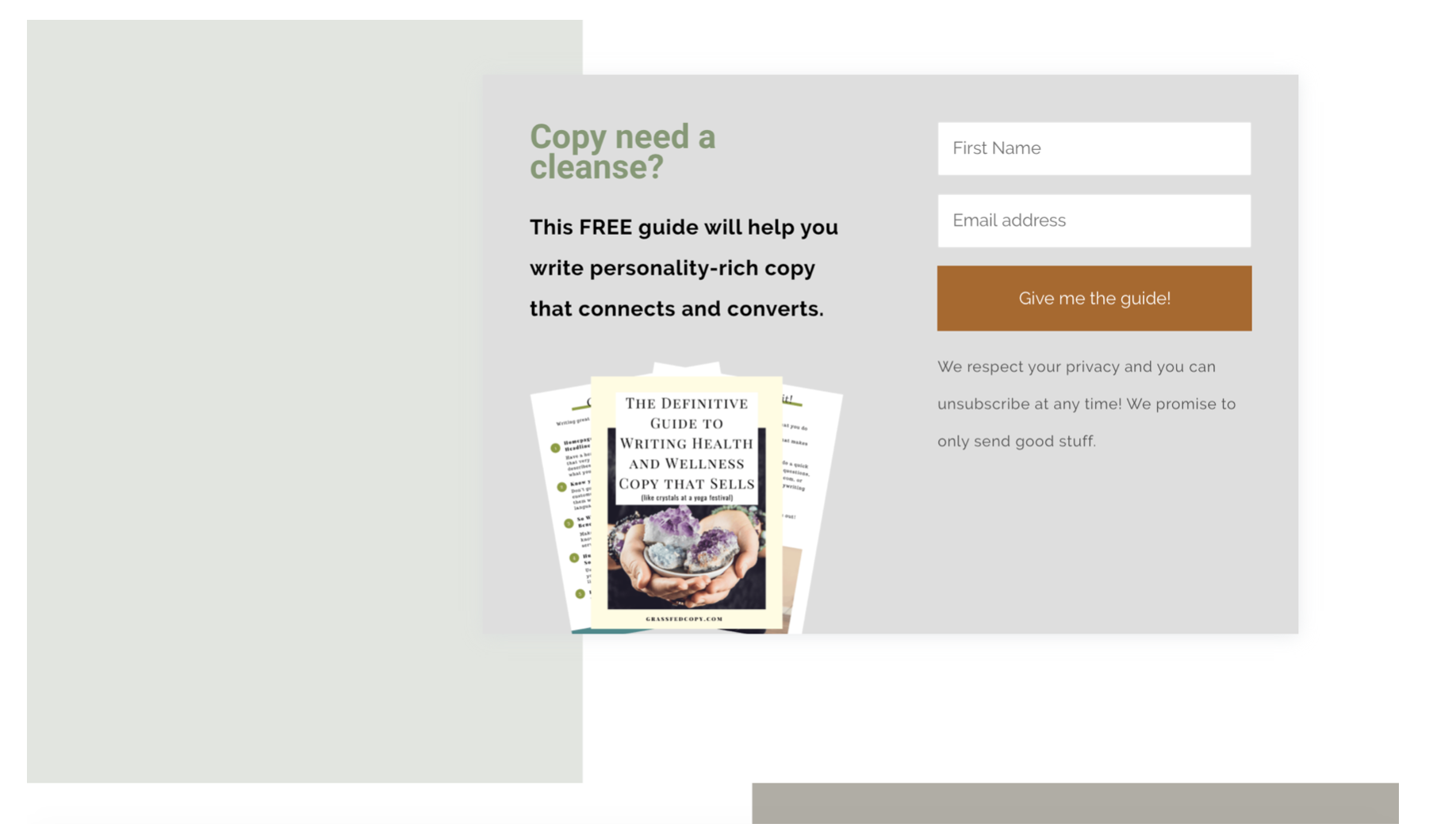 Celsea uses strong testimonials and a "trusted by" section on her homepage, where she lays out an impressive variety of brands she's worked for. Several of these companies are clearly in her industry, which further builds trust with prospective clients.
Then there's her blog, which gives her even more credibility. Consistent with the "Grassfed" theme, Celsea's blog is named "Greener Pastures: Copywriting and marketing insight for conscious wellness brands." Looking at the blog posts, you can see she is carefully choosing topics that will resonate with her ideal clients.
Branding
Celsea's clear and consistent copy is an essential part of her website's success.
But strong visuals, website layout, and branding play a large role in showcasing her as a true professional who's going after sophisticated clients. Her photos are excellent, her logo is modern, and her whole website is pleasing to the eye.
While perhaps not every freelancer will be able to put together such a polished website, Celsea's investment in these materials seems to be paying off, as she has clearly worked with a variety of impressive businesses in her industry.
If you're thinking of specializing in health and wellness, take a closer look at Celsea's website and see what other ideas it might inspire!
Example #2: Making a Mark in Finance
Next, let's turn to a very different niche – financial copywriting. For this niche, take a look at a subpage of Jamie Thomson's website, Brand New Copy: www.brandnewcopy.com/financial-copywriter/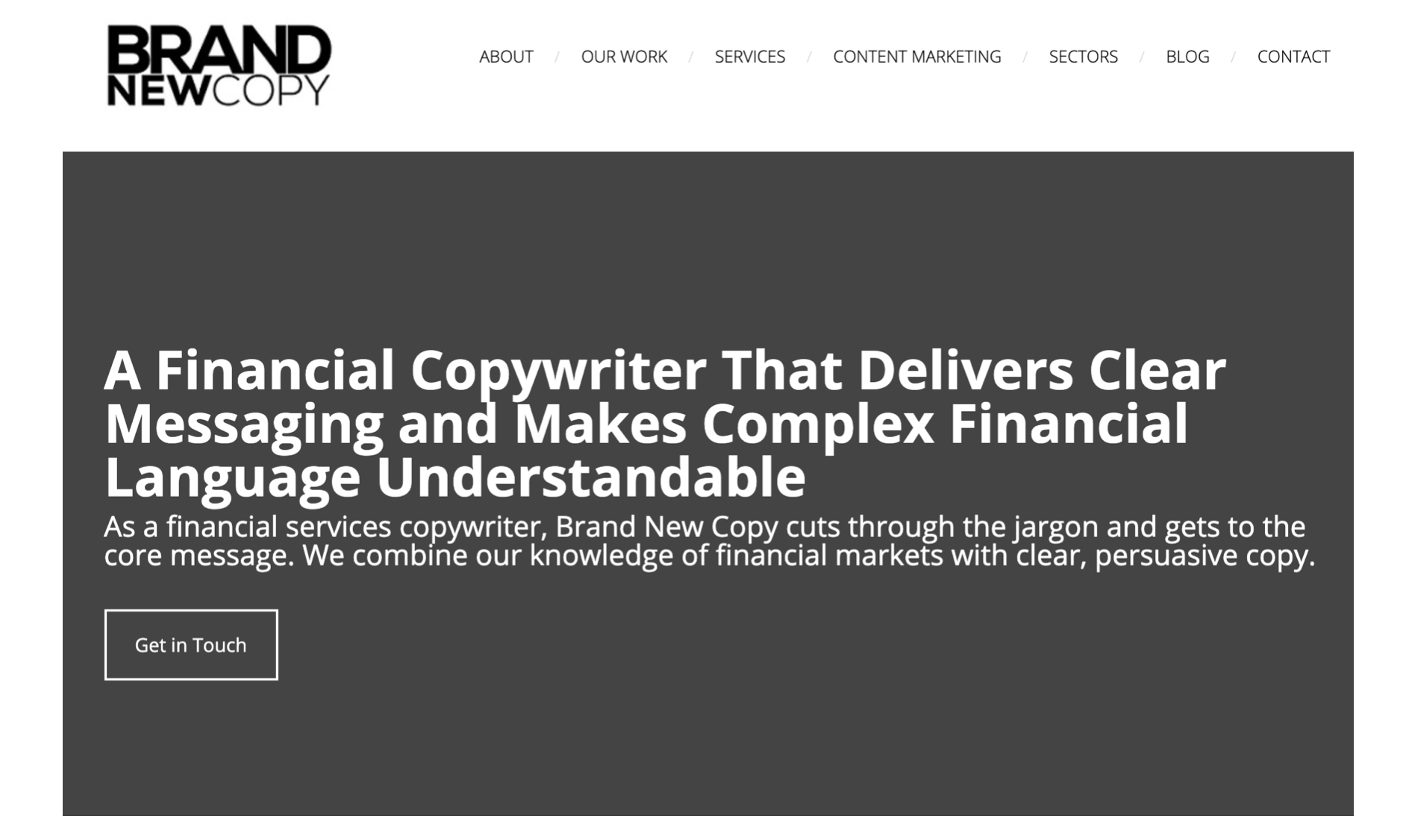 Clear messaging
Here, the business name is "Brand New Copy." This name obviously doesn't say anything about finance – but it does communicate "copy," and the bold headline makes it clear what this page is about: "A Financial Copywriter That Delivers Clear Messaging and Makes Complex Financial Language Understandable."
That's on the long side, but it's packed with value and offers a clear promise to prospective financial clients. The subhead further builds on that message, saying, "As a financial services copywriter, Brand New Copy cuts through the jargon and gets to the core message. We combine our knowledge of financial markets with clear, persuasive copy."
Again, he's promising to make the complex jargon of the finance world clear to the audience in order to persuade them to take action.
The proof
One of the strongest proof elements of this page is the embedded video titled, "What Makes Good Financial Copywriting?" Here, Jamie appears in a professionally made 45-second video explaining some copy tips for his industry.
This video quickly elevates Jamie to "expert status," showing he has a lot to offer any financial client.
Throughout the page, Jamie shows additional proof, including a testimonial from a financial client, financial case studies, and blog posts that further cement his status as a finance authority.
Clearly, Jamie and his team have invested in creating marketing materials that will resonate with his ideal clients.
More than a niche
One thing to notice about this site is that it shows you can be a general copywriter, while still targeting clients in a specific industry.
How? Well, "Brand New Copy" is actually the name of Jamie's copywriting agency. The site homepage has a compelling messaging, but one that's more generic.
Because financial copywriting is one of his specialties, Jamie decided to make a page dedicated to his role as a financial copywriter. This page stands well on its own, and gives Jamie the option of sending prospects either to his homepage or, if they're in the financial industry, to this alternate page.
If you want to test out a niche, or have more than one niche, using sub-pages to target a particular industry is a creative approach.
Example #3: Connecting with Small Businesses
Next up, an example of a website targeting small businesses … www.susanhvincent.com
Clear messaging
Like the others, Susan has clear messaging right up at the top of her homepage. Her business name is "Susan Vincent: Marketing Consultant." Notice she's made the choice to position herself as not "just" a copywriter, but as a marketing consultant, presumably because she knows her clients need general marketing advice.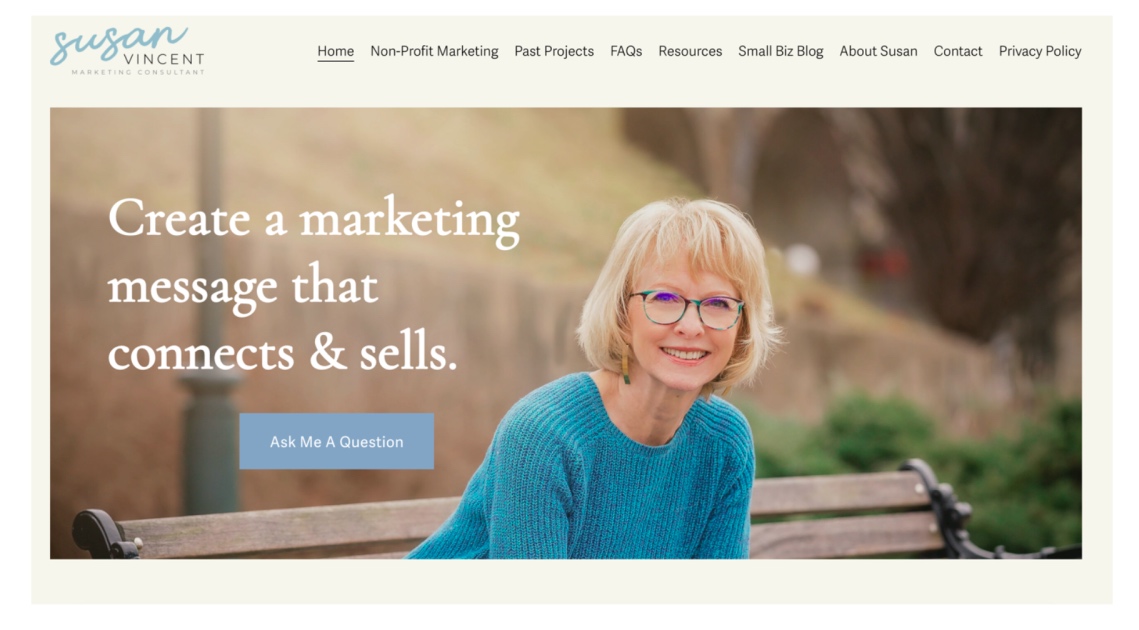 Next, her headline communicates a clear promise: "Create a marketing message that connects & sells." Further down on the homepage, she very clearly defines herself as a "Small Business Marketing Copywriter & Consultant," and identifies several pain points specific to her target audience. She also offers a video with advice to help her prospects strengthen their website. These components work well together to make it clear who she's talking to and how she can help them.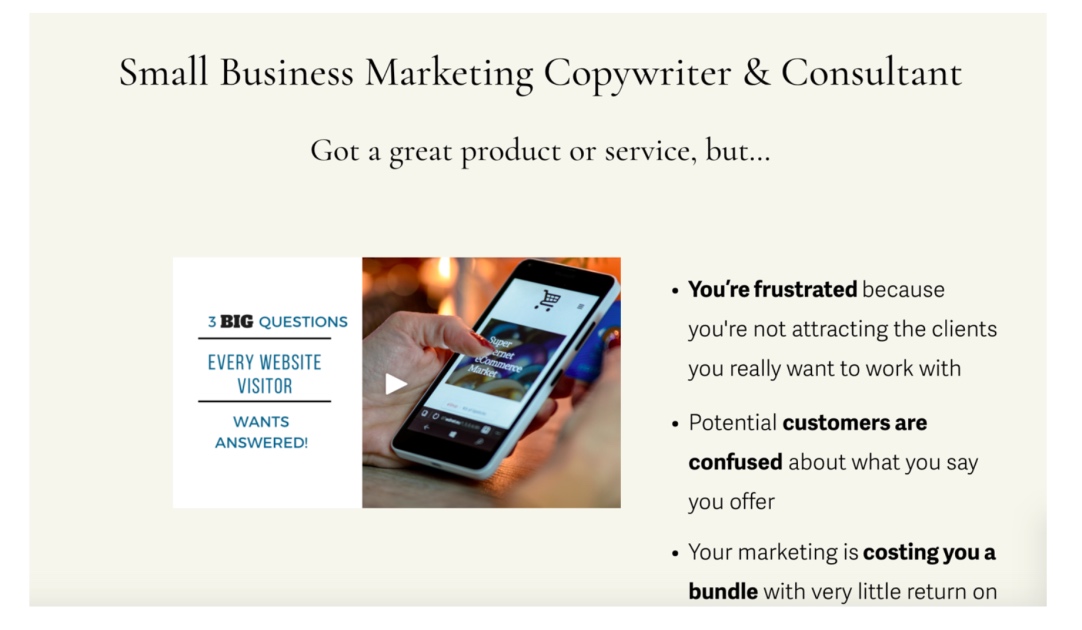 Proof
Susan uses great proof elements throughout her website, including very strong testimonials right on her homepage, examples of clients she's worked with, and a "Small Biz Blog" that gives helpful information to her target audience.
All these elements showcase her as a professional who can deliver on the promises she's making to small business owners.
Also having it both ways!
And, like the finance website we looked at, Susan has also created a sub-niche within her website – in this case for non-profits.
This non-profit page acts almost like its own homepage. It uses a similar structure, but the message is targeted to a different audience.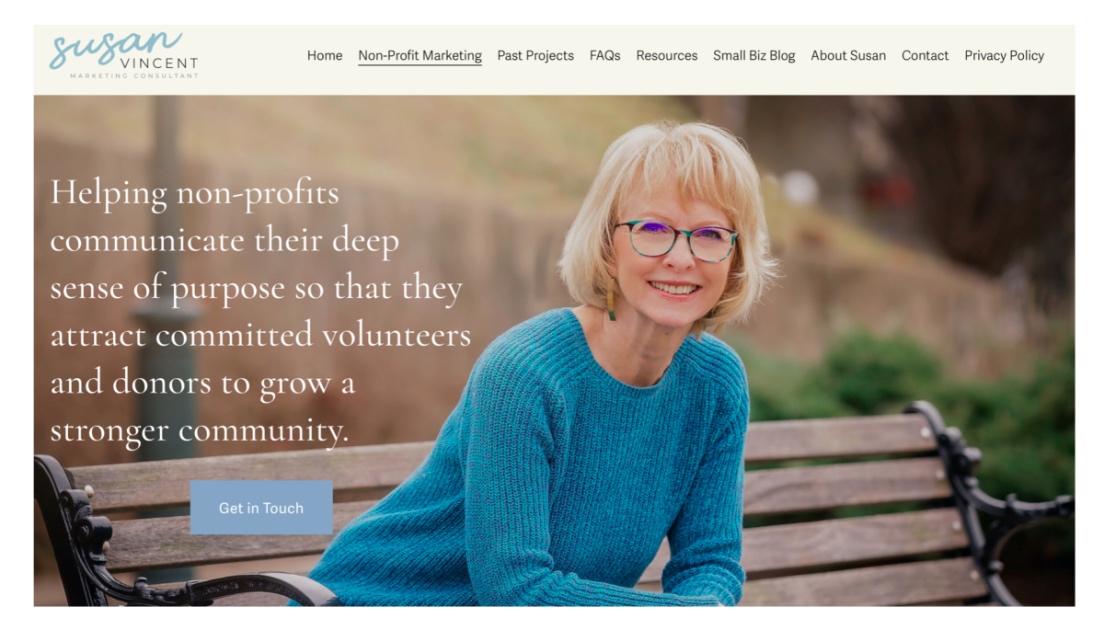 Standing Out in Your Niche
So, what can you take away from these three strong examples?
These sites show three crucial elements to successfully niching yourself in any area.
1. Clarity
There's no way around it – clarity is key!
If you take the time to clarify in your own mind who you're trying to reach and what you're offering to them … AND, you take the time to write solid copy that clearly communicates this … you'll be far ahead of many other freelance writers.
You want your message to be instantly clear to anyone visiting your homepage. Your business name, headline, subhead, and body copy should leave no doubt about what you do and who you do it for.
And of course, you should have consistent messaging throughout your website and make it all polished and clear.
2. Proof
The next crucial element to your website is proof. Once you have a visitor's attention, you want to show them you can make good on your promises.
All three of our examples use strong testimonials and a list of past clients. Free content downloads and a regularly published blog, with posts carefully researched and written to provide valuable information to your target audience, will also establish your expertise. And show off your ability to write.
This is a great strategy if you're just getting started, because you don't need any past clients to do it!
3. Professionalism
A third element that's absolutely essential for your freelance website is to showcase your professionalism.
All of the above examples did this through professional photography, crisp website design and graphics, and even short videos. Do you need all this to be successful? Probably not – but a good-looking site you're proud to share will go a long way toward positioning you as a legitimate business owner!
Beyond the visuals, the messaging on all three websites communicates professionalism, as well. They're all focused on making their ideal clients' businesses more successful. And, everything they choose to put on their sites shows these writers are knowledgeable, responsible, and ready to work.
When you're building your own site, or reviewing your site for improvements, seriously consider how you can better position yourself as a professional in your chosen industry. Even "small" things like having a professional logo, having a business email, and making sure to spell-check your copy will add up to make a big difference!

The AWAI Method™ for Becoming a Skilled, In-Demand Copywriter
The AWAI Method™ combines the most up-to-date strategies, insights, and teaching methods with the tried-and-true copywriting fundamentals so you can take on ANY project — not just sales letters. Learn More »

Published: June 3, 2020