Take Control of Your B2B
Copywriting Schedule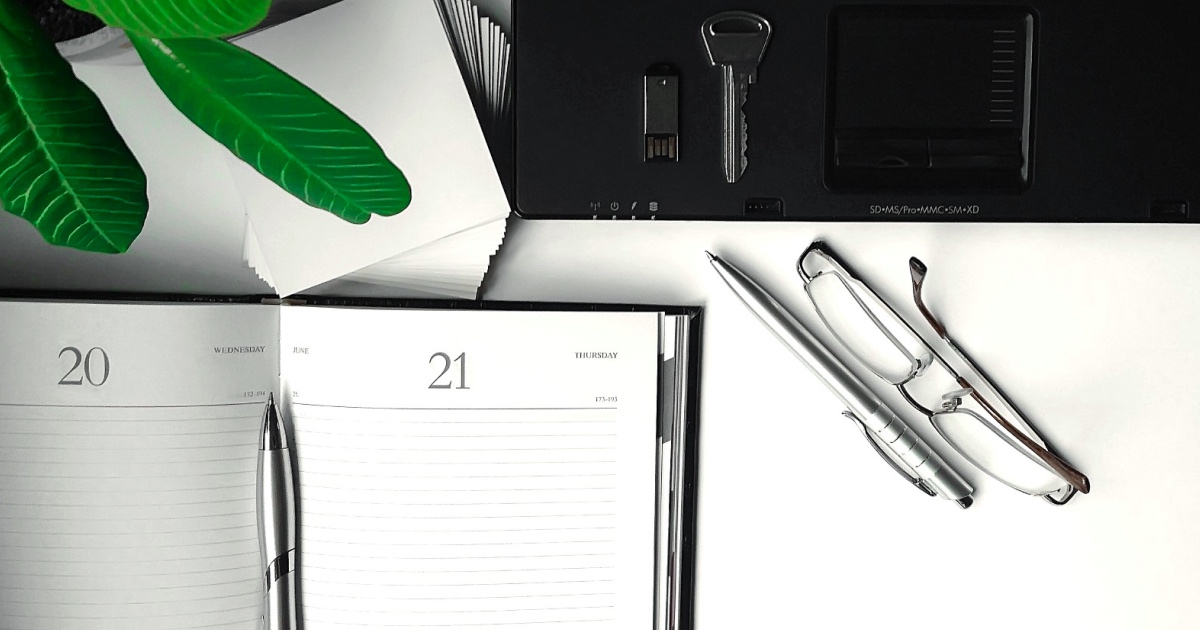 As a new freelancer, it can be hard to figure out how to work and how you work. Schedules, tools, home office, coffee shop, coworking space, laptops, smartphones … where does it end?
Right now, I'm using two different project tracking apps (Trello and Asana) with my clients, plus three separate GSuite logins for another bunch of clients. That's why I use a paper to-do list too. It helps me stay organized, and I write all of my deadlines on the calendar stuck on the wall next to my desk. I love technology, but sometimes going old school is best.
I've had nearly 10 years of freelancing to sort through it all and figure out what works best for me. If you're still new to the freelance writing world, you may be overwhelmed with all the tools available to you and all the advice published online.
Not to worry, we've got you covered. In this post, I'll go over some tips to help you get control of your schedule and some of the tools you can use to do it. You can pick and choose whatever works best for you and ignore the rest (I don't mind, really!).
Taking Control of Your Schedule
The first step is to create a work schedule for your business. You'll use it to record every project deadline so you can stay up-to-date on them all. If you use a paper calendar, put it somewhere you can see it easily and quickly. While I use Google's calendar for my deadlines, I can't tell you how many times I've been saved by the calendar hanging on the wall next to my desk. Sometimes I can't get my laptop open quickly enough when speaking to a client. You can use a paper calendar or an online calendar option like Google Calendar or the Calendar app for iOS users.
Next, it's time you learn to say no to clients and prospects. It can be hard saying "no" when you're first starting out, but you've got to make sure you have enough time to finish everything you agree to. You don't want to miss a deadline or pull an all-nighter because you accepted a project you didn't have time for.
Finally, start tracking how long it takes to do each task for a project (research, outlining, drafting, editing, and so on). That way, you'll know precisely how long it'll take you to finish the new project you're discussing with a prospect, and you'll create a more accurate schedule. You can use a timer app like Focus Booster or the timer on your smartphone or digital watch. Some invoicing tools like FreshBooks and Bonsai include task timers, too, so check out yours to see if it has one.
Finding Your Best Work Method
Once you've got your schedule and task times sorted out, it's time to figure out how you work. What I mean by that is to learn your work rhythms. For example, I write better in the morning, so I try to do it all before lunch. Afternoons are for emails, research, and other business-related activities like invoicing. Other writers I know are night owls, so they flip things around: they research and outline in the mornings or afternoons and then write in the evenings and at night.
Another work rhythm to figure out is what kind of framework you need to work. For instance,
Do you need a full outline before you tackle a project, or can you go with a basic skeleton?
Can you write in total silence, or do you prefer a little background noise as you'd find at a coffee shop?
Are you okay writing at a makeshift desk like the dining room table, or do you need a dedicated space and desk?
All of these factors can impact how you work, so it's essential you know what works for you. One freelance writer friend of mine can write at a coffee shop, but only in longhand with a pen and notebook. Another is okay to write on his back patio, but he needs to block out nature sounds with headphones. I'm okay to outline and research at the library, but I need to be home or in a place where I can play in the open to write (so, no headphones for me, ideally, though I can make it work if needed).
Being able to stay on schedule and complete your client projects per their timelines is essential for your business. Learning more about your work cycles and rhythms is beneficial for you, too, as you'll gain more insight into yourself and be better prepared for future growth. It feels good when you're on top of every deadline and project, right?
What do you do when your schedule starts to get out of control? Let us know in the comments.

The AWAI Method™ for Becoming a Skilled, In-Demand Copywriter
The AWAI Method™ combines the most up-to-date strategies, insights, and teaching methods with the tried-and-true copywriting fundamentals so you can take on ANY project — not just sales letters. Learn More »

Published: May 7, 2020