Living The Writer's Life: Jason Gaspero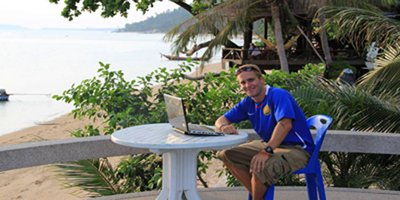 How many different places have you lived as a freelance writer?
So far, as a freelance writer, I've lived in Honolulu, Paris, Baltimore (at the 702 Cathedral St. Agora office), London, Dublin, Delray Beach, Koh Phangan (Thailand), Kuala Lumpur (Malaysia), and Sihanoukville (Cambodia). But I've also written copy in many other places on a much shorter-term basis (one-week to one-month) in places like Laos, Bali, Manhattan, Miami Beach, Panama, Nicaragua, Munich, Edinburgh, and way too many more places to count at this point. And most recently, Vietnam. I just spent an entire month there and was writing copy the whole time!
And where are you living now?
Right now, I live in Sihanoukville, Cambodia. It's a fascinating Asian nation with scores of undiscovered, unspoiled beaches with hidden lagoons … a fast-growing expat community … friendly, helpful locals that speak English surprisingly well … reliable Internet access and cell-phone service … and incredibly low prices. For example: 5-6 barbequed prawns with spicy seafood sauce, fresh salad and dressing, and a generous serving of fries: $3. One night's stay in your own private bungalow at "The Big Easy" Bungalows, Guesthouse, and Restaurant: $7 a night. And a 1 GB mobile data plan: $5!
I'm heading back to Koh Phangan, Thailand, in a few weeks and will be there for a few months after that. No complaints!
How did you first get into travel writing?
I've been "working" my way around the world since 1993, and I've been doing it as a writer since 2001.
It was prompted by 9/11. My job as a marketing manager in Oahu for a Fortune 500 company was stripped away from me, all because tourism in Hawaii shriveled up dry following the tower attacks.
From that day forward, I vowed to myself that I was going to do whatever it takes to protect my own future. To educate myself until I was considered so valuable, so skilled, and so desired by the marketplace that I'd never have to worry about getting laid off or demoted — ever, ever again.
That's when I received an email about a profession I'd never heard of called "copywriting." I used the knowledge I gained from the Accelerated Program for Six-Figure Copywriting to approach the Guest Services department where I'd held my former position. I pitched the idea to write a monthly "resort activities guide" newsletter. They took me up on it and I grew that new publication in size and popularity for two years. From there, I worked my way over to freelance copywriting and eventually landed my dream position working for Agora's International Living publication.
My most profound experiences and my most significant personal growth have all resulted from a steadfast commitment to living in new places, meeting new people, learning new languages (I speak four), and seeking new experiences in far-off lands.
What's your daily routine — especially given all the sightseeing temptations around you?
It's easy to "set up shop" and get work done … even in an off-the-grid beach town like Sihanoukville. I'll usually roll out of bed around 7:50 a.m. I'll then make my bed, brush my teeth, grab my netbook or iPad … walk a few steps to the restaurant in the resort where I live (I'm currently staying at a resort called "Beach Road" for just $13 a night with air-con, hot water, cable TV, and a pool), and order some oatmeal with banana slices and scrambled eggs for about $2. Then, from about 8:30 a.m. to 11:30 a.m., I work remotely on my copywriting. Once I've got my writing done, I've got the rest of the day to enjoy all the spoils of living in a cheap, fun beach town like Sihanoukville.
On some days, I'll head to the beach with my netbook, grab a BBQ seafood lunch for $3, and do some research on a project I'm working on. (Many of the beach restaurants offer free Wi-Fi … so Internet access is almost never a problem … even right on the beach.)
Or perhaps I'll read a book on my Kindle.
When I'm feeling a bit more adventurous, or when I want to give my brain a little break and get some exercise, I may grab my iPod, rent a bicycle for $2, put on some uplifting tunes, and ride a few miles to Otres Beach; recently ranked the 22nd most beautiful beach in Southeast Asia by Forbes Magazine.
I did this the other day and I swear … there were more cows in the grassy fields beside that amazing beach than there were bungalows!
In the evenings, I like to grab a meal at any of the ridiculously cheap restaurants in town, then meet up with the local expat crew for a few cold Angkor beers (usually $1 each) at popular watering holes like Monkey Republic, The Big Easy, The Dolphin Shack, Sessions Bar, and JJ's.
Then it's back to bed around midnight … so I can wake up fresh and ready to do it all again the next day.
I absolutely love it.
What's been your most enjoyable project to date?
I'd have to say several top the list. One would be International Living's Panama Roundtable promo … which I essentially wrote — due to a very tight deadline — in a 72-hour straight nonstop writing bender over a long weekend while living in a flatshare in London. Didn't sleep the entire time I wrote it. Yet it went on to generate over $1 million in revenues for IL and its partners. That was a few years ago … and it was my first "blockbuster" promo.
Since then, I enjoyed writing International Living's "For The Next Two Days Only" promo … which has been IL's best-selling promo for the last few years … as well at Early To Rise's "China Wholesale Trader" promo … which was really gratifying for me because both test headlines and leads I wrote for that project performed very, very well. It was also a huge success for many months … and I believe it's still running now under AWAI's direction.
What's the strangest thing you've eaten while living abroad?
I always use to think I could never outdo the fried scorpion I ate on Khao San Road in Bangkok … but last October, I ate some things that to this day give me the chills. I went on a small excursion with about a dozen other world travelers to a place called "Snake Village" about 10 miles outside of Hanoi, Vietnam. And at Snake Village, I ate the beating heart of a live snake … and then washed it down with a combination of snake blood, snake bile, and Vietnamese rice wine. That was followed with snake meat, snake ribs, snake skin, and deep-fried cobra nuggets. Not a meal I'll ever forget … but believe it or not … the deep-fried cobra nuggets were actually quite tasty!
Well-known travel writer Jen Stevens once shared a phrase that applies to you: "Gastronomically adventurous!" Tell us, what's your advice to someone just starting out as a travel writer?
Read and write. Read and write. Read and write! It's not rocket science. Just find the writers who you admire and emulate what they do. Copy down — by hand — articles that impress you. Establish bomb-proof writing habits. Use a time-tested, proven system for productivity. I've recently become a big fan of "The Pomodoro" technique … and shoot for eight high-quality copywriting "Pomodoros" per day. (It's a variation of Eugene Schwartz's famous "33:33" egg-timer technique … in which he'd set an egg timer for 33 minutes and 33 seconds, start it, and would do nothing but write with no distractions or interruptions whatsoever for 33:33. Then he'd take a 5-minute break or so and do the 33:33 again for a total of 6 times a day.) It really works when you write according to a schedule like this.
Anybody can become a travel writer, copywriter, B2B copywriter … any kind of professional, high-paying writing career you want. Anybody. Just keep on reading and writing and have the guts to submit queries to editors. They're always looking for new, fresh writing talent. Always. If you can prove to them that you're an eager, willing, humble writer who's willing to do whatever it takes to make it as a writer … learn what they want … and give it to them, you'll get work. I promise you that!
You must travel relatively light … do you have any good luck charms or talismans for writing luck that stay with you no matter what?
I'm actually quite the opposite. Right now, my operating travel weight is 46 kilos. I know this because I regularly get stuck with overweight charges when flying. Especially on budget airlines. But I'm slowly getting rid of my print books (which really weigh down my bags) and going 100% digital … which really helps.
As far as good luck charms or talismans go, the thing I like to do when I'm feeling less-than-confident about my writing abilities (I think this happens to all writers) is read past promos I've written that have done really well … and past emails from clients praising what I've written. I'm not sure all clients know this, but nothing makes a copywriter happier than when they receive an email from a client saying, "This is excellent!" or something along those lines. I even have a special folder in Outlook for emails like that. It reminds me that I can always overcome any copywriting challenge … no matter what it may be. This might sound kind of quirky, but it really works for me.
So you spend a lot of time on the beach … any serious need for shoes anymore?
I can't even tell you how many pairs of flip-flops I've lost over the years. In some cases, I've gone several months barefoot in Thailand because I simply gave up on buying new ones. But it's okay. Shoes are strictly optional in the places where I hang out. The pair I've got on right now in Cambodia have lasted me about three weeks so far. And that's quite impressive … considering my track record with flip-flops!
Jason's Living The Writer's Life story was originally published in Barefoot Writer. To learn more about how you can start living your dream writer's life too, click here.
What help do you need to move forward with your version of the writer's life? Let us know in the comments below so we can help guide you in the right direction.