3 Crucial Steps for Getting Traffic to Your Copywriting Website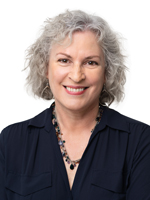 Pam Foster
How many freelance writers do companies have to choose from these days?
Hundreds? Thousands? Millions?
Well, if you go by Google searches, it could be in the millions.
Just to see, I did a "freelance writer" search in Google.
The results showed, "About 16,000,000 results."
Sheesh.
Granted, many of those results include job postings where companies are looking for freelance writers … but many also include web pages about freelance writers.
Let's just say you're competing against a slew of freelance writers, copywriters, web content writers, etc.
It's a bit like competing in an Olympic-size arena filled with other copywriters.
But wait, there's good news!
Today I'm going to help you break through that clutter by answering three of the most pressing questions from AWAI members. As you'll soon see, having your copywriter website show up on page one of Google's rankings is an achievable goal.
Q1: How do I get freelance writing clients to notice ME in that vast sea of search results?
It's quite easy if your focus all your promotional efforts on ONE type of client. This way, you won't be competing against other copywriters.
Here's what I mean.
Today's clients are searching online for copywriters who have knowledge and experience of THEIR market. Their industry.
To illustrate my point, here are a couple of screen shots from a recent posting on the job site Indeed.com:


Now, let's say you're an experienced sailor and freelance writer with the website sailingcopywriter.com.
Would you be perfect for this client, and job? Yes.
Would the client favor you over "generalist" copywriters? Absolutely.
In fact, they'd be jumping up and down when they discover that you're a writer AND a sailor; someone who understands their world and speaks their lingo. Everyone wins.
This is what happens when you focus on a specific niche industry. And there are hundreds of niches to choose from: anything from insurance, banking, and industrial safety, to eco baby products, craft beer, and camping.
In any of those niche industries, it's very likely there's just a few copywriters showing up in Google searches.
That's why a niche focus is absolutely one of the easiest ways to stand out online.
Q2: Okay, that's fine, but how do I get those clients to come to MY website?
You need to make sure your website's content is "optimized" for your type of niche client, the services you offer, and for Google.
When a potential client types in "sailing copywriter" (for example) … Google instantly displays any web pages that include that phrase.
Now, believe me, there aren't a lot of results that are super relevant to the phrase, "sailing copywriter," because there aren't many copywriters who have positioned themselves that way. In fact, I only found a few on page one.
So, if you're a sailing copywriter, you stand a HUGE chance of showing up on page one of Google's results.
The upshot is — for Google's index to display YOUR web pages, your site's content needs to mention your niche industry and "freelance writing" phrases.
For instance, your content might read, "You've just found a freelance writer with extensive sailing experience, and a love for the open sea."
Here's an easy formula to follow. You choose the combination based on the writing services you offer:
Niche + freelance writer
Niche + copywriter
Niche + web content writer
Niche + blogger
And so on.
And then, you'll use variations of these combinations throughout your content; perhaps even your business name and website domain.
I did this when I founded PetCopywriter.com (now owned by Dr. Tammy Powell). On that website, the content included messages such as:
"Web-SEO Content & Consulting for Pet Industry Marketers"
"Race ahead of the pack — now there's a skilled pet copywriter on your team"
"Attract more customers to your pet or veterinary business with help from an experienced, strategic web content writer."
The result?
Today as I was writing this article, I received the following email from a potential client in the pet industry:
"I came across your website this morning via a Google search for pet writing. I have a few projects going on within the dog niche that I'll be needing services for. One is an e-commerce site, another is an authority site, and a third will be more of an affiliate driven site highly reliant on social media.
"As I'm in the pet niche, I think it would be great to partner with your company for related content, SEO, and strategy."
It really does work!
Q3: What else can I do to increase the odds that great clients will find my website?
Send people to your website through all your other self-promotion efforts.
If you have a LinkedIn profile (every freelancer should), you definitely want to include a link to your website from your LinkedIn profile.
And, your LinkedIn profile's content should be all about your niche industry and the freelance writing services you offer, as well.
That's because clients search on LinkedIn for freelance writers, too!
Also consider writing for trade journals, and use your website link in your byline.
And of course, have your website address on your business cards, so if you happen to meet a potential client in your niche, you can whip out your business card and wow them.
The bottom line is, as a freelance writer, all roads lead to your website. It's your hub, your chance to showcase your skills, and the place where you stand out.
Follow these three steps and you'll soon start receiving inquiries from freelance writing clients!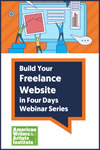 Build Your Freelance Website in Four Days
No matter what niche you're in, if you're a freelancer, you must have a website that showcases what you do. You can launch your own professional website in just 4 days. Experts show you every step. Learn More »

Published: April 20, 2017