Never Forget WHY You're Doing This

So far this week, you've learned how to structure your Three-Part Workday, stay on task by writing out your daily schedule the night before, and how to avoid distractions around the house.
Today, I want to go over something I call "Remembering the WHY."
Let me explain.
You may already know that goal setting is essential as a freelancer. It keeps you moving forward and gives you targets to shoot for and milestones to celebrate.
But remembering "why" you're doing it is a very powerful motivator.
Here's a great exercise to do before you go freelance full-time …
Write out all your reasons "why" and hang it in your office or make it your desktop background, so you see it every day.
Why are you copywriting? Why are you leaving a steady paycheck to start your own business? Why are you making cold calls to CEOs and Marketing Directors?
Knowing the "why" that spurs your actions will help boost your determination to reach the goals you've set for yourself. The "why" gives you grit.
Some examples could be:
Because I want to work less and earn more.
Because I want to spend more time with my family.
Because I want to have the freedom to travel extensively around the world and work from anywhere.
Because I want to be my own boss and set my own schedule.
Because I want to earn passive income.
Because I want to master the art of persuasion and apply that craft to every area of my life.
Because I want to earn a living doing something I'm passionate about.
My number one "why" is that I want to live my ideal day every day. And, back when I started digging to find out how to do that, I discovered freelance copywriting.
It was a way for me to double my hourly rate from my bank job … which meant I could work half the time for the same pay … which meant creating time for those things I want to do every day.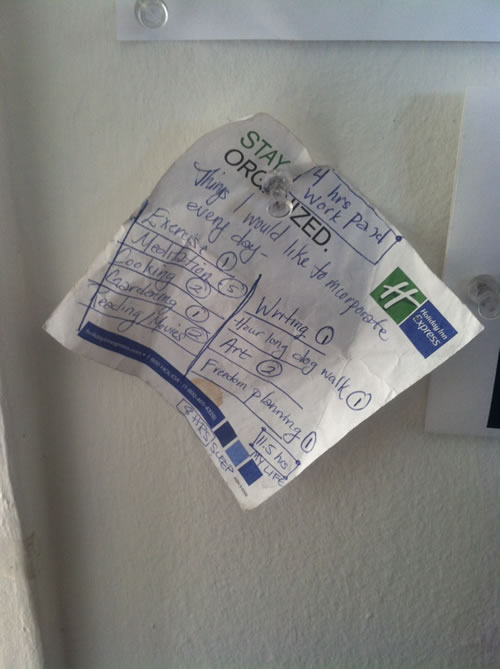 Hanging next to my computer is the very first scribble I ever made that outlined my ideal day and everything that takes place during it.
Whenever I get a few jitters or start to lose focus, I can look at that post-it on my wall and remember the WHY. It gets me back on track and reinforces my decision and direction.
As a result, every day I move closer and closer to my ideal day.
Go deeper to identify or remember your own "why" and find a way to create that on a piece of paper you hang next to your computer. You could create an image or collage, write a mission statement, or select a quote – whatever represents your "why" in the most inspiring way.
When you define what it is, share your "why" with me in the comments and tell me how you represented it in your home office.
I hope this week's Writer's Life has helped you fully prepare for your first few weeks as a full-time freelancer. Remember … the more productive you are today, the more profitable you'll be tomorrow.

The AWAI Method™ for Becoming a Skilled, In-Demand Copywriter
The AWAI Method™ combines the most up-to-date strategies, insights, and teaching methods with the tried-and-true copywriting fundamentals so you can take on ANY project — not just sales letters. Learn More »

Published: May 2, 2014