"Everything that Mark Ford writes about marketing is
worth its weight in gold."
— Bob Bly, Master Direct-Response Copywriter
From Mark Morgan Ford, self-made multimillionaire …
strategist behind one of the world's largest Internet marketing companies … and teacher to superstar marketers
and copywriters … comes …
Persuasion:
The Subtle Art of
Getting What You Want
"Every smart copywriter and marketer
should have this on their bookshelf!"
— Don Mahoney, Master Direct-Response Copywriter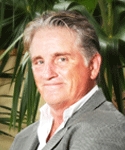 Mark Morgan Ford is a Master Copywriter, serial entrepreneur, and author of multiple books, including …
The Pledge: Your Master Plan for an Abundant Life …
Automatic Wealth and Automatic Wealth for Grads …
Seven Years to Seven Figures …
Ready, Fire, Aim: Zero to $100 Million in No Time Flat …
Confessions of a Self-Made Millionaire …
Among others, including two other books on the mastery of persuasion in the written word and in your personal life.
DELRAY BEACH, FL — "Mastering the skill of persuasion will make all your ambitions more achievable …"
"It will make you feel smarter and shrewder and more confident in almost every situation," Mark Ford writes in the introduction to his newest book, Persuasion: The Subtle Art of Getting What You Want.
No matter what your goals are in life, it will take persuading someone to achieve them.
Whether it's convincing a customer to buy from you … your spouse to support your ideas … an agent to pick up your novel … or a client to see things your way … the opportunities to persuade are endless.
And the ability to persuade effectivelyevery time is a crucial cornerstone to your success in life.
If you're a writer, speaker, teacher, public official, business owner, marketer, salesman, nonprofit administrator, preacher, coach, parent, lawyer, doctor, an advisor of any kind, or authority in your particular niche …
Then mastering persuasion is probably one of the best investments you could ever make in yourself.
You may not have all the answers, but you'll always know how to get people to take action or embrace your way of thinking.
It's a powerful skill worth its weight in gold …
And Mark Ford is, hands-down, one of the masters.
Master of Persuasion …
Ford says he's spent the better part of his life studying the history and philosophy of persuasion … and teaching persuasive techniques to some of the world's greatest marketers and copywriters today.
And you can tell.
The book is truly the work of a master — written for anyone who wants to understand marketing salesmanship at a deeper level.
Brian Kurtz, Executive Vice President of Boardroom Inc. agrees:
"Anything Mark Ford writes is worth reading … and Persuasion is as good as anything he's ever written.

"You have to be world-class yourself to quote world-class copywriters like Ogilvy, Schwab, or Caples … and Mark qualifies.

"The examples Mark has put into this book from those greats from the past, with unique spins, are superb."
Kurtz himself is a master of persuasion, and is responsible for millions of dollars of direct-marketing sales for Boardroom — often with Ford's guidance.
A 3-Step, Bulletproof Formula for
Learning and Mastering Persuasion
Praise for Mark Morgan Ford
"I really appreciate you and all you have done for me over the years.
"I know you are a mentor to countless copywriters and have had a major influence on the profession. But you have always been an influence and role model to me, as well.
"I owe you thanks and I do thank you. If there's something I can do for you, you have only to let me know."
— Bob Bly
Master Copywriter
Bob Bly is a 30-year veteran in the direct-response industry — called "America's top copywriter" by McGraw-Hill, and praised by legendary ad man David Ogilvy. He has written 80+ books.
"I'm reminded again how much you've done for me ... in my career, as my friend, and as my mentor. I know I haven't told you enough times how much I appreciate it. Other than my father (who adopted me), no one has given me more in my life than you.
"A million thanks. With, hopefully, several more million yet to come."
— Porter Stansberry
Founder, Stansberry & Associates Investment Research
Ford makes understanding (and applying) persuasive techniques surprisingly simple, thoroughly explaining each with published examples, stories, and hands-on exercises that train your persuasive "muscles."
He also reveals …
The one counterintuitive rule that best-selling authors and marketing masters constantly use to inspire more action and better results …
How to conclude your persuasive argument so you close the sale with success every single time …
The three-word phrase that helps you grab your audience's attention and keep it for the duration of your message …
How to make the formula work for you, time and again, regardless of the situation or party being persuaded …
And MUCH more.
According to Master Copywriter, Donna Baier Stein, "[This] is a book you'll want to read, keep, and live by. Not just theory, but a practical guide to using a single compelling idea to get the response you want — from your reader or your life. This is a page-turner with immense real-life value."
"We are all better off reading Persuasion.
It's masterful."
— Brian Kurtz, Executive Vice President,
Boardroom Inc.
If you've been searching for a way to make more money … gain more influence … and get further ahead in life … the timeless advice in Persuasion could help unlock those doors.
It will boost your current business (or help you create a new one) by landing you more clients or converting more paying customers …
It will make your audience pay attention to your work (and take the action you want) …
Your personal and family life become even easier to navigate when you can present your ideas and opinions in a more profound, moving way.
And thanks to Mark's influence in the publishing world, the cost of Persuasion is only $12.95 …
"This is a book that anyone who uses persuasion — copywriters, marketers, and salespeople — is going to want at hand, on their desk, to refer to at any time," Ford said.
"It's not an expensive book … but the value of applying the theories inside to your personal and professional world is priceless."
More Praise for Mark Morgan Ford
"Thank you, Mark, for making me a hero!"
— Mark Everett Johnson
Master Copywriter
"I want you to know you've touched a lot of people — including ME. And where I come from, THAT is most important."
— Matt Furey
Martial Artist, Internet Marketer
"I have gleaned much great advice and tips that have helped me improve my marketing, and for that I deeply thank you. Thanks again for all you do, and keep up the fine work."
— Marie M. Vlasic
Denver, CO
"No one teaches quite like my friend Mark!"
— Diana Gordon
"I am counting my blessings this morning and once again am grateful for who you are and all you do. I don't think you realize how many times I quote you or say, 'well as my Mentor, Mark Ford would say.' You have had a great impact on my life even though you may not realize it. I am a bit of a Mark 'stalker' and a sponge of everything you say. Thank you."
— Tim Reynolds, MD
Managing Partner, HealthCare Express
"You have made such a huge difference in my life, doubled my income, and soon I'll be working from home."
— Trey Anderson
"My life is certainly richer for having personally met you and gaining such a wealth of knowledge and guidance from you."
— Kalene Lang
De Beers — Group Accounting
"Mark knows how to tell it like it is in his newsletter and in his books. I have read all of them. Keep up the good work!"
— C.L.
Fort Worth, TX
"I can't wait to implement your ideas."
— Eric P. Martin
"Mark, you've helped me start my business — and I never thought I could pull it off. Thank you!"
— Koohzad K.
Laguna Hills, CA
"Your nuggets of information and inspiration always seem to say just what we need to hear, to suggest a different way of considering things, or riding out the storm. So, thank you."
— Nadine
Adelaide, Australia
"I have always thought of you as a genius but I am now convinced. I will be sending copies of your book to those I know and respect in business."
— Brian W. Smith