Sales Enablement Copywriting: How to Plant Your Flag as a Pioneer in This Booming New Niche!
Revealed: ALL-NEW writing niche!
A niche where companies are fighting to find writers who can take on more than a DOZEN different fast and easy writing projects …
And clients happily pay $2,000 … $3,000 … even as high as $5,000 on a regular basis …
Even if you're just starting out!
So … what is this booming niche?
It's called sales enablement copywriting.
Now, the name may not sound exciting … but sales enablement copywriting is a $6.8 trillion industry … and online searches from companies looking for copywriters in this field are increasing by 51% per year.
Not only that … sales enablement copywriting is so new that very few writers know about it — and even fewer are specializing in it (practically zero).
This is your opportunity to get in on a ground-floor opportunity you may never see again in your writing career.
In this article and the accompanying webinar, you'll learn …
what sales enablement copywriting is all about,
why it's great for beginner writers,
how it can add tens of thousands of dollars to your annual income (in your spare time!),
the kinds of projects you'll work on, and
how you can get started right away and plant your flag as a PIONEER in this burgeoning niche!
Get ready to find out how this may be the best opportunity you've never heard of!
What Is Sales Enablement Copywriting?
Let's start by defining sales enablement:
Sales enablement is the process of equipping a sales team at a company with everything they need to sell more products and services.
This can include training and other hands-on support. But it also includes providing a sales team with specific written materials.
Sales enablement copywriting refers to writing these types of materials. It's all about giving a sales team the content they need to sell more products and services.
An important point to mention here is that (despite their name), sales enablement materials do not involve any direct selling. Instead, they provide the sales team with factual information they can use in their own communications with prospects.
In addition, the majority of companies who need sales enablement content are in the Business-to-Business (B2B) industry. B2B products and services are often more expensive or complex than Business-to-Consumer (B2C) goods — so potential customers need a lot more time and information to make a buying decision.
This requires a longer and more in-depth sales process, which is why a well-equipped sales team is so vital for B2B companies.
For example, salespeople typically use a lot of email as they reach out to leads and potential customers. But they're not writers, so they often use email templates to help them craft effective emails.
And guess who writes those email templates? You guessed it — sales enablement copywriters!
Email templates are only one of many in-demand sales enablement projects.
In fact, a survey done by the B2B analysis company G2 found that 84% of sales executives cited content as the top productivity improvement area. In other words … if their sales teams had better content to support their efforts, they could make more sales.
The same survey found that sales representatives spend an average of 440 hours each year trying to find the right content to share with their prospects and customers.
A sales enablement copywriter can help streamline this process by creating all the content the sales team needs. Then the sales team can get back to doing what they do best — selling.
Most B2B companies know they need sales enablement content. Their biggest problem is finding writers well versed in this specific niche.
What Are Some Common Sales Enablement Copywriting Projects?
Now, if you've never heard of sales enablement copywriting, your first thought might be that it sounds difficult to write.
But nothing could be further from the truth.
Sales enablement materials typically follow very clear templates and formulas that are shown to work well for sales teams.
Learning these simple templates and formulas is all it takes to become a successful sales enablement copywriter.
To give you an idea of how it all works, the following are five examples of common sales enablement copywriting projects.
1. Battlecards
Average project fee: $1,000-$2,000
A battlecard is a tool that helps salespeople have better conversations with prospects, either in-person or via phone or email.
Battlecards are typically two- to five-page long documents that can include elements like …
An elevator pitch or summary of the product.
Profiles of the company's target customers.
Features and benefits of the product or service.
Customer success stories or testimonials.
Answers to common questions.
Replies to common objections.
The original purpose of a battlecard was to prepare salespeople to outsell their competition. As if they were going into battle, prepared with all the information they needed to win the sale.
In this spirit, battlecards initially focused on dealing with objections prospects might have about the company's products or services, such as, "Why is your product more expensive than your competitor's?"
Modern battlecards have expanded to include more information beyond this. But their focus remains the same — they're meant to "arm" a salesperson with helpful and persuasive details about a product that they can use in discussion with a prospect.
This is an example of a fictitious battlecard: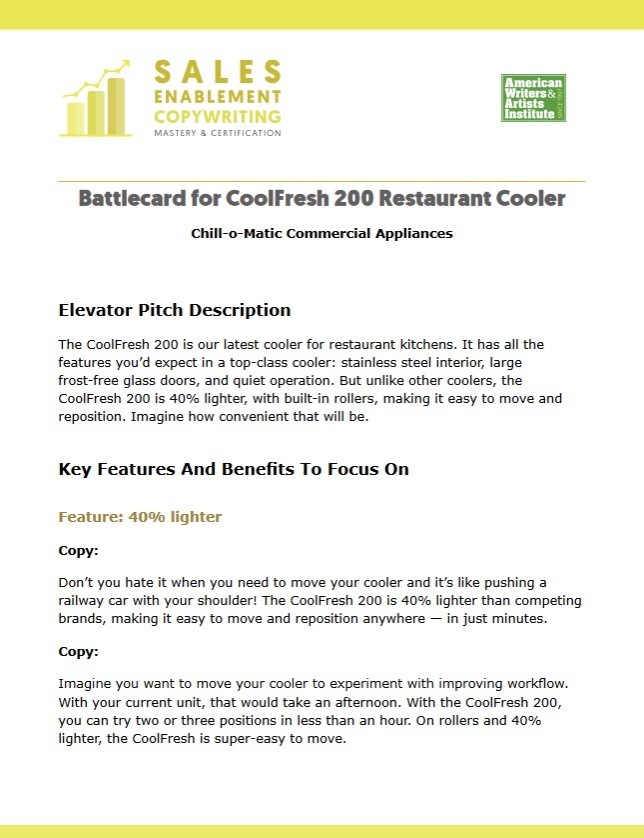 Battlecards outline a product's key features and benefits, as well as conversational ways of expressing these to potential customers.
Like most sales enablement content, they follow a clear template, as you can see in the example above.
And once you understand the purpose and template for battlecards, they're very straightforward to write.
2. One-Sheets or Sell Sheets
Average project fee: $1,000-$1,500
A one-sheet (also known as a sell sheet) is simply an informational piece of content that is formatted to fit onto one or both sides of a standard, letter-sized page.
One-sheets can be created on a range of different topics, such as:
General product information
Industry-specific sheets
"Problem-solution" sheets that explain how a product solves a problem
Client references or testimonials
"How it works" reference sheets
Technical specifications
FAQ sheets
Many sales enablement copywriting projects are written exclusively for a sales team, such as battlecards … But one-sheets are designed to be shared with prospects as well. They can be easily emailed or given out at in-person meetings and trade shows.
This is an example of a one-sheet from the content marketing agency Brafton: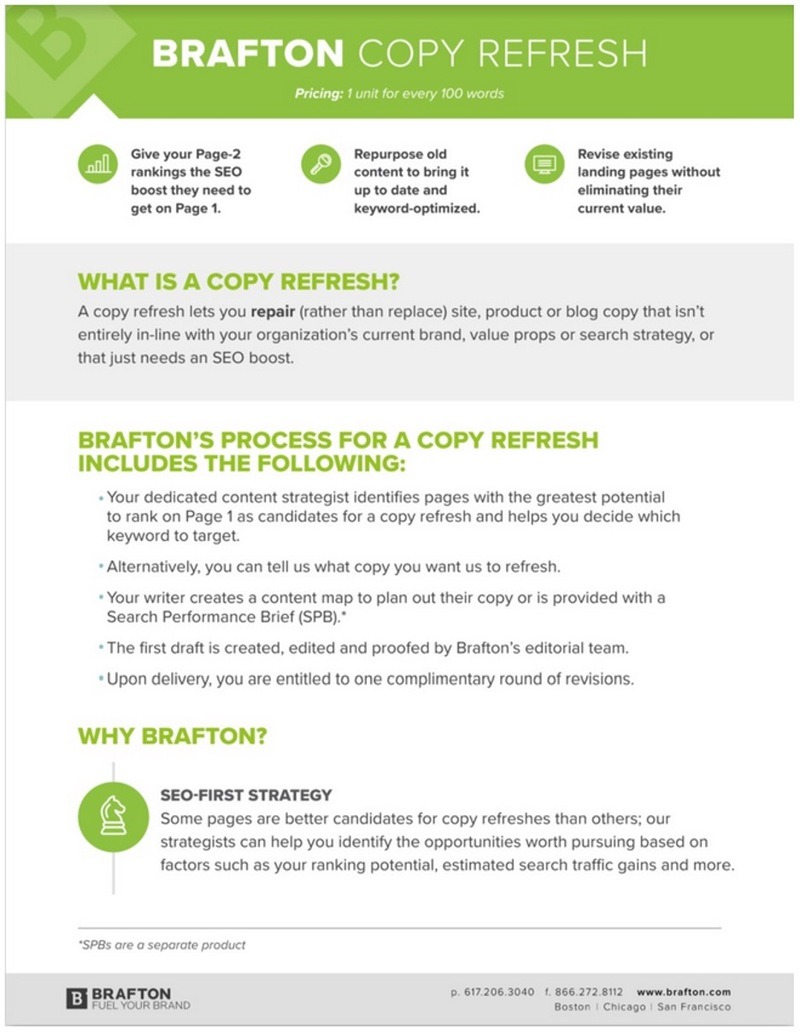 In this one-sheet, Brafton has described their "copy refresh" service. It includes some benefits of the service, how the service works, and what makes Brafton special.
All one-sheets will be unique. But they all provide some form of factual and useful information about a product or service, similar to this example.
3. Email Templates
Average project fee: $1,500-$3,500 (for a package of 10 emails)
Salespeople will use email templates as a starting point for one-to-one emails with prospects.
These are not broadcast emails they'll be sending out to their entire email list at once. Instead, salespeople will be customizing your email template to use in one of their personal emails.
A salesperson might change the introduction a bit, or adjust it in other ways to suit an individual situation. But a good email template makes email prospecting much faster and easier.
As we mentioned before, salespeople aren't interested in crafting persuasive content. Their focus is talking to prospects and making sales.
That's why they need skilled copywriters to help … and sales enablement email templates require a very specific skill set.
Like traditional marketing emails, they need to include an attention-grabbing subject line, a conversational tone, and a clear call-to-action.
But, in typical sales enablement style, they should also follow a certain formula and best practices that are shown to work well for prospecting emails.
This is an example of a fictional email template:
Hi Jill,
I just read about your promotion to VP, Logistics. Congratulations!
If you're like many new leaders in e-commerce distribution, you're feeling the pressure to reduce insurance costs.
Did you know that safer forklifts can help? In fact, our new line of forklifts (featuring our groundbreaking COB safety system) is cutting insurance costs for our clients 12%-18%.
Would you be interested in finding out if you can get similar savings?
If so, here's a suggestion: Let's hop on a quick Zoom call where you can ask questions and get the answers you need.
Looking at my calendar, I have Thursday 2:15 p.m. and Friday 8:45 a.m. free. Or, use my handy Calendly link.
Ranjeet
This email template follows a clear sales enablement formula.
Notice how the first line is very personalized. A salesperson could easily change this opener to something else as needed without changing the rest of the email.
Then, it empathizes with a challenge the reader may be facing, and shows how the product may be able to help.
Also, it includes what's called an "interest-building question." Veteran B2B copywriter Steve Slaunwhite has found that including an interest-building question just before your call-to-action boosts the number of people who reply positively to a prospecting email.
This is a good example of a prospecting email, but there are many other types of email templates you can create. For example, email templates can be used by salespeople to follow-up after a webinar or meeting, to send a prospect additional information, or to send a proposal or quotation.
When it comes to writing email templates, each project will typically include a package of at least 10 different emails. This gives the sales team a variety to choose from in different situations.
Considering that an average email template is no more than 150 words long, it means you could likely complete a whole package of 10 in a day or two. So, even if you're charging a lower fee for the project at $1,500, you're looking at some serious earning potential.
4. Call Scripts or Sales Call Tracks
Average project fee: $2,000-$2,500 (5 versions)
A call script provides a guideline to help a salesperson stay on track during a sales call. This is why they're also sometimes called sales call tracks.
Their purpose is not to create a full script that a salesperson follows word-for-word like a robot. Instead, they typically include an opening for the call, a few key messages that could be discussed during the call, and a clear close.
These are written in a conversational tone, so the salesperson can adapt the scripts to their own personality.
Call scripts help a salesperson …
Open the call with confidence.
Keep the call on track.
Say the right things.
Avoid getting flustered or at a loss for words.
Have powerful copy lines they can use or adapt.
A call script is typically only a couple of pages long and can be completed in less than a day.
And similar to email templates, you'll often complete a package of at least five versions of call scripts for different situations.
5. Sales Decks
Average project fee: $2,000-$3,500 (for 20-25 slides, content only)
A sales deck is a set of slides that a salesperson will pull from to put together a customized sales presentation for a prospect.
As a sales enablement copywriter, you only need to write the content for a sales deck. You would not be expected to do the design. Of course, if you're also a trained graphic designer, that's an another service you could offer, but it's not required for writing sales decks.
A sales deck is used toward the end of the sales process, when a company makes a formal sales pitch to a prospect. It also typically follows a clear formula that shows how a product can help the prospect solve a problem they're facing.
Each individual slide should be focused on one key point or message. This is easier for an audience to understand, but it also makes it easier for the salesperson to customize the slide deck for specific presentations.
An example of the type of copy you would include in a slide is shown below: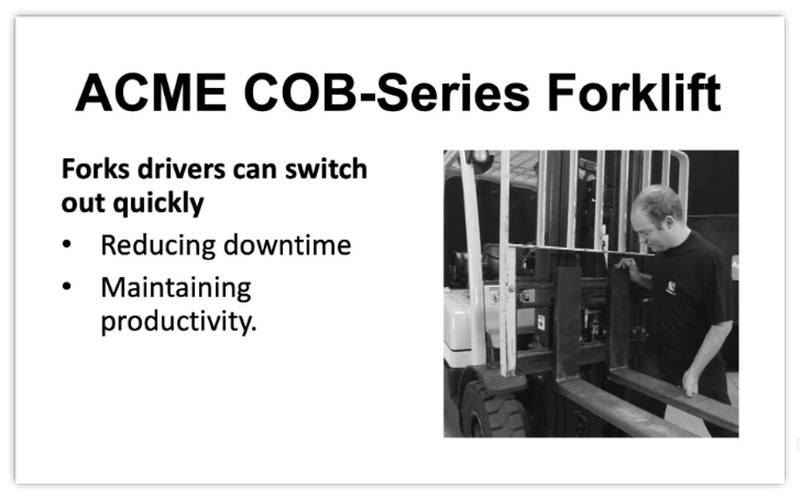 You can include a suggested image like in this example. Or you could simply write a note describing the type of image you would recommend.
But that's all the design you would need to do. Your job as a copywriter is to determine the overall message of the series, then craft each slide to support that message.
How Does the B2B Sales Process Work?
So, how would your sales enablement copywriting fit into the bigger picture of B2B sales?
As a quick overview, the B2B selling process can be compared to a baseball game that's divided into three distinct stages:
Discovery — a prospect first discovers a company and learns about their products or services. At this stage, the sales team may use content like cold emails, lead follow-up emails, or one-sheets to introduce themselves and the company to potential customers.
Evaluation — a prospect is evaluating the product to see if it's right for them. This could easily be weeks or months after the discovery stage. Content used at this stage may include battlecards, sales decks, and more follow-up emails.
Proposal — a prospect is willing to hear a pitch that includes the price of the product. In the B2B industry, some products may be well into six- and seven-figures, so this stage needs to be handled skillfully. Proposals, sales decks, case studies, and additional follow-up emails would be needed here.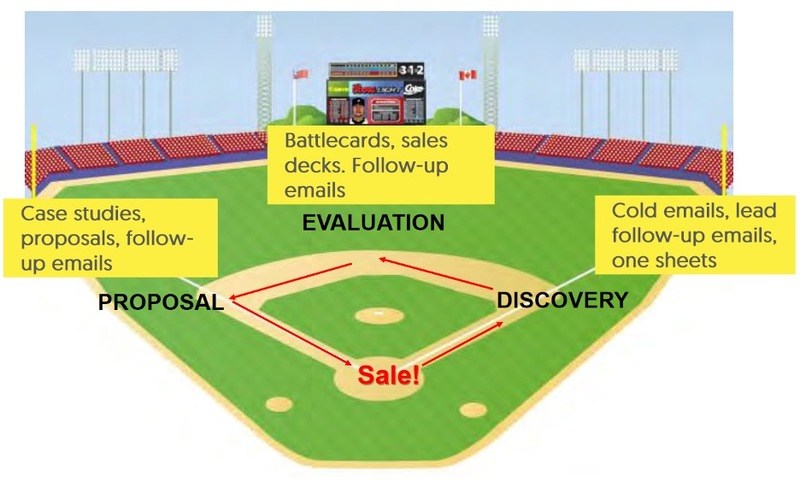 Then — if all the stages go well — they result in a sale!
Understanding this overall sales process will help you communicate with your writing clients. For any project they ask you to complete, you can start by asking which stage of the sales cycle your content will be used for.
Email templates being used for prospecting will be much different than for following-up in the proposal stage.
And simply asking your client about this will show your knowledge of sales enablement.
What to Expect with a Sales Enablement Copywriting Project
If you're ready to dive into sales enablement copywriting, you might be wondering what an actual project might look like.
Well … to start with, you can expect to work on a variety of different content pieces. You'll typically be hired to write a package of content, such as a set of email templates, a few battlecards, and a set of call scripts.
You would rarely be asked to write just one project. So, it's best to market yourself as a sales enablement copywriter, instead of focusing on battlecards or another single project.
Also, most companies have more than one product — which means you may create content packages for multiple products for the same company. And you can charge appropriately for each one.
When it comes to the project itself, the best way to start is to interview the sales director who hired you, as well as perhaps one of the salespeople on their team.
This is the most effective way to gather information about their products, target audience, and the types of content the sales team really needs.
It's helpful to prepare a list of questions before the meeting. This will make sure you get all the information you need in one interview.
Other than that, you won't need to do a lot of additional research. You may need to look at their current product brochures or other information on their website, but you'll be able to get most of what you need from the interviews.
Also, keep in mind that your interviews only need to be done once — then you can reference that information for your entire content package. This makes the whole process much easier and faster than more research-intensive projects, such as lengthy sales letters.
How to Find Sales Enablement Copywriting Clients
Finding sales enablement copywriting clients is much easier than you might suspect.
A company only needs two criteria to qualify as a potential writing client:
They have a product that requires a longer, considered buying decision, and
They have a sales team.
That's it.
As long as a company meets these criteria … you have yourself a potential client!
Keep in mind that roughly 80% of these potential clients will be B2B companies as they typically have longer sales cycles, as mentioned previously.
But around 20% will be in the B2C industry, where some companies also have products or services that require a longer buying decision, such as real estate or luxury travel.
As you're researching potential clients, how can you tell if a business has a sales team? Take a close look at their website and see if a sales director or similar position is listed.
If it is — that means they have a sales team.
Your next step is simply to start reaching out to companies through your own email prospecting. You can reach out directly to a company's sales department, or sometimes the marketing department. You may work with either one as a sales enablement copywriter.
And remember to use some of the email best practices we've discussed in this article, like including an interest-building question before your final call-to-action.
For more client-getting ideas, check out our free webinar 26 Ways to Find Freelance Writing Clients.
Final Thoughts
Sales enablement copywriting may be the opportunity of a lifetime.
You can get in on the ground floor of a new and rapidly growing copywriting niche … a chance which may only happen once in a copywriter's career.
If you want to get started and plant your flag in this exciting field, you may want to check out our Sales Enablement Copywriting Mastery & Certification program.
It's taught by one of AWAI's top instructors, B2B writing expert Steve Slaunwhite. He'll share all of the formulas and templates he's personally developed for writing a variety of sales enablement copywriting projects. You'll also practice writing some of your own samples, and Steve will show you how to use these to find high-paying clients.
Sales enablement copywriting has the potential to launch thousands of new copywriting careers. We hope you take advantage of it today!
Webinar Materials
Bonus Resources
Getting Clients: 5 Email Prospecting Tips
26 Ways to Find Freelance Writing Clients
Programs Mentioned During the Webinar
Become a Certified Sales Enablement Copywriter
Access the Inside AWAI archives here.