Meet AWAI-Trained Writer: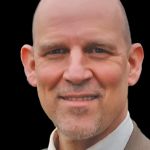 Charles Gibson
| | |
| --- | --- |
| Location: | Columbia, SC |
| Professions: | Copywriter |
| Specialties: | B-to-B, Christian, Self-Help, Web/Internet |
Professional Background:
Graduated with BS & Masters Degree in Cinema (Film & Digital Video) w/ Creative Writing Minor, then ...
Taught College Film Production & Screenwriting, and ...
freelanced For Jackson Marketing
(eg. Michelin Detroit Auto Show offline editor), meanwhile...
was a National Guard Military Officer: Broadcast Officer & Cdr 108th Public Affairs Det for several years, until...
the South Carolina Military Dept hired me in 1999 to do marketing for them, which...
I did until 2010, when I retired and went full-time as a Real Estate Investor and Lender.
And now... I'm back to writing because I it's my passion... except now, I have so much more "real world" experience to bring to the table.
Currently studying under Ray Edwards and an Infinity member here where I'm still learning!
Willing to take on other industries, but my expertise is real estate investor marketers because I know that turf!