Your First Paying Client
— in the Next 90 Days
This invaluable resource has helped launch
the careers of thousands of AWAI members
since we first created it …
Now we've made it bigger and better …
In fact, if you're ready to write, we'll
GUARANTEE you'll have your
first paying client in the next three months
Dear Reader,
I have three questions for you:
Have you been developing your copywriting skills?
Are you excited to write a REAL letter, web page, email, or promotion?
Are you ready to be PAID for your writing?
If you answered "Yes," please pay attention to what I have to say …
In this short letter, I'm going to show you how thousands of AWAI members have landed their first paying client — just by following a few simple and proven steps.
And what's most extraordinary is that most of the people who used these techniques:
Had never written "copy" before …
Had no track record of success …
Hadn't assembled a portfolio of work …
Hadn't built their websites …
Had no connections to anyone in the industry …
Had nothing going for them except a deep desire to succeed …
But what made their careers — and what guarantees your success — is a core truth of the direct-response business …
There Will Never Be Enough Good Writers
Good writers are in short supply. The very good, established ones cost a fortune and are usually tied up for months (if not permanently on "exclusive" deals with big clients … ).
So many marketers I know are eager to find the next superstar … and do everything they can to groom them and keep them.
But here's the thing …
There's a right way and a wrong way to approach a prospective client.
Top paying clients want to know three things:
That you're professional …
That you're hungry …
That you're eager to learn.
Notice what's not on that list?
That you're already a great writer …
Fact is, all most clients want to see is a "spark" of writing talent … something I'm sure you have if you've been working on your writing and you're ready to go after your first paying client.
So today, I'm going to show you a surefire way to have every client you approach look at you and say:
I like this person. I know he or she could be my next superstar.
And the best news is … it's simpler than you think.
Here's how it's working for some of your fellow AWAI members:
Penni L. Smith caught a marketer's eye with a single page of sample text. She was paid $1,000 upfront to agree to turn her sample into a full-length sales letter …
Michele Peterson landed a $4,000 web-writing job from a fellow baseball mom, simply for presenting her skills in the right way …
Jeff McGeary turned a single client connection into contracts for more than 700 articles and 100 promotional pieces over the last 10 years …
Edward George wanted a full-time writing job … and used what I'll show you to earn a spot at The Palm Beach Letter, one of the nation's fastest-growing financial publications …
Mindy McHorse turned her first small assignment into a projects contract worth $18,500 over the next year …
Joe Lilli's first projects went so well, he found himself writing promotional pieces for the Vatican …
Ed Estlow wrote his way into a premier collection of luxury watches, sent to him by companies eager to have him review their timepieces …
Russell Reynolds counted up recently, and in 65 days of using AWAI's methods, he'd earned nearly $15,000 in new client writing fees …
Sue Nickerson approached two clients nine years ago. Both hired her — and one she still works with today! To date, she's earned more than $1,000,000 in fees and royalties.
Will You Be Next?
I could go on, but you get the idea.
There's demand out there — incredible demand — for writers with all kinds of experience levels, and that includes total beginners.
And what all these writers have in common isn't that they "got lucky" in landing clients.
Nor were they "A"-level copywriters at the time …
They landed those first clients because they discovered the right strategies to use to approach a prospective client.
And that's not rocket science.
Make Finding Clients as Easy as 1-2-3
Clients all over the country need you now to help them grow their business.
That's why we created the original Getting Your First Client program back in 2006.
The idea was simple: give up-and-coming writers everything they needed to land that all-important first client and first job … so that project could lead to the next … and the next … and the next …
And in no time, you could have a thriving and prosperous freelance business.
But our industry is changing and growing by leaps and bounds.
Today, thanks to the Internet, there are literally hundreds of different kinds of clients from hundreds of industries who need the writing talents you can offer …
And new techniques for landing them.
That's why we've spent the last six months updating and revising our original program — and loading it with dozens of innovative and "market-tested" ways to land your first paying client.
The new methods revealed in Getting Your First Client will make clients happy to hire you — even if the work you do for them is the very first project you ever take on as paid writer.
Here are just a few of the secrets you'll learn …
The single most important thing you can do to start your career as a paid writer … and I can guarantee you, it's not what you think!
A special "client-getting" technique with almost irresistible appeal to marketers. You can start using it NOW to get noticed …
What to say to make hiring you a no-brainer decision … even if you have no experience, portfolio, or samples, this simple phrase will make a client say "Yes!" to working with you.
An astonishingly easy self-marketing plan — it takes less than 30 minutes a day and will have your inbox exploding with new writing opportunities in just four weeks.
Five ways to find the clients BEGGING for a writer to help them — PLUS how to prove to those clients you're exactly what they need.
The one Job Fair in the nation that's tailor-made for up-and-coming writers like you. (BONUS: It's bursting with serious opportunities from major marketers like Boardroom, Agora, and Newsmax.)
How to be a "dream copywriter" to your clients on your very first project … and why this simple technique is so insanely beneficial to your career …
Which members-only job site gives you an overwhelming advantage in uncovering new clients — and not just any clients — BIG CLIENTS like the ones who gave Russell Reynolds nearly $15K in his first 65 days …
The secrets of in-person marketing — and yes, they work for introverts, too! In fact, if you think you "hate marketing," then you'll want to pay special attention to these secrets in Chapter 3 …
Powerful self-promotion tactics that work for any new writer — and the biggest surprise is just how natural it will feel when you're doing it right and the clients come running …
What to do to turn social media into a "client-getting" machine that never stops working for you … and make Facebook, LinkedIn, and Twitter 24/7 advocates for your expertise …
Case studies from fellow writers showing you exactly what they did to land their clients … and exactly how you can replicate their success …
There's more, all designed to take you from where you are now to success as a professional copywriter, consistently earning thousands of dollars per project (plus royalties!) and staying as busy as you want to be.
And every tip you'll find inside Getting Your First Client was included for one reason:
To help you land your first paying customer — FAST.
We're so confident — we'll guarantee it.
Land Your First Client in 90 Days (Or Less!)
The roadmap you'll find in Getting Your First Client has worked for thousands of AWAI members over the years … and I know it'll work for you.
In fact, I believe so strongly in what you'll find inside this program that I'd like to make you a guarantee you'll see nowhere else …
Follow these steps and you'll have your first
paying client in the next 90 days.
And it may not even take you that long.
Many writers who follow the simple steps in Getting Your First Client don't need 90 days.
They only need a few weeks. Some only a few hours …
"I'm happy to say that it's only been around three weeks since I've started seriously marketing my copywriting services, and I have one client I just signed an agreement with, another I'm talking to today who contacted me through a mutual friend, two more possibilities pending, and another person who has a potential ghost-writing project that sounds very interesting.
"I don't even have my website up yet — no time, too much work! So you can encourage people that the work really is out there, and that when they've taken the AWAI program, you really do know what you're talking about when you talk to potential clients."
— Diane Eble, Winfield, IL
Camille Miller, for example, used one of the personal presentation tips from Chapter 4 to get hired on the spot by a publisher as soon as she mentioned being an AWAI-trained writer.
Jerry Homan thought it would take weeks or more to get any results from his personal marketing. But the email he sent out — using a format you can copy for yourself — generated a job offer in less than two hours.
And as you know, the potential payoff is much larger than just a single paycheck. A big project can be worth thousands of dollars — with juicy royalty checks on top.
Plus, once marketers see your "spark" on that first project, they won't hesitate to sign you up for more work.
Take Rae Robinson, as an example.
Rae started with a small article for Newsmax — a publishing world heavyweight who mails to over 14 million Americans a month …
They liked that first piece so much, they asked her to write a series of short video scripts and press releases. Then a 15-page promotion for their newsletter, Health Radar. She was excited and thrilled, because, in her own words, "I wasn't a superstar copywriter. I was a total newbie."
But that "total newbie" billed Newsmax and a few other small clients for $9,300 in writing services that month …
Can you imagine having that kind of success? Enjoying that kind of financial transformation in your own life?
How it will feel when you don't have to worry about the bills …
To have more money to take an extra vacation … upgrade your car … redecorate your house …
What it will be like when others see your success.
How different your life will be when you're passionate about your work and the payoff is real.
You can have it all — if you're ready to take action now.
Take the First Step
You can be the next success story people talk about — just like Penni, Michele, Jeff, Edward, Mindy, Joe, Ed, Russell, Sue, Camille, Jerry, Rae, and hundreds of other well-paid writers.
Getting Your First Client can get you there ...
Even if you don't have much experience as a writer.
Even if you don't have insider connections.
Even if you don't have a flashy website, impressive samples, or pages of glowing testimonials.
Because what I'll show you in Getting Your First Client will make sure clients are focused on your strengths …
You'll have used the right strategies to approach them. Said the right things. Proven you have initiative, drive, and a willingness to learn.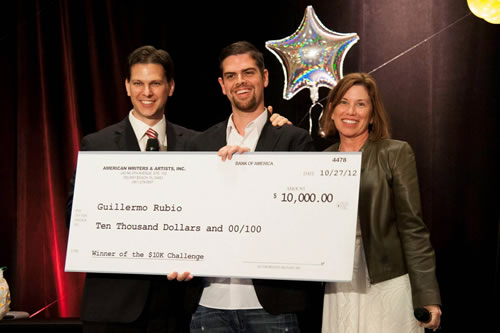 But that's not all …
You'll also be mentally ready to be a copy star, thanks to a pair of "bonus resources" I've arranged for you to receive from two of AWAI's very successful members.
The first is a special video from Guillermo Rubio, known in copy circles simply as "G." In the last five years, he's gone from life as a Starbucks barista to making six-figures as an in-demand freelance copywriter. In 2012, he won AWAI's $10K Challenge competition, and he regularly works with top names throughout the business, including Clayton Makepeace and Mark Ford.
In this exclusive presentation (not available anywhere else) you'll learn:
His #1 strategy for growing his copy career — and EXACTLY how you can use it yourself, starting right now, to make dramatic progress toward your goals …
How to know — without a doubt — when you're moving in the right direction so you can take action with confidence …
Where to get the willpower to go out there and make your first client connections as a new writer …
His personal 5-Step Action Plan for success — it's easy and straightforward — plus, he's proven it quickly gives you the amazing quality of life you deserve as a writer.
It's very powerful stuff!
And the second bonus I've lined up for you will make it easy to follow G's advice.
This one comes from Cathy Cairns-O'Keefe — an "A"-list copywriter for industry giants like Nightingale-Conant, one of the biggest self-help mailers in the country. She got her foot in the door with a very specific tactic — and she's agreed to show you what she did, word-for-word, to blast her way into the upper echelons of the copywriting world. She'll reveal:
A go-to resource you can make for yourself so you can be ready to jump on the next great opportunity you see …
How to make big-name marketers start dreaming of having you on their team and salivating over the potential results you'll give them …
The surefire way to get a new client to test you out so you can start making all the money you want as a writer …
Why making bold claims about your abilities works … and how your AWAI training can back you up, empowering you to approach any client in any niche …
The ultimate "trump card" you can use to leap ahead and showcase your unique talents in the best possible light — even as a beginner!
The insights you'll get from G and Cathy are invaluable. After all, it wasn't that long ago they were in your shoes … eager to start their writing careers and looking to land their first clients.
Now, they've both got all the work they can handle — and are regarded as two of the best up-and-coming copywriters in the country.
Between their secrets and those you'll discover in Getting Your First Client, you'll have everything … all the tools, knowledge, and most importantly, the confidence — to launch your own lucrative copy career …
Get the Guide to Get the Job
Now, you may be wondering what Getting Your First Client costs …
Well, when you consider people like Rae and Russell — who earned thousands from their new clients in just a few weeks — you might think $1,000 would be a fair price.
After all, I know writers who still have the first clients that hired them — and now make six-figures every year!
But Getting Your First Client won't cost you $1,000 … or $500 … or even $200.
Through this special offer, AWAI's newly-revised and updated Getting Your First Client is only $99 .
And don't forget — that comes with our ironclad, "no risk to you" guarantee:
Get the program today. Follow the simple, proven strategies step-by-step. If you don't have your first paid client within 90 days, you can return the program for a full refund.
Get Started Now
We hear it from AWAI members all the time.
"I think I can write, but I have no idea how to get my first client."
That's why we created this program …
To take the worry and fear out of landing that all-important first client — so you can enjoy all the benefits of the writer's life sooner rather than later.
We've made it easy for you to get any client you want — whether it's a multimillion-dollar international publisher … your favorite web company … or the little business down the street.
But you need to take the first step.
Place your order for Getting Your First Client today and pay just $99 to start your journey to having your first client in the next 90 days. All you have to do is click the big orange button below:
Or, if you'd prefer to place your order with someone in our office, just call Barb, Pat, Cameron, Kayla, or Debbie at 1-866-879-2924 during regular business hours. (We're in Florida, on Eastern Time.)
To your success,



Paul Hollingshead
Co-Founder of AWAI and Copywriter
P.S. Remember, you have absolutely nothing to lose by placing your order now. And in just a few weeks, you could be contacting AWAI with a story like this one from Vic Elias, up in Canada:
"After going through AWAI's Program, I sent some letters advertising my services as a freelance copywriter. I only mailed 16 letters.

This was my 'dream clients' list. Companies I really wanted to work for …

That was two weeks ago.

Today, I have three new clients!

After getting a call this morning from a publisher, I was so happy, I jumped up and down. You have to understand, this is a huge company that doesn't normally deal with a small fry like me.

And here I was getting a call — not from the marketing manager's assistant, or even the manager … but the publisher himself — asking me if I'd be interested in writing for him!

I decided I better wait before promoting myself any more. At this rate, I won't be able to keep up with all the work I'm getting."