Valerie Young:
When Life is Rich, Success
is That Much Sweeter
"I'm pretty picky about what resources I recommend to my readers. I won't endorse anything that promises you can 'get rich quick' or that professes to know the 'secret' of 'fast, easy success.' Hey, if you could really earn $1,000 a week stuffing envelopes at home, the American workplace would be empty. As much as we may wish for some magic answer, the fact of the matter is this: Changing course to create the kind of work and life you really want takes time, effort and commitment. Period.

Naturally then I was somewhat skeptical when AWAI contacted me about the program 'Accelerated Program for Six-Figure Copywriting.' Before I recommend anything to my readers I like to see it for myself. In a matter of days, I received the entire program — over 700 pages of material!

Before I launched Changing Course, I worked in the marketing field, so I know a little about the direct mail and copywriting world. To say that I was impressed with the program content would be an understatement. It is highly readable, thorough, and on-target."
— Valerie Young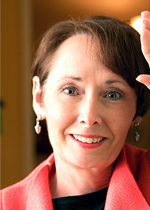 VALERIE YOUNG is an internationally known workshop leader and public speaker. Her passion is guiding people to discover and then realize their dreams. She is the founder, visionary, and dreamer-in-residence at ChangingCourse.com where she provides tools, resources, insights, and inspiration for those looking to create a career they love.
Valerie founded Changing Course in 1993. Since that time she has held speaking engagements at Intel, Bristol-Myers Squibb, American Women in Radio and Television, the Society of Women Engineers, Women in Federal Law Enforcement, and the American Society for Training and Development … and that list just scratches the surface.
Valerie's insights and advice have been cited in many prestigious publications including Reader's Digest, Redbook, the Chicago Tribune, and the Boston Globe, among many more. She's also done guest appearances on People are Talking (ABC), Chicago's WMAQ, and the Wall Street Journal's syndicated program "Work & Family."
The Director of the Women in Engineering Program at the University of Texas in Austin has called Valerie Young's workshops one of the best she ever attended. The Principal of Client Focus says Valerie is, "an excellent presenter, brining humor, practicality and great depth of thought to [her] presentations."
Learn more about Valerie Young
Valerie Young Articles
More Articles By Valerie Young …