Melanie Rembrandt:
Discover the Exciting and Satisfying Lifestyle of a Freelance Public Relations Career
"The week I returned from AWAI's Bootcamp in 2004, I was laid off from my job. But instead of getting upset, I used this as an opportunity to use some of the new skills I learned over the weekend. And guess what? I left the office with my first client … and a new business to call my own!

By studying AWAI's copywriting techniques, I have been able to expand my company fast, help my clients succeed, and live life on my terms. It is a true joy to be your own boss. And with the helpful guidance and support from AWAI's experts and their extensive, copywriting program, anyone can live their dream lifestyle!"
— Melanie Rembrandt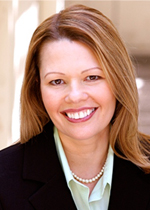 A content-marketing strategist, SEO copywriter and public-relations consultant, Melanie Rembrandt helps businesses boost sales, awareness and credibility fast via Rembrandt Communications®, LLC, www.rembrandtwrites.com. For example, her article in Diesel Progress brought in $94,000 worth of new orders, her feature story in Success Magazine catapulted national awareness for Montana's PrintingForLess.com, and her social-media posts brought in over 1,000 new fans for Tastee Apple, Inc. within weeks … just to name a few.
A magna cum laude graduate of the prestigious, UCLA School of Theater, Film and Television, Melanie is an accomplished, SAG/Equity performer and the official, SEO content strategy and PR expert for Small Biz America, Silicon Valley Globe, and Little PINK Book. Her regular column for Under Armour provides valuable, health and fitness tips, and she is also on the Board of Advisors for American Writers & Artists, where she advises and teaches new copywriters.
With over twenty years of experience, she has helped individuals, small business owners, non-profit organizations, Fortune 500, and celebrities like: Robert and Kim Kiyosaki of The Rich Dad Company, Dan Kennedy, Joe Tremaine, Michael Rooney, Peter Sparling, Katie Lance, Christy Curtis Buss, Judie Aronson, and many others, reach their goals.
As someone who funded her own business and worked diligently in-the-trenches for success, now Melanie helps other entrepreneurs via her free, "Content Strategy Blog" and monthly newsletter, "Rembrandt Writes Insights®."
She is the published author of: "Simple Publicity," (1Win Press) "Secrets of Becoming a Publicist," (American Writers & Artists Institute) and "7 Steps to Successful Public Relations." (StartupNation). Melanie also hosts the SmallBiz America Radio segment, "PR and SEO Quick Tips."
Voted one of the "Top Google SEO Copywriters On Earth," she provides in-depth training presentations to various businesses and organizations worldwide. And when Melanie is not helping clients, you can usually find her scuba diving in the Pacific Ocean, hitting a Muay Thai kickboxing bag or taking a dance class!
AWAI Program by Melanie Rembrandt
Learn the Secrets to Becoming a Publicist and Start an Exciting and Satisfying Career this Year!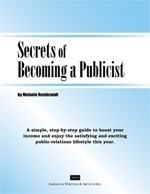 If you want to leave your boring, 8-to-5 job, be financially independent, and take control of your life, check out our new program, Secrets of Becoming a Publicist.
Today, more businesses and organizations are turning to public relations to build cost-effective buzz and reap the benefits of third-party credibility that is unavailable via traditional advertising methods …
A report by the Bureau of Labor Statistics, indicates that, "Employment of public relations specialists is expected to grow by 18 percent from 2006 to 2016, faster than average for all occupations."
Now you can take advantage of this hot opportunity!
In Secrets of Becoming a Publicist, you'll join AWAI success story and PR expert, Melanie Rembrandt, as she exposes the myths of this in-demand career. In easy-to-follow steps, you'll learn:
How to write a press release in 7 simple steps and start making money right away from your new skill!
How to get your first client in one week;
Where to post a press release and earn extra income in the process;
How to create media kits, PR Plans, online newsrooms, and more;
How to pitch media members to build buzz for you and your clients;
Marketing tips to get more clients than you can handle;
Must-have tips to build strong client relationships;
Simple steps to start and protect your new publicity business; and
Secrets to skyrocket your PR success!
Plus, you'll receive two bonus reports absolutely free … "The Top Five Things You Should Never Say to a Reporter and Why" and "How to Write an Event Press Release in 30 Minutes or Less."
It's your one-of-a-kind ticket to a new and exciting life packed with fun, fame, and fortune!
Secrets of Becoming a Publicist: $199.00