Mark Ford:
Not Your Typical Businessman
"One of the mantras I'm constantly preaching to people who want to become wealthy is the importance of gaining a financially valuable skill.

A financially valuable skill does two things for you. One, it allows you to consistently earn a much higher than average income … and, two, you can leverage it by applying it to a business you own, thus create great wealth from it.

One of the best financially valuable skills, in my mind, is the art of letter writing. Why? It's fun. It provides a great lifestyle. And it can make you a ton of money.

With AWAI's Accelerated Program for Six-Figure Copywriting, it's possible to learn letter-writing skills that could have you earning great money in months if you apply yourself. Paul Hollingshead, for example, went from earning $6.50 or so an hour stocking cans in a grocery store to earning well over $300,000 a year writing copy. Don Mahoney quit his job as a carpenter and now earns the same. Joshua Boswell went from flirting with bankruptcy to making over $100,000 his first year as a copywriter.

If you haven't yet mastered a financially valuable skill, you should consider copywriting. A long and growing list of people who have taken the program and applied its principles have left behind routine, often low-paying, dead-end jobs and are now making six figures from their homes or anywhere they choose to write.

If you have ever dreamed of changing your life, you can. The AWAI Accelerated Program for Six-Figure Copywriting is fun, liberating, and enormously rewarding. I love the life of a high-paid writer. So will you!"
— Mark Morgan Ford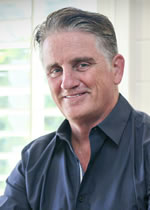 MARK MORGAN FORD started his first business when he was 11 years old. He's started hundreds more since then. It would be fair to say he's worked in almost every industry imaginable—roofing, carpentry, house painting, restaurants, travel agencies, art galleries. He started a rare coin club. He's written direct mail selling everything from sunglasses to grandfather clocks to tomatoes.
But when he discovered the publishing industry, he knew he'd found something he really cared about.
Today, he's a self-made multimillionaire. He's also a New York Times bestselling author and a successful business builder.
If his face looks familiar, it's because it is …
You've known him by his pen name Michael Masterson, which he retired a few years ago.
Mark is one of the founders of AWAI … he mentored Paul Hollingshead, Don Mahoney and a dozen more A-list copywriters … and he is the inspiration behind AWAI's Accelerated Program for Six-Figure Copywriting and more.
Since 1993, he has been the chief growth strategist for Agora, Inc., international publisher of newsletters and books with revenues of over $800 million annually.
Want to be a better writer? Get paid more? There's no one better to learn from. As a man who has built many, many business and accumulated more wealth than he could spend in three lifetimes, one of Mark's passions is teaching others how to create successful businesses.
Now here are a few things you may not know about Mark …
He grew up in Brooklyn and Long Island, NY. He has a BA from Queens College, CUNY, a master's degree from the University of Michigan, and did PhD work at Catholic University.
After college, Mark joined the Peace Corps and spent two years teaching students at the University of Chad in Africa.
Despite his incredible business success and intellectual acumen, he has been quite the failure—at retiring.
In 1982, Mark moved to Palm Beach County and took a job with a small publishing company. He worked as an apprentice to a well-known businessman in South Florida. He helped that company grow to $135 million in annual revenues, became a multimillionaire himself, and retired at age 39.
But retirement didn't stick. After a year of writing poetry, he became a consultant to the health and investment publishing industry. He was involved in the development of dozens of multimillion-dollar businesses, including one whose revenues recently exceeded the $800 million mark. And then he retired again.
Now that he's turned 60 years old, Mark has "retired" again. He now focuses on growing his investments and writing as the editor of The Palm Beach Letter.
Books by Mark Ford
Mark Ford has authored and co-authored books on marketing, copywriting, and entrepreneurship. Some of these books include:
Automatic Wealth: The Six Steps to Financial Independence (John Wiley & Sons)
Seven Years to Seven Figures: The Fast-Track Plan to Becoming a Millionaire (John Wiley & Sons)
Automatic Wealth for Grads and Anyone Else Just Starting Out (John Wiley & Sons)
Confessions of a Self-Made Millionaire (Early to Rise)
Changing the Channel (John Wiley & Sons with MaryEllen Tribby)
The Architecture of Persuasion (American Writers & Artists Institute)
Power and Persuasion: How to Command Success in Business and Your Personal Life (John Wiley & Sons.)
Ready, Fire, Aim: Zero to $100 Million in No Time Flat (John Wiley & Sons)[22]
Great Leads: The Six Easiest Ways to Start Any Sales Message (American Writers & Artists with John Forde)
Copy Logic (American Writers & Artists Institute with Mike Palmer)
The Pledge: Your Master Plan for an Abundant Life (John Wiley & Sons)
The Reluctant Entrepreneur (John Wiley & Sons)
Words That Work (American Writers & Artists Institute)
Living Rich
Persuasion
How to Speak Intelligently About Everything that Matters
Wealth Planning for Freelancers
Making the Most of Your Time
The Big Book of Wealth Creation
Back and Out Again (poetry)
It's Raining, Lovely Raining (poetry)
Dreaming of Tigers (short stories)
Mark is also a founder and contributor to The Palm Beach Letter, a newsletter for investors, and The Palm Beach Wealth Builder's Club.
Articles by Mark Ford