Joe Sugarman: Building a Legacy of Helping People Live Healthy and Long Lives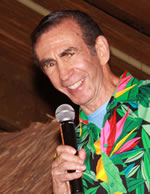 Joseph Sugarman is Chairman of JS&A Group, Inc., BluBlocker Corporation, DelStar Publishing and President of a bio-tech company, Stem Cell Products, LLC—all based in Las Vegas, Nevada.
He was born and raised in the Chicago area and attended the electrical engineering college of the University of Miami for three and a half years before being drafted into the U.S. Army in 1962.
He then spent over three years in Germany where he served with the Army Intelligence Service and later with the CIA. Returning home, he formed a company to market Austrian ski lifts in the United States and then later formed his own advertising agency to service ski resort accounts.
In 1971, after six years of running his own ad agency, he saw micro-electronics as an exciting opportunity and formed a company to market the world's first pocket calculator through direct marketing—all from the basement of his home in Northbrook, IL.
His company, JS&A Group, Inc., soon grew to become America's largest single source of space-age products, and he eventually introduced dozens of new innovations and concepts in electronics during the '70s including the pocket calculator, the digital watch, cordless telephones, computers and a variety of other items. Each product introduction was made in large, full-page advertisements, which became the recognized signature of his creative work. He wrote then and still writes all his own advertising copy for print, the Internet and TV.
In 1979, Sugarman was selected as the Direct Marketing Man of the Year in New York. In 1991, he won the prestigious Maxwell Sackheim award for his creative career contributions to direct marketing.
Sugarman is also a published author with six books to his credit. His first book, Success Forces was published in 1980 by Contemporary Books and he has completed three marketing books based on what he taught at his exclusive seminars--Advertising Secrets of the Written Word, Marketing Secrets of a Mail Order Maverick and Television Secrets for Marketing Success.
In 2005 a group of scientists presented Sugarman with a series of bio-tech compounds that utilized the latest peptide and stem cell technology in helping to expand the life span of the human race. Sensing the opportunity to not only extend life spans but to be responsible for helping millions of people live a better more youthful life, Sugarman agreed to head a company to market a series of products utilizing this new technology.
"My purpose in life to leave a legacy of helping people live long and healthier lives and I sincerely believe we have the technology and the products to do that now," says Sugarman.
Connect With Joe