Brian Clark:
Founder of Rainmaker Digital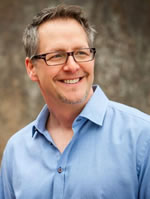 BRIAN CLARK is founder of Rainmaker Digital [formally Copyblogger Media], a serial entrepreneur, and a recovering attorney.
Brian built three successful offline businesses using online marketing techniques before moving to a completely online business model. The result of that move — Rainmaker Digital — is an innovative company that provides the advice and solutions that empower people to successfully grow their businesses through social media and online marketing.
Advertising Age ranks Copyblogger as a top marketing blog in its Power150 list. The Guardian named Copyblogger one of the world's 50 most powerful blogs. He was ranked #3 of the 100 Most Influential Online Marketers of 2009. Technorati says Copyblogger is one of the most popular blogs in the world. Business Week says entrepreneurs should follow Copyblogger on Twitter. Dunn and Bradstreet says Brian Clark is one of the most influential people in small business on Twitter.
Brian will be speaking on how to make money for your clients (and for yourself) using online content marketing strategies … the very ones that have earned him the accolades above.
Brian Clark Articles
More Articles By Brian Clark …
Connect with Brian