AWAI Affiliate Program
Featured Product:
AWAI's Accelerated Program for Six Figure Copywriting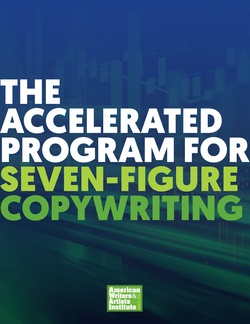 Our flagship product introduces the reader to learn about the fun and lucrative world of writing promotional letters for the $2.3 trillion direct-response industry.
These letters earn millions of dollars for the companies that send them – and anywhere from $40,000 to $200,000+ per year for the people who write them.
And, if you don't consider yourself a writer … that's even better. If you can write like you talk and follow some simple, yet powerful techniques, you can create a life where you'll enjoy the kind of personal and financial freedom most people only dream about.
Full Pay Price: $497 $397
Format: Receive online access to the entire program. Hard copy also available.
---
5 Top Selling Programs
With the large variety of programs available in the AWAI product library it can be a bit overwhelming to decide what programs you want to start promoting. To make your affiliate program experience fast and successful, below are a list of programs we recommend you get started with today!
How to Write Your Own Money-Making Websites
Nick Usborne explains how to promote his hot new program effectively to your readers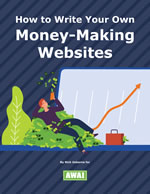 This program walks someone through the steps of setting up a content-rich website, on a topic that they are passionate about. It then shows them how to create a passive income stream from that website, spending just a few hours a day.
This is not a "get rich quick" opportunity. It's more like a guaranteed make a steady stream of income slow. $500 to $5000 a month is definitely attainable.
Full Pay Price: $497
Format: Hard copy and e-version available.
View our ongoing list of members who have found success with their own money-making websites:
Money-Making Website Successes
Your Readers Could Be Added Next!
The Barefoot Writer's Club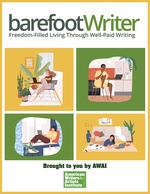 At AWAI, we've helped a lot of people eager to leave the work-a-day world move up to very different (and far more rewarding) lives as successful freelance writers.
These folks no longer have jobs in the traditional sense: They have no bosses, no commute, and no place to be at any given time.
Many are retirees and stay-at-home moms who now are able to generate a substantial extra income in just a few hours a day.
They make their own schedule … and leave plenty of time for things they enjoy most: family, hobbies, travel, you name it.
And many tell us they're making far more money than they ever did working – anywhere from $50,000 on a very part-time basis … to upwards of $400,000 and $500,000 a year!
Here's a way for you to join them … to "ease in" to the writer's life without having to make any kind of big time or financial commitment.
It's an invitation to join a very special group of people who can help you learn what it takes to earn a six-figure income as a writer, while enjoying the kind of lifestyle most people only dream about.
We call this group The Barefoot Writer's Club, and as a member you'll learn how to make a great living writing, whether you're:
Helping someone land a better job more quickly as a resume writer
Working with a worthy charity to raise money
Selling your own words and expertise as a self publisher
Driving new customers to a business's website as an expert web writer
Highlighting exciting destinations as a travel writer
Writing ads and "story style" letters that sell directly to customers as a copywriter
You can become a Barefoot Writer. Your journey starts today.
Full Pay Price: $99.00 $49.00
Format: Online access only
Copywriting 2.0:
Your Complete Guide to Writing Web Copy that Converts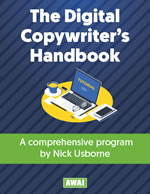 Writing copy for the Web is NOT the same as writing offline copy. There are key differences that can spell the difference between success and disaster.
But for the first time in his career, the top web-copy consultant to Yahoo, Microsoft, and Disney wants to show YOU how to write blockbuster web copy in record time … even if you're a complete internet "rookie"!
This opportunity is huge. Online projects are short, and can be completed quickly. The money is great. And clients will be grateful, because you can help them increase their sales. Everyone wins … and anyone can do this!
Full Pay Price: $497
Format: Receive online access to the entire program. Hard copy also available.
The Pro Resume Writer Program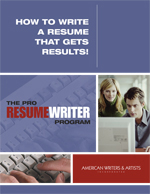 Resume writing is the ideal spare-time business. Whether you're just looking for some extra spare-time cash, or are looking for a new career.
With our detailed guidelines, writing resumes is fun, quick, and easy. This complete program gives you everything you need to start and run a successful resume preparation service.
There will never be a better opportunity to have the kind of part-time income you've always dreamed about. There are thousands of people in your area who need a resume – to get their first job … to get a better job … to make more money … or to get that dream job.
Full Pay Price: $99
Format: Receive online access to the entire program.
Graphic Design Success Program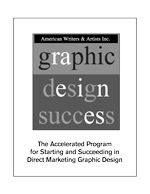 A comprehensive program that gives you all the tools you need to become a successful freelance graphic designer, working when you want from anywhere in the world … even your kitchen table.
Learn about the lucrative world of designing promotional letters for the $2.3 trillion direct-response industry. These are the letters you see in your mailbox and get via the internet every day. Designing these letters is fun and easy once you know the proven secrets of direct-mail design.
Course Name: Graphic Design Success
Full Pay Price: $290
Format: Receive online access to the entire program. Hard copy also available.