Ilise Benun:
Founder of Marketing Mentor
"Working with Ilise is better than having a fairy godmother. She teaches you how to connect with your dream clients and price appropriately, helping you grow your business into what you've always wished it to be." — Kathleen Giarrano
Why Work With Ilise?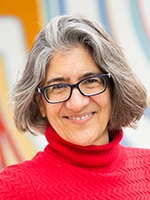 Ilise Benum
Ilise has been coaching copywriters, graphic designers and other freelancers for 25+ years. She takes a practical, skills-based approach to coaching and has developed a specific program used by hundreds of copywriters. She said, "I'm not a cheerleader. Motivation and inspiration come naturally from doing what has to be done and seeing that it works. My focus is on the practical steps, the nuts and bolts." Her mission is to help you find the freedom to do the work you enjoy (and are good at) so you have time to do what you want with the rest of your time. Ilise has been a speaker at the AWAI FastTrack to Copywriting Success Bootcamp.
Specific Outcomes You Can Expect
Ilise will help you focus on up to 3 target markets and land high-quality clients within those markets.
If you do the work Ilise recommends, you'll know how to confidently contact the right prospects and get the work you want. "It's as simple as that."
Ultimately you'll gain more freedom and control over your life.
Her Coach Approach
Ilise's one-on-one Marketing Mentor mix & match coaching program includes 7 modules you can select based on the specific skills you need to learn. It's flexible as far as how and when your coaching time is used, and it's completely tailored, yet it follows a very structured itinerary complete with homework (video, audio, reading and worksheets).
Each of the following modules takes about 4 weeks and includes 2 hours of one-on-one coaching time:
Focus to Find Your Ideal Clients
Speak Fluently About Your Business
Price Your Services Fairly
Create Your Email Marketing Message
Create Content for Your Marketing-Smart Web Site
Reach out to Your Ideal Clients
Create Your Proposal Template
Ilise also offers a personal mentoring program that's more open-ended. It's completely tailored, with scheduled one-on-one consultations and follow-ups as needed. If you don't know what you need, mentoring will help you figure it out. It's customized, but it also may include any or all of the coaching program materials if that's the right solution.
In Ilise's Words:
"My ideal client is a copywriter who has a business in place and is getting clients but not necessarily the right clients, is already proficient at the craft, but hasn't yet decided where to focus and feels scattered as a result. He/she is ready to get serious and do something to take the business to next level."
Fees and Terms
Each of her coaching modules is $500, but she also offers this special:
Modules 1 + 2
introductory offer: $750
We'll find your ideal clients and develop the language to tell them what you do. You'll learn how to select and research 3 target markets, determine which are viable and develop a list of 50 practice & ideal prospects. Then you'll draft an elevator pitch and develop versions for networking, LinkedIn and your homepage.
How to Get Started
Request a free 30-minute mentoring session to meet Ilise and see if her coaching is right for you. Or, visit her coaching page to review the entire program.
"Your advice was invaluable. Because of the updates to my Linked In profile per your suggestions, I landed one of my biggest clients. And the warm email prospecting has proven to give me a new client and some great leads that are in the works. THANK YOU!!" — Christine Case
"Ilise's guidance and support helped me move from the feast-or-famine cycle — in which I did sales calls during slow times, then dropped the ball completely when busy — to a comprehensive marketing program that has transformed my business. I'm working with more my dream clients doing my dream projects." — Cynthia Sterling