Living the Writer's Life: John Diamondidis
Former Pro Wrestler Discovers His Writing Skills in an Unlikely Place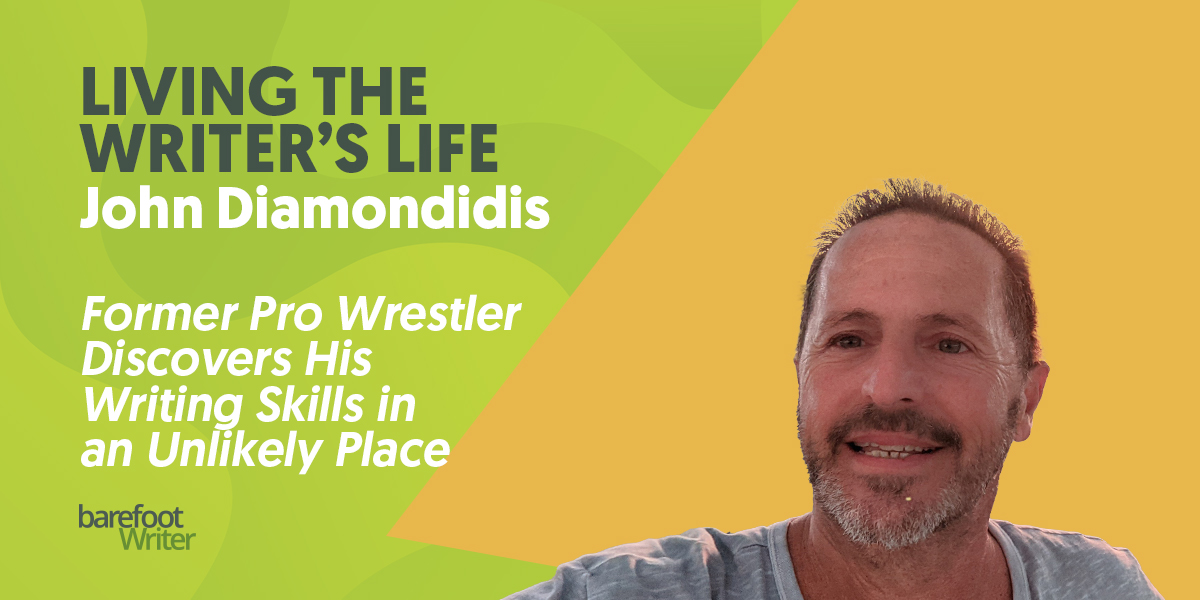 When did you first decide you might have some writing skill? Was it because of a writing contest? A blog article? Or, like John Diamondidis, was it on a TV set while filming a promo for your professional wrestling career?! We hope you'll enjoy this interview where John shares some of his top tips for new writers. And remember, when in doubt … "Writers write!"
How did you first get into copywriting?
As a youngster growing up, I was often tasked with storytelling so my sister could fall asleep. I would make up stories for her.
Fast-forward to me turning 48 years old. I found something that very much interested me … professional wrestling. I wrestled and entertained people throughout West Virginia, Pennsylvania, Maryland, and Delaware. Each of our sponsors wanted us to make and air their commercials on the show.
The commercials for the sponsors were written poorly. I would read the promo and rewrite the commercial so it would make sense and come across professionally. I thought to myself … There has to be money in this writing business.
At 57½, I got a call from a friend of mine in Virginia. She convinced me to look into Barefoot Writer magazine and AWAI. I studied my tail off, thinking the whole time … This feels right!
What kinds of clients and projects do you enjoy most?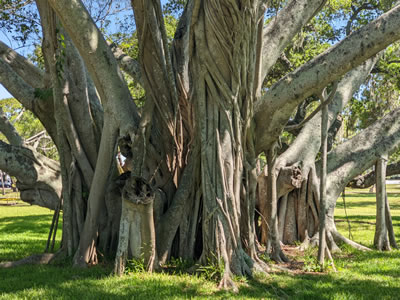 Beautiful trees near
John's home in Florida.
The type of writing projects I enjoy most are newsletters and landing pages, and brochures. These are fun to write.
The one thing about writing a brochure … you have to make it appealing! On one side, you need to sell … This is the "sexy part," the sell. The other part of the brochure is the "steadfast" part. Techy stuff. "Why this is the one for you."
With a brochure, you have to tell two stories with limited space: one story about the product and company and the other to tell why the product is the best choice. It uses your full spectrum of imagination and spatial reasoning as you lay out the brochure to make it sing to your client. Very difficult craft!
What is it about your niche that inspires you the most?
My niche is construction and industrial. I worked as a laborer and business owner for 30 years in the road construction industry. This niche just allows me to pull on past experiences.
How have you added to your toolbox over the years?
I have been involved in the copywriting business for two years now. I cannot express enough that the main thing to add to your "toolbox" is a positive attitude. When you're looking for your next client and it seems as though you have hit a wall … keep hunting!
Another thing I have added is business copywriting through the tutelage of Steve Slaunwhite. If you are in a slump, review your training material, take a new AWAI course, divert your attention to something new in the copywriting world, and go back on the hunt.
Do you have any tips for other writers?
As you write … save, save, save! Consistently save your work! Keep organized. Keep your files and work in progress in a very neatly organized, easy way to find. Remember, this is your work … Save your work in an easy way for you to find.
If in doubt about what to write, write. A writer writes! I have written many articles that I have saved in my computer. Articles that have never been published. Articles that will more than likely only be read by my writing partner in Virginia. It doesn't matter what you write or write about, just write!
What's your favorite thing about your writer's life?
I love knowing that in the first six days of the month, I make all the money I need while helping others (companies) fulfill their goals. When you think about it esoterically, each time you play a part in a company's success, you are part of the team that makes it possible for every employee of the company to get paid at the end of the week!
The next four days of the month, I make the money that I want. The money I want for frivolous things. This type of freedom comes with responsibility … For 20 days a month, I hunt for clients and I write novels and novellas.
I love going to the beach, especially for sunsets. Love dancing and cooking. The writer's life gives me the time to enjoy what I enjoy!
John's Living The Writer's Life story was originally published in Barefoot Writer. To learn more about how you can start living your dream writer's life too, click here.
What help do you need to move forward with your version of the writer's life? Let us know in the comments below so we can help guide you in the right direction.

The Barefoot Writer
Discover a lucrative style of writing that will give you as much freedom as you can have while earning a great income at the same time. Learn More »

Published: August 20, 2022