Meet Social Media Expert Mari Smith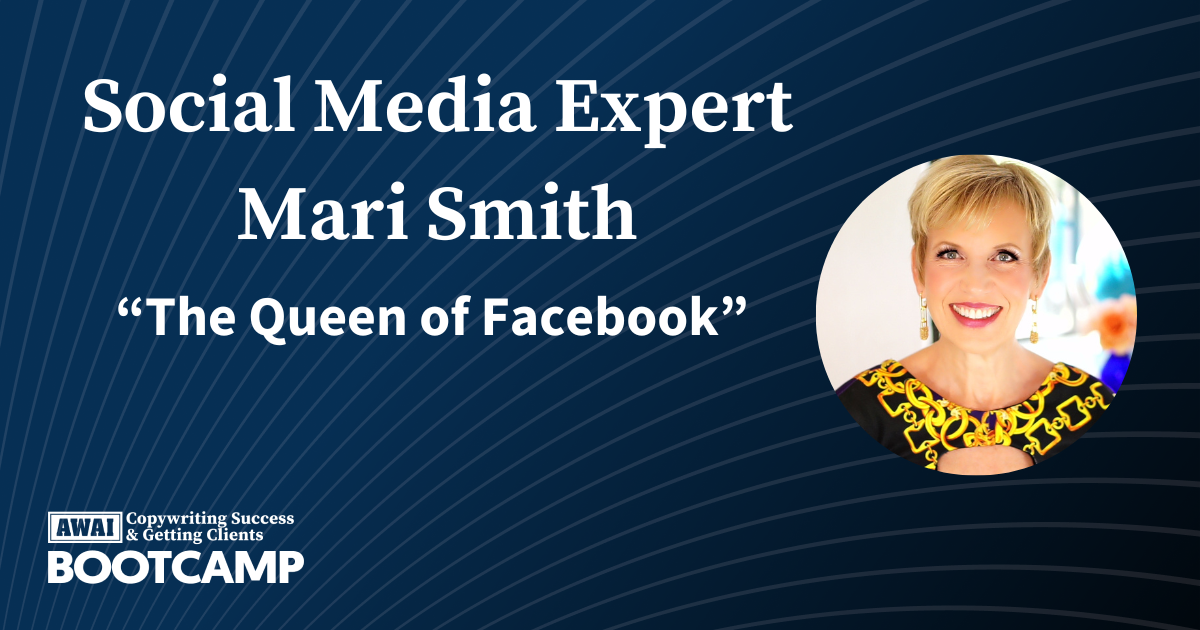 Mari Smith, CEO of Mari Smith International Inc., is widely known as the premier Facebook marketing expert and a top social media thought leader. Even Facebook asks for her help! She has worked with a wide range of industries over the past 15 years, providing strategic social media marketing consulting and training services.
This October, at AWAI's Copywriting Success & Getting Clients Bootcamp, you can have a virtual front row seat for up-to-date copywriting guidance based on her work with AAA, AT&T, Adobe, Allstate, Bank of America, Cisco, Facebook, HubSpot, LS Retail, Pinterest, PNC Bank, Verizon, and more.
Here's what she'll cover during her Bootcamp session: Breakthrough Social Media Copywriting Strategies to Help You and Your Clients Scale!
Discover how to capitalize on the sea change that is quietly happening in the social media marketing world (seriously, nobody is talking about this … yet!) so you can dramatically impact the growth of your own and your clients' businesses.
Learn how to win new clients and help them stay relevant, top of mind, and easily attracting the right, highly engaged audience.
Get empowered with the best ways to shift the focus to the right content formats (and drown out all the chaos and noise!).
Home in on measuring the metrics that matter (no, it's not about getting more likes, followers, and reach).
Mari's quest for you? "Stop being at the mercy of the big tech algos and constant changes. Take back control and strategically drive business growth for you and your clients."
And Mari is just one of more than two dozen experts speaking at AWAI's 2022 Copywriting Success & Getting Clients Bootcamp to help AWAI members (like you) launch and grow successful copywriting careers.
Come transform your life in just 3½ days … Get all the details on this year's powerful, life-changing event.

The AWAI Method™ for Becoming a Skilled, In-Demand Copywriter
The AWAI Method™ combines the most up-to-date strategies, insights, and teaching methods with the tried-and-true copywriting fundamentals so you can take on ANY project — not just sales letters. Learn More »

Published: August 16, 2022