Choosing a Writing Niche: Your Career vs. Your Passion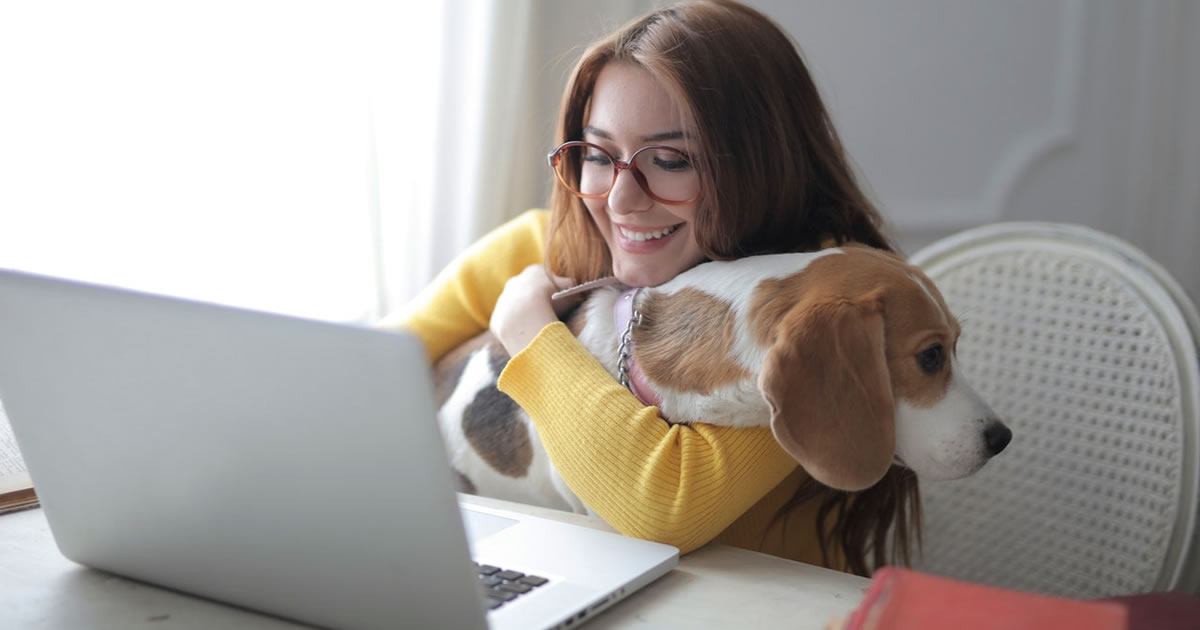 I'm a pet and veterinary copywriter. And that probably seems like a good fit, given my professional career as a veterinarian.
However, when I first thought about choosing a niche, the choice didn't seem so obvious. Like many new copywriters, I struggled with whether to stick with what I knew or make a change.
I'd like to share some of the factors that went into my decision — including pros and cons of choosing your niche based on your career or on a passion outside of work.
I hope this makes it easier to choose a writing niche — so you can start getting clients and paychecks, thanks to your specialized knowledge!
Why I Almost Didn't Choose Pet Copywriting …
A niche is a shortcut. It simplifies the path to establishing yourself as an expert copywriter in your field — which can in turn boost confidence and shorten the time to clients and paychecks.
I knew the importance of choosing a niche. But as I mentioned, when I first started copywriting, I wasn't sure what my niche should be.
Of course, pet and veterinary copywriting seems like a natural choice now, since I'm a veterinarian. But at the time, I hesitated.
Like many new copywriters, I was burned out in my previous career and looking for a change.
That's not to say I was burned out on seeing puppies and kittens (that would be crazy!). Instead, I felt burned out by long and grueling emergency shifts and being the bearer of bad news regarding someone's beloved pet.
Also, despite my expert knowledge in veterinary medicine, I developed imposter syndrome at the thought of being a veterinary copywriter on certain B2B topics — say, specialty surgeries for which I'd normally refer a patient to a veterinary surgeon or neurologist.
For all these reasons, I explored niches outside of my career.
I looked into becoming a copywriter for other industries such as travel — including medical tourism, which I thought might be a good way to marry an interest in travel with my medical knowledge.
Here's what I learned when it comes to choosing a niche …
Pros of Choosing Your Passion as Your Niche
The obvious benefit of writing on a topic you're passionate about is that you'll probably enjoy it!
Your interest is high, and the change of pace (writing about something totally new, outside of your career) can be refreshing.
This passion may sustain you through challenging projects, motivate you to keep going when facing criticism or rejection, and ensure you don't get bored.
Cons of Choosing Your Passion as Your Niche
For me, the biggest disadvantage of choosing something I was interested in (but not an expert in yet) was the amount of work involved.
Yes, I knew a lot about travel from personal experience. But my knowledge was limited to my own personal travel style and preferences.
Also, once I started to investigate medical tourism — well, let's just say I quickly realized how much I didn't know!
The change of niche would have required hours and hours of self-study — which made my "passion" for travel feel less joyful and more like a chore.
So, my career knowledge started to feel like the path of least resistance.
Pros of Choosing Your Career as Your Niche
Rather than learning an entirely new field, I became more open to using my professional knowledge as my niche.
Choosing my career as my niche saved me a lot of time when I first set up my website and promoted myself as a copywriter.
Four years later, my professional knowledge continues to save me time on research for nearly every copywriting project, since I already have a strong knowledge base and hands-on experience to draw from.
Another big benefit is instant credibility. If you're new to copywriting and don't have a lot of writing samples (and you're nervous about getting clients), professional clout helps you stand out from the crowd.
Plus, I discovered another surprise benefit …
That is, I rekindled some of my interest in topics within veterinary medicine.
For example, I enjoyed researching specialty surgeries — like the ones I mentioned above, where I would normally refer a patient to a specialist — in order to write about them.
For me, writing about knee and spinal surgeries in dogs was more enjoyable than standing in the surgery suite for several hours — all geared up under bright lights with beeping anesthesia equipment — like I did in vet school.
Writing didn't carry the same physical strain or emotional pressure as actually being involved in surgery did — so I enjoyed the subject matter in a new way.
What about you? Is it possible you may rediscover a passion for your professional field once some of the pressures of your day job are removed?
Cons of Choosing Your Career as Your Niche
One potential disadvantage of choosing your profession as your niche is, if you're looking for a change of pace, sticking with your industry may leave you feeling bored or stuck, or continuing to desire a change.
Maybe you're stimulated by constantly learning new things, so putting in the time to learn about a new field or industry is worth it because it maintains your curiosity and interest.
This preference varies from person to person, so you'll have to decide what works best for you.
Establishing Credibility as an Expert
Based on personal experience, I believe it's easier to establish credibility as an expert copywriter by leaning on professional knowledge and experience.
But, this isn't the right answer for everyone — only you know which niche is a good fit for you.
Either way, you'll want to establish credibility.
By impressing potential clients with your credentials before your first conversation, you can gain confidence and boost your chances of getting that first paycheck — and many additional paychecks to follow.
Credentials from a professional career may include all your education, industry experience, professional memberships, certifications, and any other information you can think of.
List this information on your website, LinkedIn profile, job board profile, and anywhere else you are looking for copywriting projects. You can even include a brief summary in emails or during phone calls with potential clients, or on your business cards.
What about establishing credibility in a new field — something you're passionate about but in which you don't have a lot of formal education or experience yet?
Some ideas for gaining experience may include volunteering, certifications, high-value writing samples, continuing education, professional memberships, and more.
For example, if you love pets but don't have professional experience in the industry, it may be valuable to pitch articles to niche publications — these writing samples can be very valuable when talking to new clients.
Or, if you love to cook and want to write for the food industry, maybe it would help to take some online or in-person classes, or to get a part-time job for a caterer to see how the B2B side works.
Whatever field or industry you choose, gaining credentials helps impress potential clients even before your first conversation — which puts the odds of working together (and receiving the payments you want) in your favor.
Need more help making your choice? Check out this Inside AWAI webinar: The #1 Easiest Way to Choose a Copywriting Niche and Start Attracting Well-Paying Clients.
What about you? How did you choose your niche — and do you have any advice for your fellow copywriters? Please share in the comments.

How to Choose Your Writing Niche: Your Step-by-Step Blueprint for Choosing a Profitable Market that's Right for You
Need to pick a niche for your freelance business? Learn how to do it once and for all, and watch your business grow. Learn More »

Published: May 27, 2021