How I Found My First Copywriting Gig in the Midst of a Global Pandemic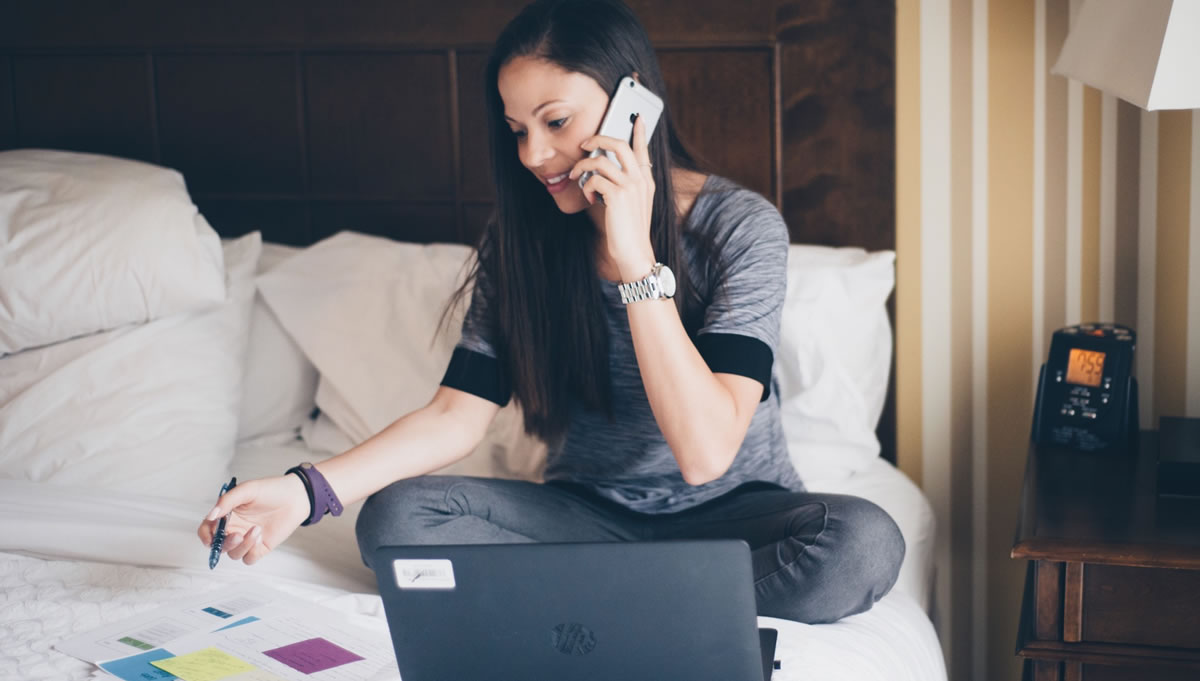 This current pandemic has taken everyone off guard, including me.
It's created panic shopping, food shortages, loss of income, and uncertainty that has rocked the world.
As a forensic full-time Audiologist who was laid off during this pandemic, I was filled with anxiety listening to the waves of bad news.
But that feeling of anxiety was short-lived when I realized how lucky I was to have completed The Accelerated Program — I could use my time off to jump-start my copywriting business.
The Initial Shock
As the news of the pandemic rapidly started to spread, my sheltering at home began Saturday, March 21 in Chicago, Illinois.
Initially, my boyfriend and I focused intensely on the physical space at home and psychological security.
Of course it was shocking to not have the freedom of our former life that we both took for granted, but we knew we weren't in control of the pandemic and focused on what we could control.
Helping Those in Need
We initially began checking on elderly neighbors and family to make sure they had provisions and systems in place to replenish supplies.
Daily social connectedness is critical at a time like this, so we set up a schedule which would allow us to check in with family and friends.
And since our Michigan State alumni event to help the Chicago Greater Food Depository was cancelled, we sent a donation instead.
Staying Healthy and Safe
We both love to cook, so it was easy to take turns cooking and creating new dishes together. It helped us adjust to not meeting our friends in restaurants.
We play board games, read, and view virtual tours of places we want to visit in the future.
Our daily workouts had to be modified due to the gym closing, so we made a commitment to walk four miles daily along the lakeshore and the forest preserves in the mornings.
This daily morning walk gets the blood flowing and allows me get into a clear mental mindset prior to writing.
I've grown accustomed to living in the city with so much traffic noise, so now it's peaceful listening to the birds chirping and water splashing, and to practice mindfulness.
When I think about the millions of employees out of work, I realize how lucky I am to have the freedom of copywriting.
Taking Massive Action
To jump-start my copywriting business, I knew I needed to create a schedule which included: writing content, taking classes, and marketing to reach my goal of getting a new client.
Instead of binging Netflix and spending hours looking at the news, I created an initial action plan of four projects with deadlines which kept me focused for two weeks.
Writing Content
Here's where I focused on to get started:
Revised my LinkedIn Profile
Creating LinkedIn weekly content (blogs, articles) for one month
Writing my copywriter website, including on-page SEO
Selecting website layout and interviewing a web designer
Continuing Education
I knew enhancing my skills would help me build confidence for my outreach to prospective clients, so I took the time for these educational efforts:
I attended the email marketing webinar featuring Guillermo Rubio. As a result, I set up a date to complete the Email Badges program I previously purchased.
Casey Hibbard finalized the Case Study Mastery program. Writing my first case study was hard but the feedback was very useful.
I attended the Virtual Summit which had a firehose of information. I applied Ryan Deiss's tips on adding value to my welcome letter emails. (If you haven't watched it yet, you should!)
Proving Myself
After my two-week set-up period was complete, I decided it was time to shift gears and market my services. I wrote down a list of everyone I knew and started making contact.
The first positive response I had was from my podiatrist who provided the contact information for the group that provides marketing services for his large company.
The initial conversation with the marketing manager flowed well as I listened to their goals and the results of their present marketing efforts.
I'm excited to announce that after several conversations, I finally have a contract to write my first case study!
I'm looking forward to it because I'm interviewing a patient who had a similar surgery to one I had a year ago.
I'm also talking to other companies about email marketing and website audits.
Gratitude and Reflection
The economic and psychological global calamity that's going on will have long-lasting effects. My heart goes out to the victims, first responders, and all medical staff.
I'm keeping in mind something Brian Tracy said, "Develop and attitude of gratitude, and give thanks for everything that happens to you, knowing that every step forward is a step toward achieving something bigger and better than your current situation."
Top 10 Copywriter Tips During a Pandemic
Take time to just relax, it's okay to not always be productive
Control the amount of news you watch
Take time every day to talk to positive friends and family
Develop an attitude of gratitude and give thanks daily
Start each day with a morning mindset routine
Be sure to get plenty of rest and drink plenty of water
Take time to step outside each day and walk
Market your business 15-30 minutes a day
Declutter your office because it helps productivity
Never stop learning to help grow your business
I'm excited to have landed a copywriting client during this pandemic, and know if I keep up with my action plans, more good things will follow. I'm sure the same can happen for you, too!
Are you ready to make the leap to the writer's life? What are your action plans? Share with us in the comments.

Your No-Stress Method for Getting Clients: 26 Field-Tested Strategies for Introverts, Extroverts, and Everyone In-Between
Today's busiest copywriters show you 26 market-tested strategies for getting freelance writing clients — whether you're an introvert, extrovert, or in between. With AWAI, it's easy to attract freelance clients who need you now. Choose your favorite way(s) today … Learn More »

Published: May 8, 2020