The Power of Research: Are You Asking the Right Questions?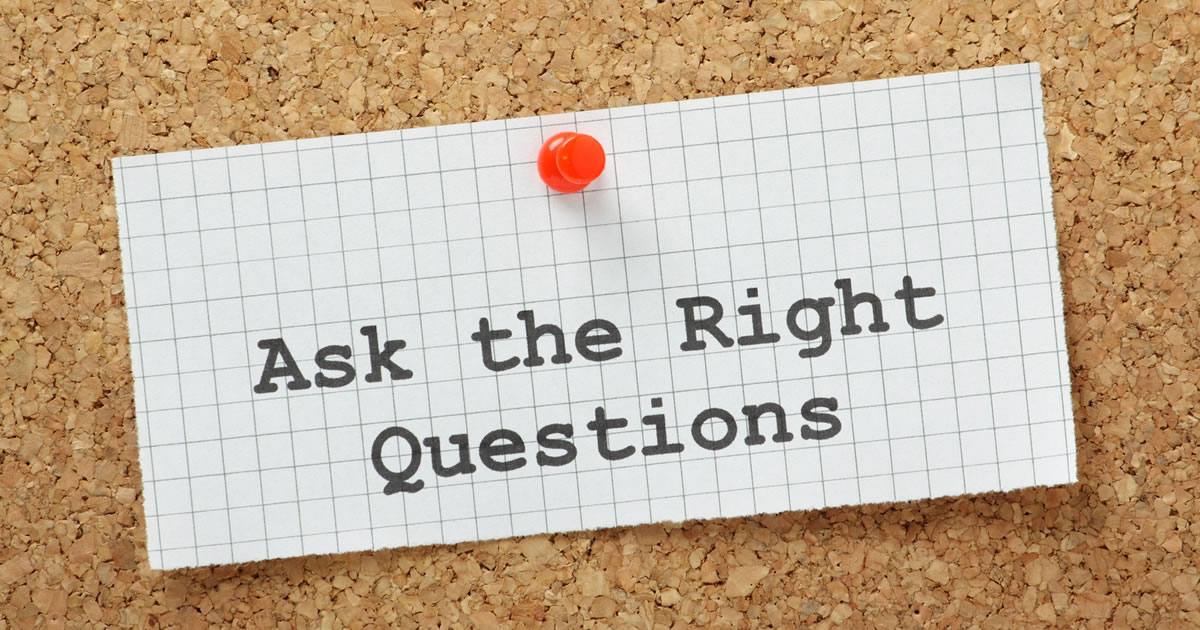 Do you remember this simple question Katie Couric, then host of CBS Evening News, asked former Vice Presidential candidate Sarah Palin on September 30, 2008:
"When it comes to establishing your worldview, I was curious, what newspapers and magazines did you regularly read before you were tapped for this — to stay informed and to understand the world?"
It soon became the question heard round the world because it seemed to catch Sarah off guard. Her answer was, "I've read most of them with a great appreciation for the press and the media."
But Katie was after specifics. So she pressed on, asking the same question two more times, including, "But what ones specifically?" And "Can you name any of them?"
And the answer was always the same: "A variety of sources."
Now, you're probably wondering what this has to do with copywriting.
The answer is simple.
You see, 90% of what you do as a copywriter is research. Sure, you're also writing, after all, you are a copywriter. But writing is the end result of the research you've done and takes less time.
In fact, when it comes to research, there's a Golden Rule copywriters live by: 90% of copywriting is research, the other 10% is writing.
For research, one of the main ways you'll uncover information that becomes the proof needed for your sales argument is by reading. That means reading lots of books, newspapers, magazines, websites, trade journals, and other similar related materials.
But having an in-depth conversation with the editor, guru, customers, or other people associated with the product or service you are selling yields the rich details that will make your copy more believable and more persuasive.
It's those details that become the "show, don't tell" part of copywriting.
Katie's interview proves this point well.
When Sarah couldn't provide specifics on what she read, it made her appear as if she was not a well-informed or well-educated candidate. In copywriting terms, she wasn't credible.
So how do you get as many details out of the person you are interviewing? Here are six pointers that will help you nail the interview every time.
Interview Tactic #1: Clear up vague, non-specific, or unclear language. When the person you are interviewing is vague ask, "What exactly did you mean by this?" or "Specifically what happened?"
Interview Tactic #2: Dig for underlying causes. Ask the person, "Why did you say that?" or "What were you thinking when that happened?"
Interview Tactic #3: Keep the interview focused and on point. If the interviewee goes off topic ask, "How is what you are telling me relevant to the topic?" or "Can you hold that thought while we finish this discussion?"
Interview Tactic #4: Go for accuracy. Ask your interviewee, "How do you know this is true?" or "How does this compare to what you said earlier?"
Interview Tactic #5: Uncover emotion. Ask the person you're interviewing, "How did you feel when that happened?" Or "Describe what you felt at this very moment?"
Interview Tactic #6: Get examples. Ask them "Tell me about the time when you did _______?" or "Can you give me an example of what you mean?"
The bottom line is this. When your client or Copy Chief hires you to write a sales letter, you can't avoid doing research. It's a critical requirement of becoming a successful copywriter.
So don't shy away from it, embrace it as an opportunity to get to know more, to dig for the details. Your copy will be more compelling, more persuasive, and in the end, make you and your client more money.
What challenges do you face in prepping for or conducting interviews? Please share in the comments below.

The AWAI Method™ for Becoming a Skilled, In-Demand Copywriter
The AWAI Method™ combines the most up-to-date strategies, insights, and teaching methods with the tried-and-true copywriting fundamentals so you can take on ANY project — not just sales letters. Learn More »

Published: September 29, 2017