Top Tips on How to Become a Copywriter From Carline Anglade-Cole – One of the Top Names in the Industry Working Today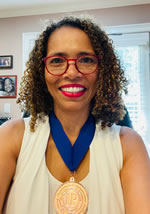 Carline Anglade-Cole
Carline Anglade-Cole has been a familiar face at AWAI's FastTrack to Copywriting Success Bootcamp and Job Fair for the last several years. As an expert speaker at the world's premier copywriting training event she relishes the chance to mentor the next generation of freelancers and show them how they could soon be writing for money in a variety of niches.
It certainly happened for Carline. After working for 12 years for direct-mail powerhouse Phillips Publishing, she launched her freelance writing business in 1999. Her goal was to make good money but still have time to raise her four kids (with her husband, Mickey), travel worldwide, and volunteer. And she's succeeded in every area.
These days she works from home in comfortable clothes, loves being a grandmother to four grandkids, volunteers many with her church every month, and has traveled to Japan, Guatemala, New Zealand, South Africa, Haiti, Jamaica, Sri Lanka, Alaska, and Hawaii … with more trips planned.
Of course, she's had plenty of writing career success as well. Specializing in the health industry, she's written multi-year controls for Resources, True Health, Healthy Directions, Boardroom, Biscayne Labs, and NeoGenis. Plus, she helped launch Oprah Winfrey's O Magazine. In 2015, she was named AWAI's "Copywriter of the Year."
Carline has this advice for up-and-coming copywriters: Niche yourself … love what you do … write copy that connects and helps people … and the money will follow! And one of the best places to get the copywriting training you need is Bootcamp. As Carline says:
"It can launch your copywriting career!

Two big hurdles most aspiring copywriters face:

1. Getting known in the industry!

2. Finding clients who want to pay!

Bootcamp is the only place I know where you can talk with … hang out with … and NETWORK with real working copywriters in your industry. That connection alone is PRICELESS — but …

… Bootcamp also brings the clients to you! You get face-to-face time with the movers and shakers in the direct mail biz! You get to know them — and more importantly — they've got REAL job assignments they can offer you on the spot! That opportunity alone can launch your career!

So, if you're serious — REALLY serious about turning your copywriting dreams into reality — get your butt to Bootcamp!"
If you're ready to learn how to be a copywriter, you need to check out AWAI's FastTrack to Copywriting Success Bootcamp and Job Fair.
Find out what you'll learn, who'll you'll meet, and how this one event could give you the copywriting training you need to change your career and your life here.

The AWAI Method™ for Becoming a Skilled, In-Demand Copywriter
The AWAI Method™ combines the most up-to-date strategies, insights, and teaching methods with the tried-and-true copywriting fundamentals so you can take on ANY project — not just sales letters. Learn More »

Published: June 9, 2016