How to Use Social Media to Attract Writing Clients and Get Paid
You're not the only one on social media these days … that's also where your potential freelance writing clients are.
Social media has exploded for personal use over the past decade — but did you know it's become a significant part of business marketing and promotion as well?
In fact, social is expected to account for 33% of all digital advertising spending in 2022, for an annual total of $134 billion.
That's more than a 17% increase from social ad spending in 2021!
Yes, social platforms are huge when it comes to promoting businesses online.
And like any form of marketing, companies need writers who understand how to create the copy and content necessary to keep it fresh, attention-getting, and engaging.
In this article, we reveal how you can take full advantage of today's social media platforms to build your freelance business and start earning a sizeable income as a social media writer.
You'll discover …
How to use social media to attract and land the clients of your dreams.
Why clients need your help with their social marketing efforts.
How to become their resource for writing social ads, publishing fresh content, managing their groups, and more.
The fees and types of work you can expect when you specialize in social media marketing.
How to get started as a social media writer.
If you're someone who already enjoys social media, this is the writing opportunity for you!
Now, let's look at two ways social media is your freelance writing success gateway …
Is Social Media a Real Opportunity for Freelance Writers?
You might feel that social media is a fun way to connect with friends, family, and social groups online.
But it doesn't end there.
Nearly 75% of the world's population over 13 years old uses social media in some way — which makes it a massive audience for any business.
Today's successful businesses actually use social platforms to promote their products and services more than you might guess.
And not only that … 54% of the social media audience uses it specifically to research products.
From checking out decorating ideas on Pinterest, to watching product reviews on YouTube, people regularly search for information about products and services on a variety of social networks.
Also consider these recent revealing statistics from HubSpot:
46% of all social media traffic to company websites comes from LinkedIn.
82% of B2B marketers report finding the greatest success on LinkedIn.
93% of Twitter members are open to brands getting involved in conversations, such as providing help and support.
YouTube is the second largest search engine globally, after Google.
It's clear that consumers are using social media to research and connect with businesses.
And many businesses that are actively using social platforms as a marketing channel are finding it a very successful tactic.
But … there can be a significant gap between social media's potential and how well a company takes advantage of it.
For instance, of consumers who reach out to a company through social channels, 79% of them expect a response within a day. Yet currently, the average company response rate across all industries is lower than 25%.
Due to a simple lack of time or knowledge, companies are missing out on many of the opportunities that social media offers.
That's where you can help as a freelance copywriter.
We'll get into that more in a moment … but first, let's take a look at using social media to connect with potential clients of your own.
Social Media Writing Opportunity #1: Get Clients!
Social media is clearly an excellent way to connect with others — and this includes connecting with potential freelance writing clients!
What follows are some of the best ways to start using social networks to find clients.
1. Get Clients Via LinkedIn
LinkedIn is a database and social network of professionals from nearly all industries — it's often called the "Google for business."
It's used a lot in the Business-to-Business (B2B) world, but Business-to-Consumer (B2C) professionals also use it to connect. Marketers use LinkedIn to find other professionals they need — such as freelance writers. And freelance writers can search LinkedIn for clients who might be a good match for their skills.
Many AWAI members have found their first and subsequent clients through LinkedIn and highly recommend it as part of self-marketing campaign!
LinkedIn has multiple different features and can be as complex or as simple as you want to make it. Consider using any or all of these features on LinkedIn:
Resume and website — You can use your LinkedIn profile as your resume and website if you don't have your own site yet.
Address book — By connecting with other professionals, LinkedIn can be your address book to keep track of your network.
Search Engine — Find other professionals and potential clients using the platform's search function.
Communications — LinkedIn has a messaging function where you can chat directly with your contacts.
Social Media Feed — Read, share, and comment on other community members' posts on the site.
Blog — Write and post your own articles as a great way to get noticed and show off your work. This is really helpful if you don't have a lot of writing samples yet.
One of the best parts of LinkedIn is the fact you can set up a profile for free. LinkedIn offers a paid subscription for additional services, but the free version is more than enough to get started.
To set up your profile, keep these best practices in mind:
Title — make the first four words count
Headshot — make it friendly and professional
Header Image — make it relevant
About Section — make the first three lines count and include contact information
Experience — make it relevant
Portfolio — showcase one or more samples of your work
As an example, take a look at AWAI Member Steve Maurer's LinkedIn profile: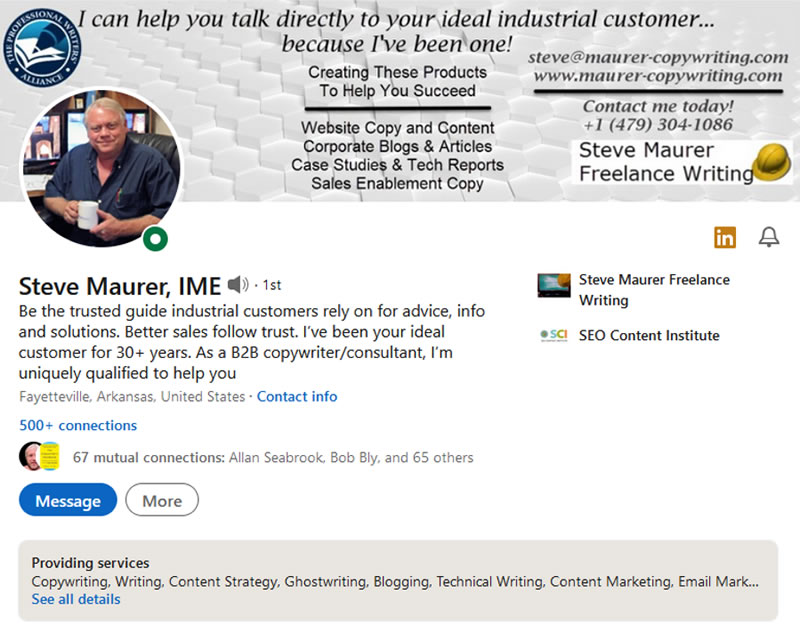 You can see he has a clear title that states exactly what he does, and why he's uniquely qualified to do it. He has a professional headshot and header image.
And farther down the page, he provides more details on his relevant qualifications and experience.
Also notice how Steve stays focused on what he can do for the client, rather than simply talking about himself. He keeps relating his experience back to why it's relevant and valuable to a company, which is an important focus when crafting your own profile.
For additional tips on creating a stand-out title, check out self-marketing expert Ilise Benun's article on how to differentiate yourself using only your LinkedIn title here.
Ilise also gives a deep dive into using LinkedIn to find clients in her free webinar LinkedIn Now: Best Practices for Getting Great Writing Clients.
2. Get Clients Via Other Social Media Platforms
LinkedIn is the primary social media channel to connect with other professionals, but any social media platform can be useful for finding potential clients.
And one of the best ways of doing this is to get involved in the social media groups of your ideal clients.
For example, if you want to write for companies that develop gaming software, join social groups focused on gaming software development, as well as the individual pages of some of the companies you'd like to work with.
You can do this on LinkedIn, Facebook, Twitter, YouTube, Instagram, and any other social networks you're familiar with.
Once you're part of some groups you like, start getting involved in conversations and offering your suggestions or encouragement where appropriate. Share their posts with others and comment with your own ideas and feedback. This is an effective way to build a relationship.
At AWAI, this is how we've found social media freelance writers to work with us. AWAI President Rebecca Matter put it this way:
"Participate on social media for the companies you want to work for … that's how we found all our social media moderators. It's much nicer to work with people who already have proven they love the brand, are knowledgeable, and have shown how they support the community."
Steve Maurer, who we mentioned previously, now moderates a few of our social media groups for exactly this reason. He got actively involved in those groups and became a valued community member.
So when it came time to find a moderator for those groups — who do you think we contacted to ask for help? Naturally, Steve was our obvious choice.
You can do the same by simply getting involved in groups and company pages in your area of specialty. And once people get to know you, it can open a number of doors for potential work.
Which brings us to …
Social Media Writing Opportunity #2: Get Paid to Write for Clients!
Regardless of what you write, you can use social media as a way to find writing clients as we just described.
But if you're interested in getting paid specifically to write for social media, this is another excellent opportunity we'll discuss more here …
1. Why Do Companies Need Help with Their Social Media?
We've already established how important social platforms are for a business to connect with potential customers. Social media is where their customers are hanging out!
But creating effective social media that connects with customers also requires a very specific skill set, which not all companies have. And that's where freelance writers come in.
If you already enjoy using social media, that skill combined with your copywriting expertise are invaluable to any company trying to build their social presence.
Here are a few statistics that show how much effort companies are putting into their social marketing:
Annual social media advertising spend is expected to reach $134 billion in 2022 — an increase of over 17% from 2021.
82% of B2B marketers used paid ads on LinkedIn for lead generation.
50% of adult internet users say that when brands use their data in advertising, it helps them discover and find products and services that interest them.
Social media is expected to account for 33% of all digital advertising spending in 2022.
Businesses are spending increasingly more money on social advertising because it can reach so many people and have excellent returns.
That also means they need writers who can write social media ad copy, as well as help maintain their social channels in general.
In fact, a recent job search on Indeed.com for the targeted search term "social media writer" came up with 334 jobs in the United States alone. That includes a variety of part-time, full-time, and contract positions, both remote and on-site.
And that's only on one job title on one listing site. There are a number of job titles in social media marketing — and potentially thousands more listings on other sites. Plus, that's not to mention the companies that need help and haven't posted an official job listing.
According to a survey from Social Media Today, the top two biggest challenges companies have for social media management are:
Finding time for everything.
Creating fresh and meaningful content for each audience.
Hiring a freelance copywriter is the perfect way to help them deal with both of these challenges!
2. What's Your Role as a Social Media Copywriter?
Your actual job description as a social media writer can vary greatly depending on the individual companies you're working with.
You may be doing one or more of the following roles:
Setting up pages and groups on various social platforms.
Posting new content regularly and maintaining an Editorial Calendar.
Flagging questions or concerns for your client to address.
Moderating groups.
Writing and creating paid ads.
If you're only interested in helping companies get set up on individual social platforms, you can focus on that. But if you'd like more consistent work (and the potential for retainer fees), you can help them manage their pages on an ongoing basis.
Another option is to include writing paid ads in your services, which is a distinct skill in itself.
If you choose to pursue writing paid ads, make sure you spend some time studying ads in your chosen social platform to see what's working first. For example, you can check out Facebook's Ad Library here.
Also follow industry leaders and listen to conversations they're having on social channels to see what types of issues they're facing. This will give you some good ideas of what types of copy to create for either paid ads or social media content in general.
AWAI Member Michele Peterson has found a good mix of services as a social media freelance writer. She offers different levels of service depending on the client.
For some clients, she only provides written social media content, which the client is then responsible for posting on their page or pages. For other clients, she creates the content, but is also responsible for publishing it and maintaining their pages.
She finds offering these different levels helps her meet her individual clients' needs more effectively. (Once you're a trained social media writer, you can do the same!)
3. How Much Money Can You Make Writing for Social Media?
When it comes to social media, these are some of the average fees for typical freelance projects:
Setup — Create an inviting page with robust content: $500 per social media channel or network.
Social Media Management — Consistently grow a company's page with posting and monitoring 1-2 hours per day, 5 days per week: $1,000-$2,000 per month.
Ads — Write and create ads for social media that attract Likes, shares, and conversations: $50+ per ad.
One-time Projects — Promote events, product or book launches, etc.: Fee varies depending on scope of project.
If you take on a few of these projects, you can see how your fees can add up very quickly.
Also keep in mind how much money and effort companies are putting into social media advertising … which means they need a constant supply of fresh and interesting ads. So specializing in writing short ads at $50 each can still be very lucrative as a freelance writer, because your fees will multiply.
How to Get Started in Social Media Writing
If you want to start setting yourself up to be a successful social media freelance copywriter, we recommend taking the following two steps:
1. Quickly Build Your Social Skills
Do you already use social media on a fairly regular basis?
If so, there's a good chance you already have most of the skills you'll need to excel at social media copywriting.
As we discussed previously, the main tasks of writing for social channels are similar to what you likely do already, such as posting content and participating in conversations.
But if you want to fine-tune your skills, check out some of our articles about social media writing, such as:
You could also consider taking some formal training for more in-depth knowledge and to be sure your social media campaigns effectively meet your clients' goals.
A great place to start is with digital marketing expert Nick Usborne's How to Make Money as a Social Media Marketing Expert. This self-study program takes you step-by-step through everything you'll need to know to launch your social media freelance writing career.
However you choose to build your social media writing skills, know that you can learn the basics and be ready to start looking for clients in a fairly short time frame!
2. Start Attracting Social Media Clients
We discussed using social networks to attract clients previously in this article, but you also have a variety of other options for finding social media writing clients.
A good source of job listings is AWAI's own job board, Writers Wanted. We curate and post hundreds of different copywriting job opportunities, including social media positions.
These are a few other resources you can use for client-getting ideas:
And for using LinkedIn to find clients, Ilise Benun leads Get Writing Clients NOW: 21-Day System, where she helps you to set up your LinkedIn profile and start connecting with clients. Many AWAI members have found their first clients by going through her Challenge.
Another great way to attract potential clients is to offer a free 30-minute consultation call. Copywriter Michele Peterson does this with all prospective clients, including those looking for help with social marketing.
A call gives you the opportunity to start a conversation and see if you're a good fit for that company. Plus, this also puts you in the position of a copywriting consultant, rather than just an "order taker."
As you speak to a potential client, you can help them clarify their marketing goals and what they want to achieve through social media. You can suggest ways they can do that, as well as provide proof that you're able to assist them with the process.
Once they've spoken with you and understand what you can offer, you'll be the clear choice if they decide to hire a social media freelance writer.
Final Thoughts
Social media has become an essential part of marketing for nearly all types of businesses.
Despite this fact, many businesses struggle to find the time and the skills necessary to manage their social media efforts.
This has created a massive opportunity for freelance writers, who are perfectly positioned to help bridge the gap between a company's marketing strategies and creating the social media content that keeps their audiences engaged and interacting with the company.
So if you enjoy using social media, consider adding social media management to your services as a freelance writer, or taking our How to Make Money as a Social Media Marketing Expert program to get started in this exciting field.
And, of course, remember to connect with us on social and share your success stories along the way!
Webinar Materials
Quickly Build Social Media Skills
6 Reasons Every Writer Should Offer Social Media Services
Five Strategies for More Effective B2B Social Media Marketing
3 Smart Social Media Goals and How to Achieve Them
How to Make Money as a Social Media Marketing Expert
Ideas for attracting clients
An Easy 3-Part Social Media Marketing Plan for Web Writers
Social Media SEO: 5 Steps to Make It Easier for Your Ideal Audience to Find You
Social Media Writing Puts You at the Heart of a Client's Digital Marketing Plans
Inside AWAI Webinar: 26 Ways to Find Freelance Writing Clients
Access the Inside AWAI archives here.